TVS and ION Mobility collaborate to build an aspirational product portfolio
In line with their shared commitment towards electrification in the automobile industry, TVS Motor Company, one of the leading global manufacturers of two-wheelers and three-wheelers, announced its association with ION Mobility (ION) today. 
TVS Motor has entered into an investment agreement to provide ION with the necessary ecosystem support to succeed in the electric two-wheeler markets of Singapore and Indonesia.
The partnership aligns with TVS Motor Company's commitment to building an aspirational product portfolio while associating with sustainable and scalable brands. It also reiterates the company's strategy to expand its global presence.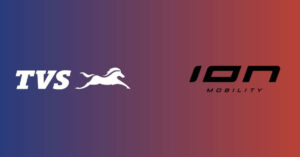 Electric
Speaking on occasion, Mr Sudarshan Venu, Managing Director of TVS Motor Company, said, "TVS Motor is committed to developing exciting products for consumers across global markets. 
We are thrilled to partner with ION Mobility, a full-stack EV company with a strong team of engineers and a technical base in Singapore, to drive the premium electric two-wheeler growth in the region. We share a common vision and are eager to support them as a strategic investor."
ION Mobility Founder and CEO Mr James Chan said, "I am delighted with the vote of confidence that my team and I have received from TVS Motor via the funding round and partnership. 
We are excited to draw upon TVS Motor's decades of global expertise in two-wheelers to accelerate our "Mobius" M1-S production readiness and the design and development of other models. We look forward to leading the charge towards an electric & sustainable two-wheeler future together."
TVS
About TVS Motor Company
TVS Motor Company is a global reputed two- and three-wheeler manufacturer, championing progress through Sustainable Mobility with four state-of-the-art manufacturing facilities in Hosur, Mysuru and Nalagarh in India and Karawang in Indonesia. 
Rooted in our 100-year legacy of Trust, Value, and Passion for Customers and Exactness, we take pride in making internationally aspirational products of the highest quality through innovative and sustainable processes. We are the only two-wheeler company to have received the prestigious Deming Prize. 
Our products lead in their respective categories in the J.D. Power IQS and APEAL surveys. We have been ranked the No. 1 Company in the J.D. Power Customer Service Satisfaction Survey for four consecutive years. 
Our group company Norton Motorcycles, based in the United Kingdom, is one of the most spirited motorcycle brands in the world. Our subsidiaries in the personal e-mobility space, Swiss E-Mobility Group (SEMG) and EGO Movement, have a leading position in the e-bike market in Switzerland. 
TVS Motor Company endeavours to deliver the most superior customer experience across the 80 countries in which we operate.
Electric company 
About ION Mobility
ION Mobility is a tech and automotive OEM on a mission to create and deliver aspirational and sustainable Mobility and energy solutions for everyone. We are committed to creating great products and seamless user experiences for our customers. 
Our products combine advanced hardware and software technology with human-centred design to deliver intelligent electric motorbikes and energy charging and storage solutions for everyone. 
Our vision is to be Southeast Asia's top technology company leading our region's transition towards a low-carbon economy across Southeast Asia, starting with the ION M1-S.
Press Release TVS