New British electric motorcycle manufacturer Maeving was centre stage on last night's episode of The Apprentice show on BBC One. As contestants battled to create a marketing campaign for the Maeving RM1.
On last night's BBC One episode, two teams of contestants on The Apprentice were tasked with creating a new marketing campaign. With the Maeving RM1 being used as the episode's primary focus.
Electric Company
Maeving is an all-new motorcycle manufacturer with a British-designed and built electric motorcycle called the RM1. Featuring removable batteries that can be charged at any standard plug socket, near silent running.And ease of use and riding style that directly appeals to those with zero riding experience, it's an urban motorcycle that works for everyone. It can be ridden on a CBT licence (Compulsory Basic Training).
Co-founder Will Stirrup said: "Being involved in a project on The Apprentice, which is such a household name and so well-known, has been fantastic for all of us at Maeving. There have been months of secrecy around the fact we were involved, and it's been tough for all of us who knew about it not to be able to say a word!
"We're a new company, but we've worked so hard to develop an electric motorcycle which we believe is extremely well-suited to the mission of bringing the joy and freedom of riding a motorcycle to new people in urban areas."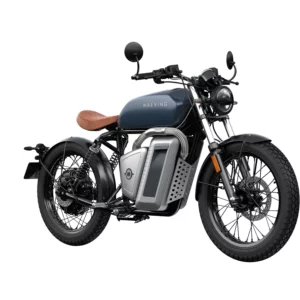 The Electric Company
Tony Campbell, CEO of the Motorcycle Industry Association (MCIA), was the show's judge. He said, "It's fantastic to see our sector receive coverage on The Apprentice. MCIA works closely with the government to ensure policy supports the sector's growth and uptake of the sector.
The programme has brought about a welcome, renewed interest to our sector which will create interest and discussion for both new and existing riders".
Maeving Motorcycles has a newly opened store located at Seven Dials, Covent Garden, where bikes can be seen in the metal, and test rides can be arranged too.
Press release Maeving