What transpires when you live on the 57th floor of penthouse?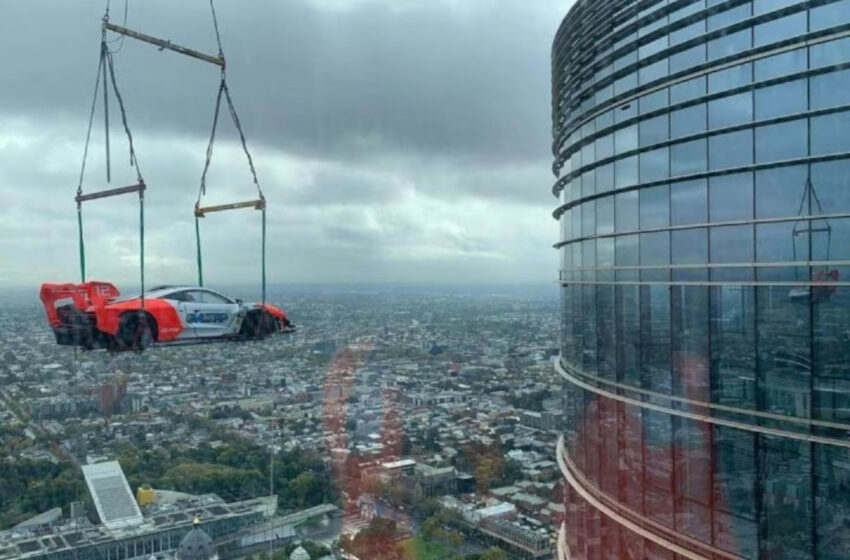 Adrian Portelli, an Australian businessman, made a unique decision to lift his McLaren Senna GTR to his 57th-floor penthouse. The McLaren Senna GTR is a track-only version of the McLaren Senna, and it is highly limited, with only 75 units produced worldwide.
Read More: This new electric crossover from Volvo is spied
McLaren Senna GTR
Typically, the McLaren Senna GTR would be expected to be driven on a racetrack, pushing its limits and striving for faster lap times. However, Mr Portelli decided to showcase his prized hypercar in a rather unconventional way by placing it in his drawing room. By doing so, he ensured the car would receive the attention and admiration it deserved.
This act demonstrates Mr Portelli's appreciation for the aesthetics and engineering prowess of the McLaren Senna GTR. It also serves as a testament to the exclusivity and desirability of the vehicle. Placing such a limited and extraordinary car in a luxurious penthouse setting is undoubtedly a bold statement and a way to highlight its significance in hypercars.
Adrian Portelli
Adrian Portelli must have had a strong desire to have his McLaren Senna GTR showcased in his penthouse, and he found a way to make it happen.
Using cranes in urban areas for construction and heavy lifting is quite common. While it's not unusual to see cranes being used for building materials or equipment, using one to lift and place a luxury car on the top of a residential tower is a unique application.
Talk about a rich flex. 💰💪

Melbourne businessman Adrian Portelli has successfully craned in a $3 million McLaren Senna GTR into his $39 million penthouse, located on the 57th floor of the Sapphire by the Gardens building.

DETAILS: https://t.co/uHjc5rzqNk#9News pic.twitter.com/mILOP0wHnm

— 9News Melbourne (@9NewsMelb) May 10, 2023
Such a task would require careful planning and coordination to ensure the safety of the car, the crane operators, and everyone involved in the operation. Engineering experts and specialized rigging teams would likely have been involved to determine the best approach and ensure that the lifting process was carried out smoothly without damaging the car or the building.
Tower and Crane
Portelli had a unique and challenging task of bringing a vehicle, specifically a McLaren, up a tower via crane. According to Portelli, an entire side of the building had to be deconstructed to facilitate the vehicle's ascent. The windows were removed to accomplish this feat, which suggests that the car might have been permanently placed in its new location.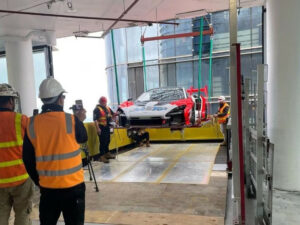 Portelli intended to make the car a centrepiece in his lounge room. However, the penthouse itself, where the car is intended to be placed, will take another 12 to 18 months to be completed. Following the completion of the McLaren lift, Portelli took to Instagram to share photos of the vehicle in its new home and expressed gratitude to everyone involved in making this extraordinary moment happen.
Millionaire 
Portelli, a 34-year-old businessman, has purchased a nearly 13,000-square-foot apartment spanning levels 57 and 58 of a 60-story building. The purchase price for the apartment was $39 million, which amounts to approximately $32,500 per square meter. Portelli expressed his plans to install a swimming pool, multiple kitchens, and potentially a bowling alley in the apartment.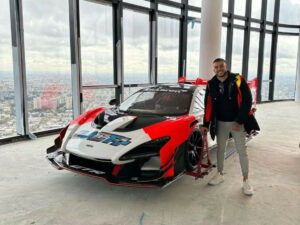 In addition to the luxurious apartment, Portelli owns a McLaren Senna GTR, a track-only car known for its performance. The car features a 4.0-litre twin-turbocharged V-8 engine and generates up to 2,200 pounds (1,000 kilograms) of downforce. The McLaren Senna GTR is a limited edition model, with only 75 units produced. McLaren claims it to be their fastest car outside of Formula 1.
Read More: Tesla's model Y catches fire on busy road
Business
Portelli's business, LMCT+ Group, operates in the promotions and giveaways industry. The company generates revenue by offering subscribers discounts and access to events from over 1,000 partners. Membership fees for LMCT+ Group range from $19.99 per month to approximately $90. The Australian Financial Review reported that Portelli's business is currently up for sale, with marketing materials being sent to potential buyers.
Source: Robbreport and 9NewsMelbourne