Ducati will officially unveil the Ducati Streetfighter V4 in India: Why You Should Drop Everything and Book one?
The Streetfighter V4, the next big-banger from Ducati, is set to hit showrooms across India sometime soon. This 1,103cc motorcycle will specially feature a unique design and unmatched Italian power and finesse.
With the formidable Streetfighter V4 launch, Ducati has an exciting range of motorcycles on offer for India.
The Ducati Streetfighter V4 is a fairing-less motorcycle based on the Monster 1200 R. Its liquid-cooled,1103cc four-cylinder motor can generate peak power. Which is 208 hp (153 kW) of power @ 13,000 revolutions per minute and a maximum torque of 123Nm @ 9,500 rpm.
What do we see new?
In short, the motor makes more rotations and less torque which makes it more aligned to

Euro5 compliance

.

The gorgeous exhaust remains as is; however, the size of the catalysts goes up by

10mm

.

The exhaust becomes more efficient thanks to the size of the rear bank, which has helped to lessen the ignition time of the catalyst. The good part there is no effect on the performance.

The size of the rear bank manifolds gets lessen by

100 mm

, and the diameter comes reduced.

The four cylinders now get acquainted with four lambda probes, which help supervise the quantity of fuel injection.

If the air is present on the track, Ducati engineers have redesigned the pumps that help to get rid of this air.

Influenced by Superleggera, the 2021 V4 models arrive with a new clutch and brakes.
In the international market, the Streetfighter is available in two variants. V4 and V4S and two shades – Dark Stealth and Ducati Red for V4. At the same time, the Streetfighter V4 S is also available in the new Dark Stealth Matte Black.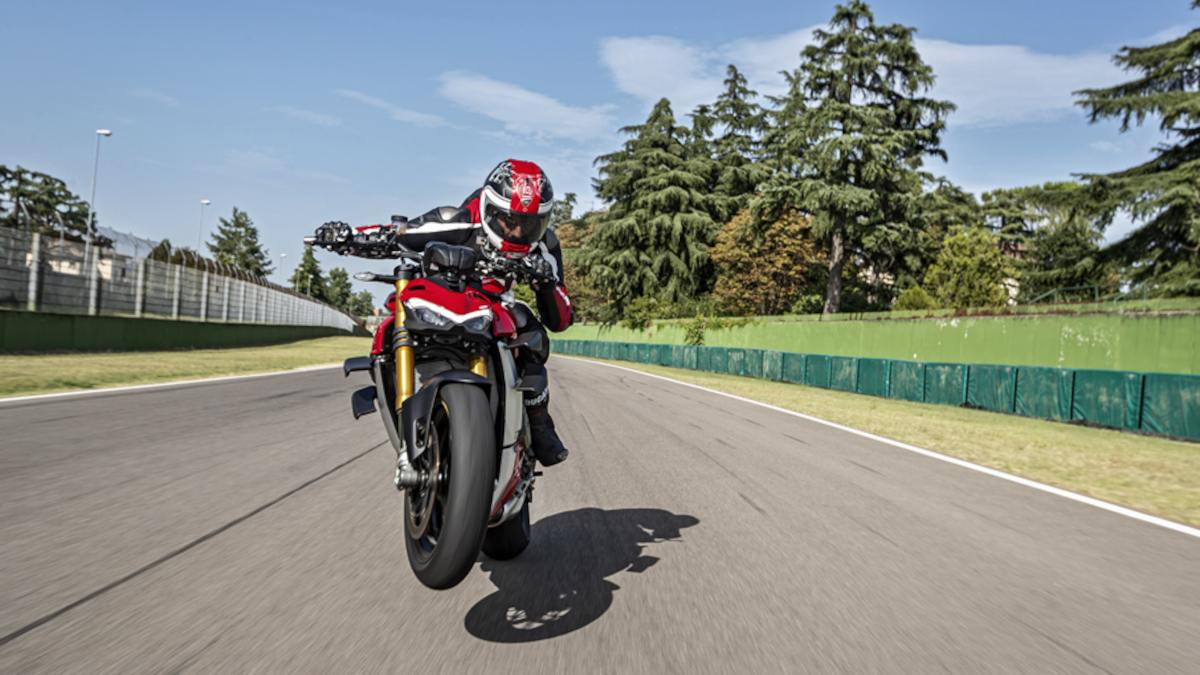 With the Streetfighter V4, you get an Italian made bike that will take you from the city to the open road in style and comfort
The sleek design, innovative engineering, and timeless appeal of this particular model are sure to hit anyone who purchases or desires it.
Life is short, and every day is an opportunity to make the most of your life.
If you are a rider looking for a bike that will help you do just that, then the latest Streetfighter from Ducati is a bike to add to your 'want' list.
Ducati has not unveiled the official date however we will soon communicate the launch date for India.