Ducati unveils the Lamborghini Diavel 1260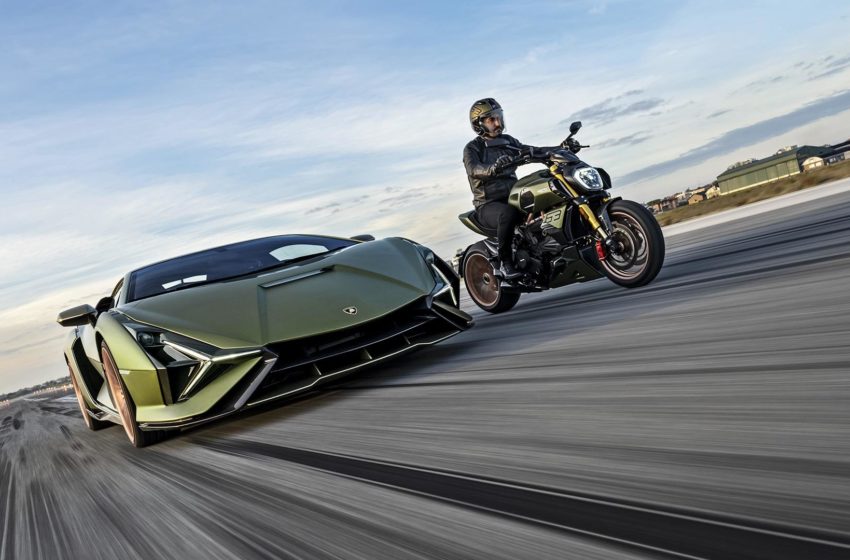 Ducati has now unveiled the new Lamborghini Diavel 1260. The project is in partnership with Lamborghini, the famous sports car maker.
The livery comes with the presence of 63, a significant number for the Sant'Agata Bolognese company, founded in 1963.
Multiplying this number by ten, we obtain the 630 numbered copies of this model that Ducati will produce.
The inspiration comes from the Sián FKP 37. Inspired by the Countach, it has sharp lines, aerodynamic elegance and an unmistakable silhouette.
The Sián FKP 37 is the most powerful Lamborghini ever: 819 hp (602 kW) thanks to the combination of thermal and electric.
Motor
1262 cc Ducati Testastretta DVT motor arrives with phase variation. This Euro 5 homologated engine is capable of delivering 162 HP (119 kW) at 9,500 rpm and 129 Nm (13.2 kgm) at 7,500 rpm.
Design and Chassis
Diavel 1260 Lamborghini, together with the tubular steel trellis frame, the 240 mm wide rear tire comes with the single-sided aluminium swingarm and Ohlins fully adjustable front and rear suspension. 
The carbon components and forged rims make the structure lightweight and come to 220 kg.
Brakes are 320 mm Brembo monobloc M50 callipers with four pistons the front and the 265 mm disc, Brembo 2 piston floating calliper at the rear.
Further, the Lamborghini Diavel 1260 gets the Pirelli Diablo Rosso III 120/70 ZR17 at the front, and the rear is Pirelli Diablo Rosso III 240/45 ZR17 at the back.
Fuel tank comes with 17litre, and the saddle height is 780mm.
Electronics
Sophisticated electronics ensure both high-level performance and maximum safety. Bosch's 6-axis Inertial Measurement Unit (6D IMU) platform can instantly detect the speed.
And the acceleration of the motorcycle in space and allows operation of many control devices fitted to the Lamborghini Diavel 1260. 
The attention to detail is visible from the "key-on" phase when the logos of the two brands.
Ducati and Lamborghini, appear on the dashboard with the 3.5 colour TFT screen, accompanied by the silhouette of the bike.
The electronic package includes 
Bosch ABS Cornering Evo, 

Ducati Traction Control Evo (DTC), 

Ducati Wheelie Control Evo (DWC), 

Power Launch Evo (DPL) and 

Cruise Control.
Standard Equipment
Fully adjustable Ohlins suspension,

Ducati Power Launch, cruise control,

Hands-free, 

Backlit handlebar buttons, 

3.5 "colour TFT display, 

Ducati Quick Shift,

Multimedia System from Ducati, 

Carbon parts, 

Red front brake callipers, 

Forged rims.
The Lamborghini Diavel 1260 arrives in ' "Gea Green" with forged frame and rims in "Electrum Gold" ' colour and is priced at € 31,990 in Europe.
Further, Ducati has made helmet too, and the interested buyers can buy it from the dealerships.
Video