Wins and Drama at the return of the MotoGP Argentina Tango
Solunion GASGAS Aspar Team's Sergio Garcia dominates Moto3 with a commanding win and leads the championship by 58 points. Team-mate Izan Guevara was also in the running for victory.

Inde GASGAS Aspar Team's Jake Dixon hits reset in perfect style, securing 5th place and 11 points, while Albert Arenas races to 8th in Moto2.

GASGAS continues its impressive 2022 campaign, placing 1st and 6th in Moto3 and Moto2, respectively, after three Grand Prix.
Amid the chaos of missing cargo flights and shortened track schedules, all four GASGAS riders stayed cool, calm and collected to star at the first race on South American soil in just over three years.
Argentina hosted the MotoGP paddock in 2019, and judging by the cheering from the packed grandstands, fans couldn't wait to see riders race bar-to-bar around the spectacular, fast, and flowing, 4.8 kilometre Termas de Río Hondo circuit.
Perfect conditions highlighted by clear blue skies, and a dry 27°C track, set the scene for a stunning ride from the Moto3 Solunion GASGAS Aspar Team duo of Sergio Garcia and Izan Guevara.
Following on from his blistering qualifying performance – where Garcia scorched ahead to take a commanding pole position (the second of his career) and a new lap record in the process, the 19-year-old from Valencia went on to take a calculated and impressive race win.
It was the perfect P1-to-top-step conversion for Garcia after 21 laps of action. Garcia can now count five Moto3 race wins – the last being at the 2021 Austrian Grand Prix. Better still, Garcia now leads the overall rider standings by 58 points.
Teammate Izan Guevara did everything right on his first visit to Argentina, qualifying in P3, leading the race briefly, and setting the fastest race lap. Unfortunately, a technical problem on lap 9 forced Guevara to pull to the side of the track. Nevertheless, Guevara sits within a title-challenging position in the championship – in third on 28 points.
Action
Switching focus to Moto2 as the Argentinean afternoon sun blazed higher in the sky, pushing track temperatures up to 41°C, Inde GASGAS Aspar Team's Albert Arenas and Jake Dixon lined up in P4 and P5 on the grid. Dixon, in particular, comes off a rollercoaster a few weeks, having taken pole position last time out in Indonesia but then crashing out at mid-race distance.
While Dixon slipped down the order significantly at the race start, the British rider pulled through with a blistering ride to battle back up into the top six after running wide at turn five. With just three laps remaining, Dixon overhauled rival Tony Arbolino in fifth place and made up three-tenths of a second on the scrap for third place between Aron Canet and Ai Ogura.
A 5th place finish for Dixon represents the perfect reset after his crash during the race at Mandalika. A further 11 points also place him in 9th in the championship. Meanwhile, Albert Arenas weathered a challenging race. Starting from a scorching P4 qualifying slot, Arenas, unfortunately, slipped down to 8th position throughout the race, finishing just three-tenths of a second off 7th placed rival Pedro Acosta.
Flying north up to Texas, the action continues next weekend with the Red Bull Grand Prix at the incredible Circuit of the Americas on the 10th of April.
Sergio
#11 – Sergio Garcia: "It was a tough race for me because, in the beginning, my feeling with the bike could have been better. I worked to improve my pace lap by lap, and the last laps of the race were incredible. The feeling was excellent in the last corners. 
I closed my eyes in the final corners and said: I have to try it. To get this win here is fantastic. I'm thrilled! I want to say thank you to all my family, who always support me, and all my team who have been incredible also."
Izan
#28 – Izan Guevara: "A good enough weekend, but the race didn't finish as we hoped. It was going well, and I felt we were at the point where we might be able to break away from the group. Our rhythm was strong, and the lap times were low until I felt the problem. 
It was a GP where we learnt a lot and made some improvements. I hope we can do the same in Austin. It's a circuit where we were able to win last year, and we want to go there with clear ideas and the goal to perform like this again."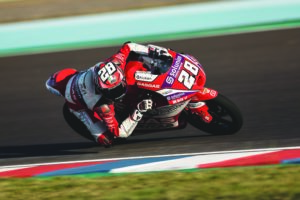 Albert
#75 – Albert Arenas: "We were close to our goal, and although I'm not that happy with the result, the weekend went quite well. Worked hard, and the feeling on the bike was better with each lap of the race, and that's a positive. We'll take this dynamic to Austin and hope for more of the same. We'll keep focused and concentrated on reaching our objectives."
Jake
#96 – Jake Dixon: "The race is done here in Argentina – it was quite difficult. I made a mistake and lost two seconds on the first lap, and then I battled back from a long way to finish fifth. I caught up to the top three podium battle in the last corner. 
Another couple of laps, and I think I could have done even more. It's all getting closer now in terms of our performance – and I think it's only a matter of time now before we can be up where we want to be. 
Looking ahead to America – it's a track I like. Last year I was fast there, and I have a better bike this year – so I'm expecting big things. We could go all the way!"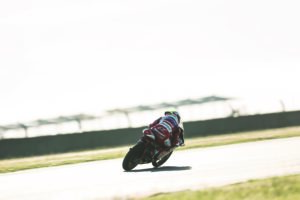 Results – 2022 Moto3 FIM World Championship, Round 3:
1. Sergio García (GASGAS) 21 Laps; 2. Dennis Foggia (Honda) +0.146, 3. Ayumu Sasaki (Husqvarna) +0.375, DNF. Izan Guevara (GASGAS) +12 laps,
Championship Standings – After Round 3:
1. Sergio García (GASGAS) 58 pts;

 2. Dennis Foggia (Honda) 54pts, 

3. Izan Guevara (GASGAS) 28pts
Results – 2022 Moto2 FIM World Championship, Round 3:
1. Celestino Vietti (Kalex) 23 Laps; 2. Somkiat Chantra (Kalex) +1.538, 3. Ai Ogura (Kalex) +5.703, 

5. Jake Dixon (GASGAS / Kalex) +6.584, 8. Albert Arenas (GASGAS / Kalex) +12.418,
Championship Standings – After Round 3:
1. Celestino Vietti (Kalex) 70pts; 2. Aron Canet (Kalex) 49pts, 3. Somkiet Chantra (Kalex) 45pts, 

9. Albert Arenas (GASGAS / Kalex) 17pts,

 

10. Jake Dixon (GASGAS / Kalex) 16pts
via GASGAS Press