Yamaha opts for EICMA to celebrate Rossi and its story together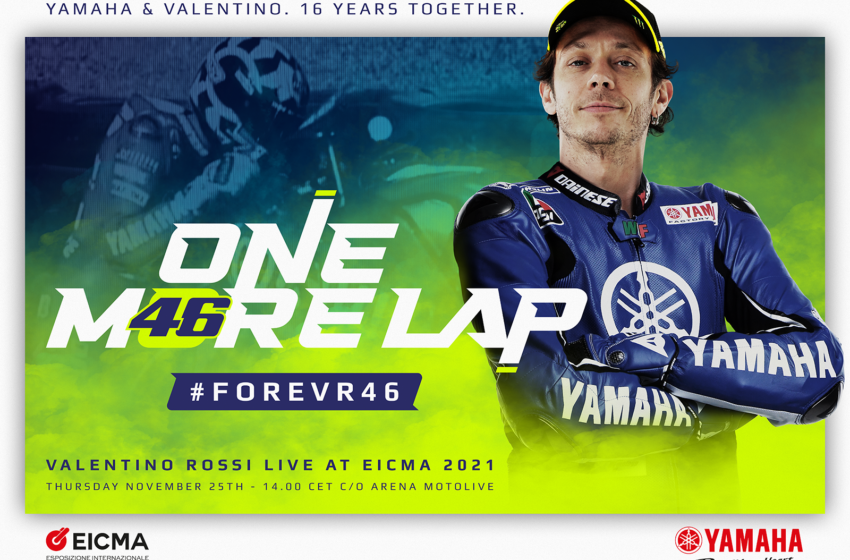 On Thursday, 25 November, the MotoLive arena welcomes One More Lap, the eagerly awaited event organized by Yamaha in collaboration with EICMA to celebrate Valentino Rossi and their story together.
It will be a unique and spectacular occasion to pay tribute once again to Valentino Rossi. And to all the excitement that he has been able to create throughout his very long career with Yamaha.
Going down memory lane with him over the crucial moments. But also the anecdotes and titbits behind these 16 years of challenges and successes.
The Yamaha initiative also represents the baptism of the rider from Tavullia at EICMA. "The Doctor" is coming to the 78th International Two Wheels Exhibition.
To receive the embrace of the public on a unique occasion.Destined to become a memorable moment for the nine-times World Champion and EICMA.
WHEN
Thursday 25 November 2.00 p.m.
WHERE
One More Lap will take place in the open at the MotoLive Arena of EICMA.
Access to the event area will be free of charge. And out of the necessary respect for the rules currently in force on distancing, with a limited number of places.
HOW
The free PASSES for the event can be obtained only through. The CLICK DAY scheduled for Thursday 18 November 2021, from 9.46 a.m. on the EICMA website. 
The CLICK DAY is reserved exclusively to all those who, from the opening of the ticket shop up to 9 November last. Has made a purchase containing at least one ticket for EICMA 2021 valid for the day of Thursday 25 November.
And who will contextually receive by email no later than 12 November the instructions to access the dedicated platform for the One More Lap event.
The PASSES are present until the maximum number of entries allowed by the legislation currently in force on containment of the spread of the COVID-19 epidemic comes reached.
via EICMA