Yamaha to bring YZF-R7 and MT-07 to India in 2022
The two sports and naked bikes, Yamaha YZF-R7 and MT-07.Could finally hit the Indian market as Completely Built Units (CBUs).
And this news comes from the Indian auto web magazine  Auto Car India while talking to Yamaha India Chairperson Eishin Chihana.
Yamaha YZF-R7 and MT-07
Talking to Auto Car, Chihana said, "Big bikes like the MT-07 or R7.We are trying to bring in some batches. Not large quantities, but enough to satisfy our top-range customers. If we can import within this year, we can avoid the OBD-2 regulations."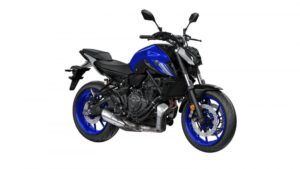 The Indian government has laid out some strict regulations for BSVI two-wheelers. Beginning April 1, 2023.All two-wheelers sold in the country will have to feature OBD-2 on-board diagnostics compliant technology. While the current models of the MT-07 and R7 are Euro6/BS6.
Therefore its highly unlikely that these two bikes will have the European OBD-2. Suppose the Government of India tries to bring the OBD-2 regulations in line with those in Europe. 
We can't blame them here, can we? We don't know what will happen, but we know that there are good reasons for SIAM's and Yamaha's campaigns.
Besides, the OBD mandate will effectively doom many two-wheeler manufacturers. Who still aren't geared up to implement its provisions. Things are more complicated than they look on paper.
The Yamaha YZF-R7 and MT-07 have been around for a while now.First seen a couple of years ago, respectively and therefore aren't the newest additions to the segment.
But that isn't stopping Yamaha from discussing its plans to launch them locally and soon. In fact, possibly even before their current import deadline of March 31, 2023, runs out. 
However, Yamaha wants to make sure they will be able to support the potential buyers. Which is the current challenge that we see.
Yamaha is planning to launch MT-07 and MT-09 in India in 2022. Over a year after the launch of the MT-15 that is currently available here in India. 
Priced aggressively
While these models aren't going to be produced by Yamaha's Indian subsidiary. We can expect these two to be priced aggressively. As they're aimed primarily at the commuter segment. 
These are naked street models, and essentially more significant, more powerful and better-equipped equivalents to the MT-15 which is present in India. The MT-07 arrives with a 689cc parallel-twin, while the MT-09 has 890cc inline-triple cylinder engine.
Yamaha could launch another premium sports bike in the Indian market by 2022. Yamaha R7 is a fully-faired version of the MT-07. Yamaha is working hard to cater to the sporty bike segment in India despite having a minimal range of sportbikes compared to rivals like Honda and Kawasaki.
With this, Yamaha will have to keep one thing in mind about the price. And if these models are CBU imports, they will cost more than the Kawasaki models.