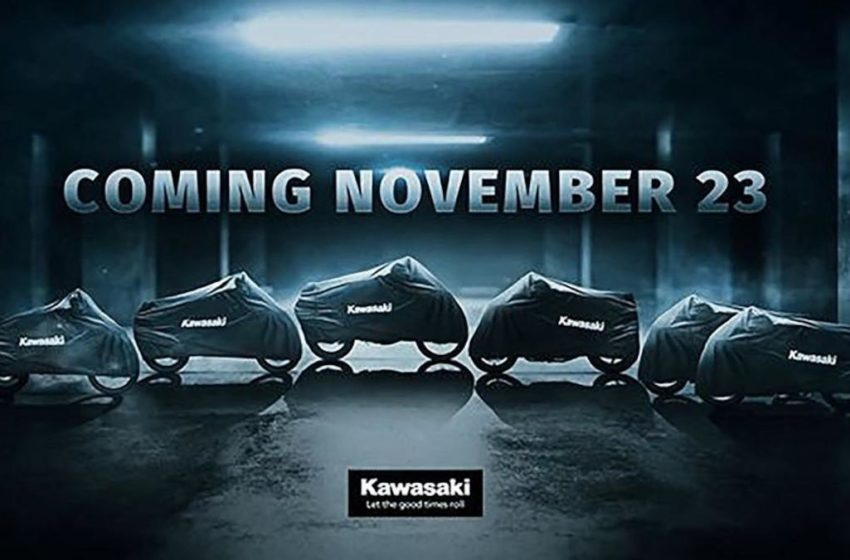 Kawasaki North America has released a new teaser which shows six motorcycles under the wraps.
These are six new 2021 models which Kawasaki plans to launch on November 23, 2020. We are not sure due to COVID Kawasaki has pushed the event in November 2020.
However, we could also see a mix of track and off-road scenes in the video.
Now for 2021, this indicates we could see a mix of models Kawasaki plans to bring.
From the teaser, it is difficult to say what Kawasaki has in mind.
For the first model, we could see they have cast rims, and it may be a dual-sport.

When the second time the light falls on the model, it does look like it is a Supermoto which is indicated by spoke wheels.

Model three and four may be the same models.

With high disc and fender, the fifth may be an adventure model.
Do we see the sixth model which isn't present in the teaser? Well, there are rumours Kawasaki plans to bring the new 2021 ZX-10R.
ZX-10R was last updated in 2020 with the new KRT edition paint scheme. Now Kawasaki does have the Metallic Carbon Gray x Metallic Flat Platinum Gray ZX-10R SE equipped with advanced equipment which enhances driving performance.
So is Kawasaki planning to bring the ZX-10R which would make above 200 hps with winglets.
If it does, it has undoubtedly raised the game. November 23 is something we are waiting for.