Airoh unveils new full-face 'Connor' helmet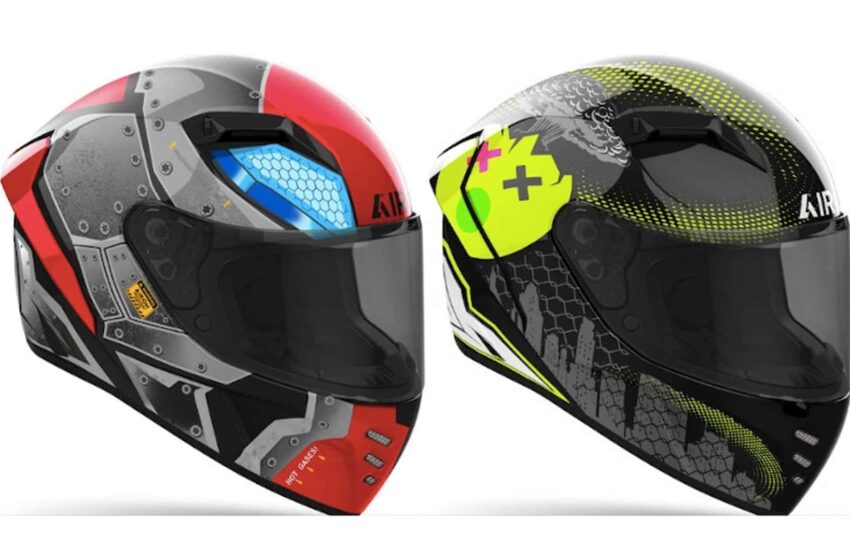 The Airoh Connor full-face helmet offers a compelling combination of style, durability, and lightweight construction. Its exterior design is said to be sportbike-inspired, giving it a sleek and aggressive look. HRT (High Resistant Thermoplastic) for the shell construction ensures strength and lightness.
Read More : How difficult is getting a driver's license in India?
Shell size
One notable feature of the Airoh Connor helmet is its availability in three different shell sizes. This is important because having multiple shell sizes allows for a more precise fit, ensuring optimal comfort and safety for riders of varying head sizes. With six sizes ranging from XS to XXL, the helmet aims to accommodate a wide range of individuals.
The weight of the helmet is another aspect that Airoh has focused on. Starting from 1,450 grams with a tolerance of approximately 50 grams, the Airoh Connor is considered lightweight. This characteristic benefits rider who embark on long rides or spend extended periods on the road, as it helps reduce strain and fatigue.
Overall, the Airoh Connor offers an attractive package for riders seeking a sporty full-face helmet with an emphasis on style, durability, and lightweight design.
Features
The Airoh Connor full-face helmet is designed to provide riders with convenience and comfort while prioritizing safety. Here are some features you can find inside the helmet:
1. Multi-density EPS liner: The helmet has a multi-density EPS (Expanded Polystyrene) liner. This liner is designed to absorb and distribute the impact energy in the event of an accident, enhancing overall safety by reducing the force transmitted to the rider's head.
2. Removable and washable interior: The helmet's interior is designed to be easily removable, allowing riders to clean it regularly and maintain proper hygiene. This feature is essential for keeping the helmet fresh and free from sweat, dirt, and odour.
3. 2DRY, Sanitized, and Microsense-treated Coating: The interior lining of the helmet is treated with a combination of 2DRY, Sanitized, and Microsense technologies. The 2DRY treatment helps wick away moisture, keeping the rider's head dry and comfortable during rides. The Sanitized treatment helps prevent odour build-up, ensuring a fresh-smelling interior. The Microsense treatment provides a soft and comfortable feel against the skin, enhancing overall comfort during extended use.
These features work together to provide riders with a helmet that offers excellent impact protection and prioritizes comfort and hygiene. Regular maintenance, including washing the removable interior lining, can ensure a clean and pleasant riding experience.
Ventilation
The Airoh Connor helmet is designed to provide riders with a comfortable and safe riding experience. Its ventilation system, consisting of chin and front air inlets and rear extractors, ensures optimal airflow within the helmet. This ventilation system helps keep riders cool and comfortable, even during hot and intense rides.
The helmet features an easily removable wide-vision visor that offers an expanded field of view. The visor is treated with anti-scratch and anti-UV coatings, protecting it from damage and ensuring clear visibility, even in bright sunlight. The helmet is also equipped to accommodate the supplied Pinlock 70 anti-fog lens. This feature helps prevent fogging on the visor, ensuring clear vision in different weather conditions.
Standards
Safety is a crucial aspect of the Airoh Connor helmet. It is certified according to the ECE R22.06 standard, ensuring the helmet meets the required safety standards and regulations. This certification provides riders with peace of mind, knowing they use high-quality and reliable protective gear.
Regarding availability, Airoh offers the Connor helmet in plain colours such as Black, White, Gray, and Silver, as well as six graphic options. The helmet's price is 119.90 Euros, approximately equivalent to $130.
Source: Airoh