All about BMW Motorrad's R1800 C Engine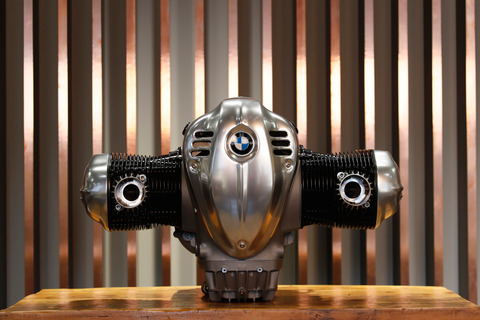 BMW Motorrad had proudly present there concept of R18/2  at the recent EICMA. Now we do have the information on its  one of its kind 1800cc engine.
Close to a month before EICMA the monstrous R1800 livery was spied. Five days later again it was spied and the spy shots clearly showcased how large the machine was.
Specifications of 1800 CC Engine
OHV Air / Oil Cooling Boxer Twin Engine.
4 Valve Boxer Twin Engine Maximum Displacement 1,802cc Bore 107.1mm.
Stroke 100mm Horsepower 67kw (91HP) / 4,750rpm Torque 158Nm / 3,000rpm 2,000rpm ~4,000rpm.
Idling is 950rpm maximum speed .
The crankshaft and connecting rod are equipped with plain bearings to reduce vibration.
Dual ignition.
2 camshafts.
As with conventional 2-valve boxers, the valve clearance can be adjusted manually.
Constant mesh 6-speed transmission.
Single plate dry clutch with anti-hopping function.
A reverse gear is available as an option. (Drive by intermediate gear and motor).
Building an altogether new OHV livery with tasted of modern technology is something difficult but exciting and that is what BMW Motorrad has done.
Classic form but having the latest tech. The commercial production model of R1800 C will be showcased. Engineers of BMW Motorrad had put a lot of effort to bring this new platform to live. Now how does it fare in the market we need to see.
The new platform is set against to compete with 
Triumph Thunderbird Storm

Victory Freedom

Suzuki M1800/C1800

Honda VTX1800

Harley Davidson

Indian Chief

Honda Goldwing

Yamaha VX 1900 and a couple of others.
Today, we proudly present our new Concept R 18 /2. We're looking forward to seeing all cruiser fans enjoying the chopper-style seat, discussing the hot-rod character and appreciating all the hard work and passion we've put into this bike! ? #MakeLifeARide #Soulfuel #BMWMotorrad pic.twitter.com/vc08Yfwkce

— BMW Motorrad (@BMWMotorrad) November 5, 2019
---
Source : BMW Motorrad 
See Also 

BMW Motorrad's World Endurance Team
"Departed" from BMW 
BMW Motorrad's Heritage 2020 Collection 
Top 40 bikes to see at EICMA