The fifth teaser of new Kawasaki ZX-25R talks about its engine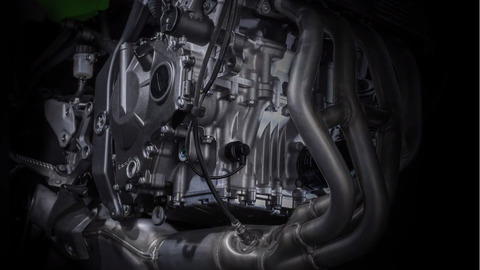 The intimidating ZX-25R from Kawasaki doesn't stop surprising us and now they have released the fifth teaser.
In the third teaser, Kawasaki disclosed information on engine ram air intake.
Now in this fifth teaser, Kawasaki talks all about its in-line four engine. The key to its exhilarating riding impact delivers the performance that eclipses the rest of the 250cc field.
This is developed with the inputs from other Ninja ZX Supersport machines, the all-new engine offers a quick-revving nature, direct throttle response.
The flexible character combines strong low mid-range torque that facilitates city riding and screaming high-rpm power that can be enjoyed when on sport or track riding.
Every twist of the throttle rewards riders with the satisfying surge of acceleration complimented by characteristic intake and exhaust notes of Kawasaki in-line four.
The teaser doesn't show any exhaust note though. That we would like to hear. The ZX-25 R is set to release in Indonesia in the spring of 2020.
---
Source : YouTube
See Also 

MotoParilla brings new flavours 
All new Bobber TFC
Officine RussPurro's MotoGuzzi
Aprilia RS660 vs Kawasaki ZX6R
2020 Suzuki VStrom 1000