At Le Mans, Pol Espargaro to start 8th
Pol Espargaro battles for first few rows in Q2 and takes 8th

Miguel Oliveira 12th fastest despite Saturday drama

Albert Arenas is the quickest KTM rider in Moto3 and places his KTM RC4 2nd
MotoGP tackled varying weather conditions at Le Mans and the furthest visit north in Europe this season. 
Free Practice on Friday was wet and damp, and Saturday dawned bright and dry but with a chilly wind. The climate required some diligent set-up work for the Red Bull KTM contingent who went into Saturday's sessions with two of the four riders making Q2 directly.
Pol Espargaro was again circulating near the top of the practice standings. The Spaniard then reached as high as 6th place with his best flying lap during the short and intense Q2 run but was knocked back two positions as the rest of the riders clocked their efforts in the final seconds of the session.
Red Bull KTM Tech3's Miguel Oliveira showed his competitiveness around the French layout by entering Q2 directly. The Portuguese had a challenging day after a technical problem in FP4 but took his place on the fourth row with 12th.
 Brad Binder quickened his speed from the tricky first taste of Le Mans with the MotoGP bike on Friday to improve his race pace in the final sessions of Free Practice.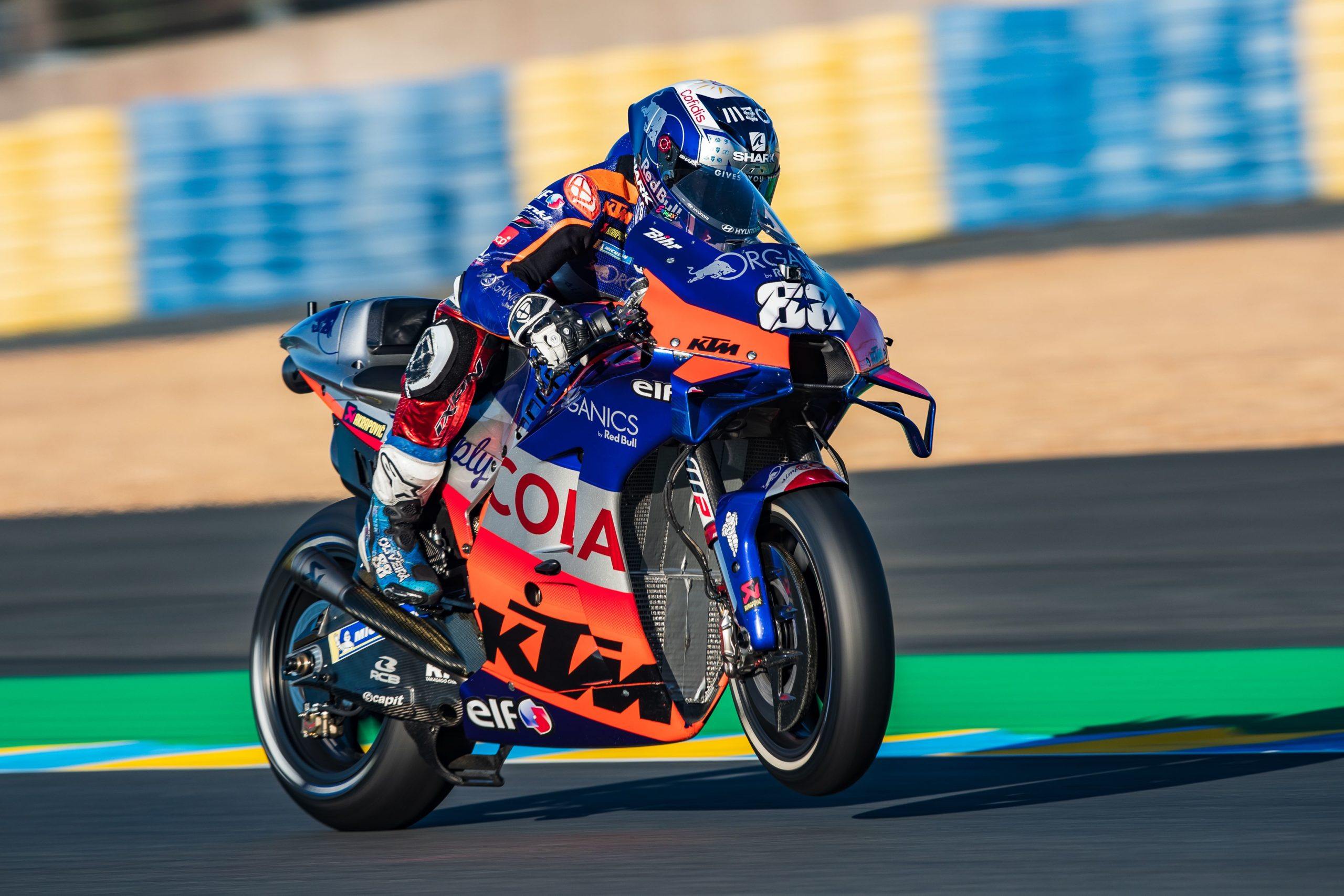 The South African could not make it through Q1 due to a crash and will begin the 27 laps from 17th. Iker Lecuona is 20th.
 There will be a different order for the races on Sunday. Moto3 begins at 11.20 with MotoGP next at 13.00, followed by Moto2 at 14.30 CET.
Quotes
 Pol Espargaro: "It wasn't the perfect lap. I had an issue with the traction control in Turn 6 and then out-braked myself in the last two corners.
I lost a couple of tenths and a chance for the second row, which is where I wanted to start tomorrow. 
The third row is not too bad though, and we are fast in the first sector of the track, so we need to get through that without any mistakes and then see how the race goes. Our pace is good. I'm looking forward to tomorrow."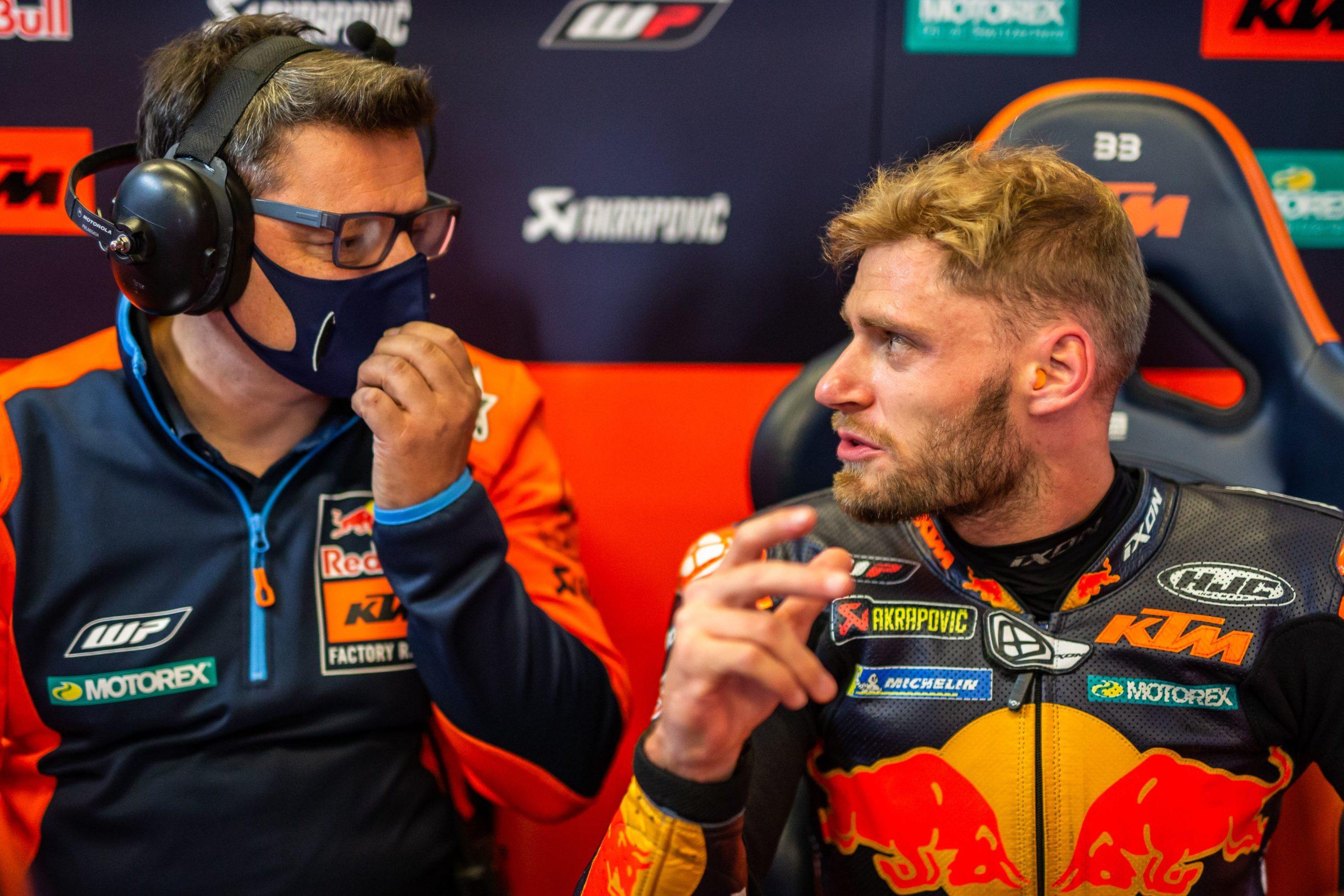 Brad Binder: "Qualifying didn't go to plan even if FP4 went quite well and FP3 also, where I narrowly missed Q2. We went out in Q1, and I didn't get a good lap, so we changed tires, but then I crashed on my flying lap.
We didn't have the day we were hoping. But I think our potential is a look higher than how it looks. We'll get the job done tomorrow."
 Miguel Oliveira: "I'm a bit disappointed about the Qualifying. FP4 was going well until I had an issue. 
I restarted with a new tire but crashed on my first lap and the damage was too significant to continue. The team did a great job to repair the bike in time for Qualifying session. 
After this, I had to recover my feeling. Still, I improved my lap time from this morning, which is a positive point. 
Tomorrow is going to be a hard one; we all need to be safe in the first laps and then do our race. I think excellent; I need to keep a healthy attitude and stay optimistic for tomorrow."
 Iker Lecuona: "It was tough to manage the situation today. I felt good, my lap time was also quite strong, but everybody improved a lot, and finally, I'm quite far back in the grid. I think I have a strong pace to fight for the points tomorrow."
Moto2 & Moto3
 Red Bull KTM Ajo KTM's Raul Fernandez was one of a small group of riders vying for Pole Position in the cool French sunshine for Moto3 Q2. 
The Spaniard went close but was less than half a second away from the top spot and will sit on the second row in 4th for the opening race of the Grand Prix tomorrow. KTM's Albert Arenas will be looking to retrieve his lead in the standings and sets off from 2nd position with his RC4.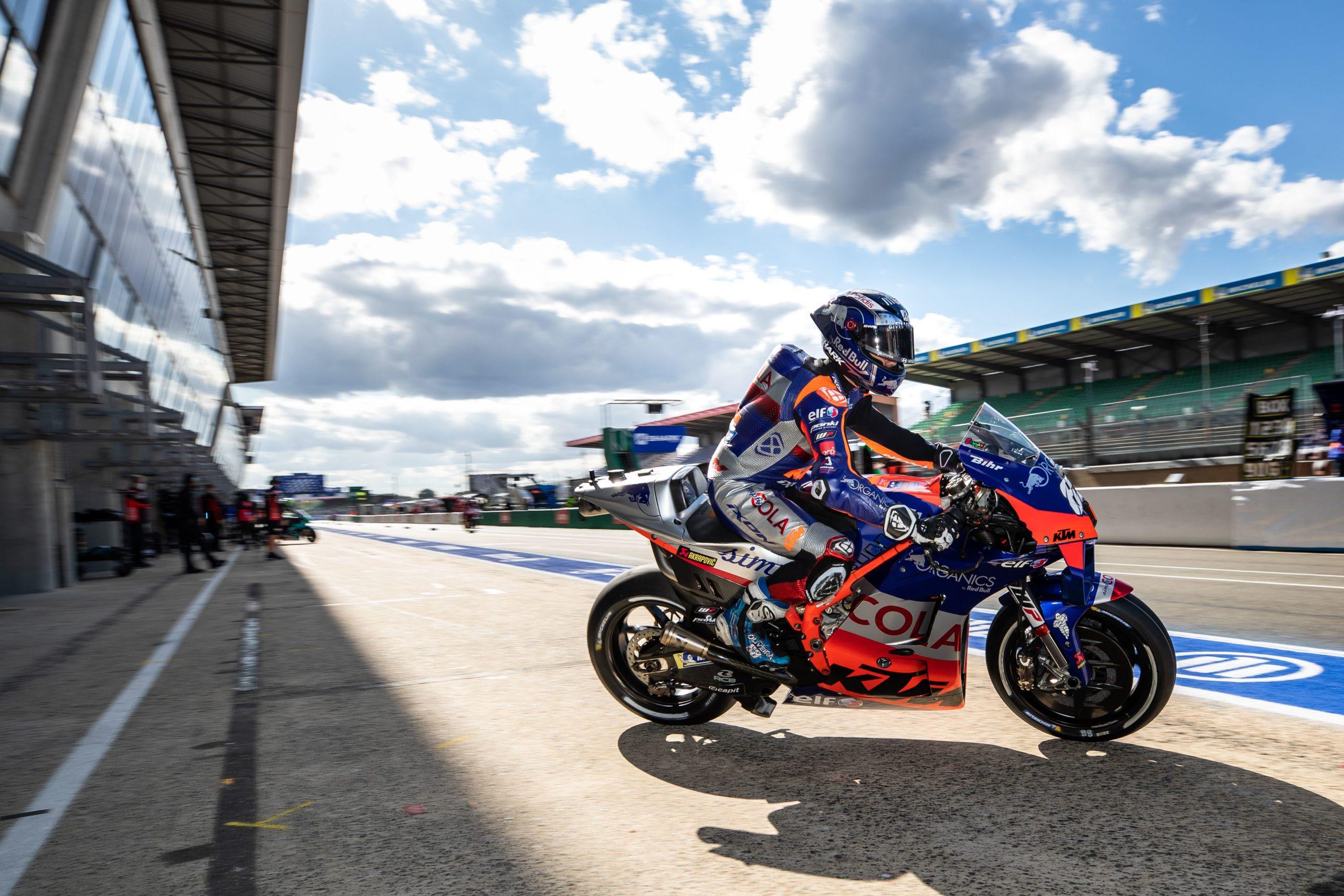 In Moto2 Red Bull KTM Ajo's Jorge Martin was 4th fastest on the day – just a quarter of a second from Pole – while teammate Tetsuta Nagashima took 22nd.
R

aces: October 11th, 2020 – Moto3 11.20 | MotoGP 13.00 | Moto2 14.30 CET

 Results Qualifying MotoGP Shark Helmets Grand Prix de France
Fabio Quartararo (FRA) Yamaha 1:31.315

Jack Miller (AUS) Ducati +0.222

Danilo Petrucci (ITA) Ducati +0.359

Cal Crutchlow (GBR) Honda +0.371

Maverick Viñales (ESP) Yamaha +0.404

Pol Espargaro (ESP) Red Bull KTM Factory Racing +0.480

Miguel Oliveira (POR) Red Bull KTM Tech3 +0.694

Brad Binder (RSA) Red Bull KTM Factory Racing (Q1) 1:32.774

Iker Lecuona (ESP) Red Bull KTM Tech3 (Q1) 1:32.859
Results Qualifying Moto2 Shark Helmets Grand Prix de France.
Joe Roberts (USA) 1:36.256

Sam Lowes (GBR) +0.087

Remy Gardner (AUS) +0.193

Jorge Martin (ESP) Red Bull KTM Ajo +0.266

Tetsuta Nagashima (JPN) Red Bull KTM Ajo (Q1) +1:37.512
Results Qualifying Moto3 Shark Helmets Grand Prix de France.
Jaume Masia (ESP) Honda 1:41.399

Albert Arenas (ESP) KTM +0.020

John McPhee (GBR) Honda +0.447

Raul Fernandez (ESP) Red Bull KTM Ajo +0.457
Source: KTM