DNA Concept by Hongik University, Aachen University, and Audi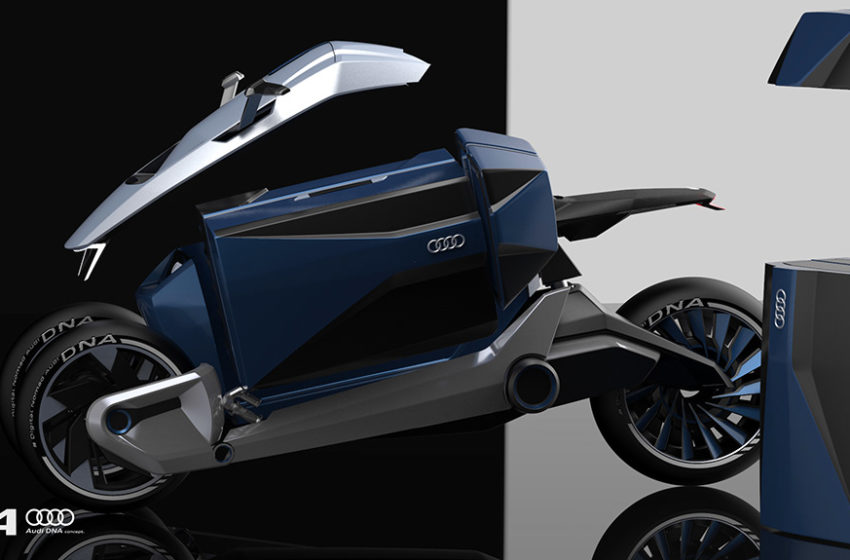 The Idea
Hongik University, Aachen University, and Audi have come up with an intelligent DNA Concept that essentially is inspired by the luggage.
The drawing sketches clearly show the idea comes from luggage to reduce the luggage while you travel.

Now this luggage can be converted into a transportation mode that has three wheels, two at the front and one in the rear.

This electric Triwheeler when static could be utilized as a table for work building you a co-working space or leisure to drink champagne. The key theme also comes from Audi cars.

The rider or user is also provided with a mobile app that will effectively track all the important statistics.

We could also see the DNA Nomad space or we think they are stations to get these Tri Wheeler charged.
While the idea of tri wheeler is something not new we do already have concepts from Kawasaki like concept J. Yamaha already has Niken and Tricity 300 we would say Yamaha is the forerunners in this race. Their concepts are already on the road.

LivingWithGravitys Take
Things we like
What differentiates this Tri Wheeler from other Tri Wheelers is the first thing it is electric.

The idea of converting a luggage bag into an effective mode of transport.

You can work as well as spend some leisure time on this vehicle. This is quite intelligent.

When the vehicle is converted back into luggage. The design, shape, and style of the luggage bag is sleek and looks very futuristic.

The design of the vehicle is also sleek and looks more confident in the drawings.
Things we don't like
Battery and charging details are not provided. Probably this is the first version of the design and as things are in progress we may able to see more details.
The segment of the mode of transport is getting wider and there are already players in the market who are already present.
But we believe that this should not make Audi shy away from building this concept into production.
We would also like to hear from you.
---
See Also
Ducati unveils the next gen communication tech
Ducati unveils the " Join Ducati " contest
Hades 1 by Curtiss is ready
Is BMW carrying road tests on the Vision DC Roadster?