Bandit9 brings futuristic custom 'EVE LUX' on the scene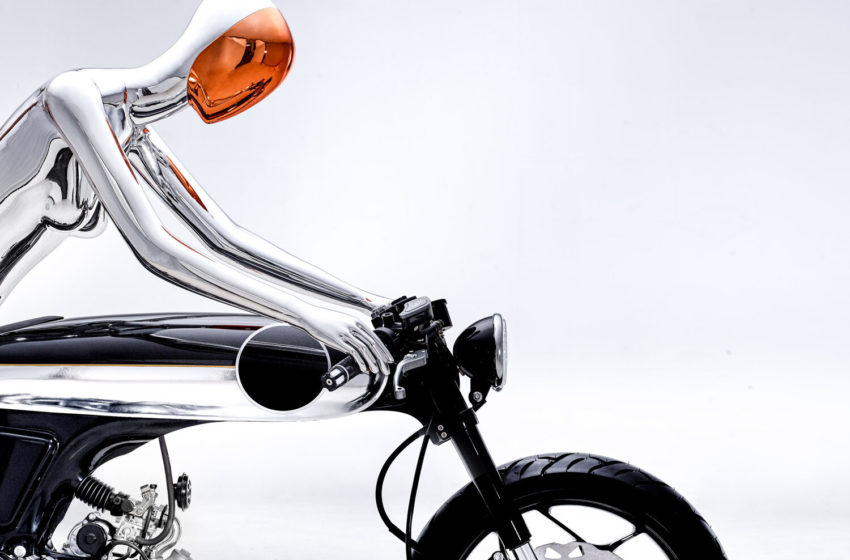 Daryl Villanueva of Bandit9 is not new on the custom scene. He is present for the last three decades trying to change the perception of how custom motorcycles should look. 
The Future
And from that point of view, we see him disrupting the custom motorcycle world by bringing in the masterpieces one after the other.
Bandit 9 has already showcased there bikes in Barber Vintage, Petersen Automotive Museum, MC Collection, and various others.
 "The Future is here" that's what our first impressions are after we saw EVE LUX as Luxury retailer Lane Crawford commissions EVE LUX.
We see some genuine thoughts that are present in this design and sculpture with no-nonsense.
Design 
Depicting how custom motorcycles can take shape, this sculpture has a capability to grace any drawing-room, fashion house, or museum into an art gallery.
With only nine limited copies, it took 26 weeks for the Bandit 9 team to bring EVE LUX to life.  
There is no machine intervention as the EVE LUX, is all made by hand.Our observations are quite simple. The livery looks a single piece of package right from tail to speedo. 
The only thing that slightly differs is the small round headlight that we see made to look like it is placed in a very conscious way.

The design is 'simple, sleek, straight, influential, and, most importantly, innovative.'
Influence 
EVE LUX's straight design looks all the more potent and crafted from a single piece of stainless steel right from the fuel tank to the end tail.
Specs are delightful too that doesn't boast much as the machine gets semi-automatic 125cc engine.
To make the bike light, and that weighs only 135 kgs. Daryl Villanueva uses the technique of steel chassis that is applied pressure.

Combined with an inverted fork, he uses the simple frame. The single large disc at the front gives a different look altogether.  
Silver color smooth clutch livers and black sports clip on adds a cafe racer look to this lightweight custom.
We also see the combination of lever and contemporary master cylinder adds more value to the EVE LUX.
Daryl has placed a new swingarm at the rear combined with adjustable shock. Cool pairs of small blinkers are present beneath the thin rider black seat that align with the entire package.

When observed minutely, both the alloy wheels get different spokes that look like a pentagon.  
The cylindrical part that houses the fuel tank gets two types of paint schemes divided by a thin gold line. The upper part has black with the tint of silver, and the lower gets the silver.
You need to rush if you want to take this piece of cake, and the price tag is just US$10,950.
---
Custom by : Bandit9
Model name : Eve-Lux
Commissioned by Lane Crawford 
Read More
Custom : Inside Barbara Customs
Droog Moto's 250 Radical Brawler
Deus and Norton are partners now
CCM Motorcycles brings Stealth editions
ARCH Motorcycles