Bimota carries test on Tesi H2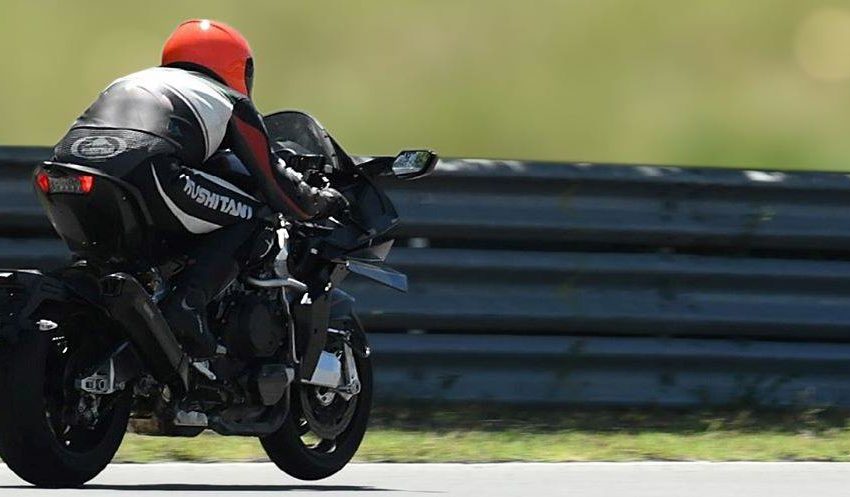 We saw one of the most crucial partnerships in the motorcycle world last year before EICMA between Kawasaki and Bimota.
Well to no surprise Bimota unleashed Tesi H2 on the first day of EICMA 2019, and it took motorcycle world by storm.
Bimota Tesi H2 being tested on the road
On the technical front, Kawasaki is helping Bimota to build Tesi H2. It is one good reason why Tesi H2 now has become one of the most sought after motorcycle with its rugged look and beefy one-sided exhaust.
In February 2020 folks from Bennetts caught hold of official documents. And those documents revealed the power figures of Tesi H2, and they are at 170kW or 228hp.
However now Bimota has started testing of Tesi H2, and they had revealed few pictures, and a lap video on there official Bimota Facebook handle.
Tesi H2 tested on the track
As rider tests the Tesi H2, he is also responsible for providing crucial inputs on various parameters and components like its suspension, brakes, engine, ergonomics and its behaviour to Bimota engineers.
To make it more subtle before it is unveiled.
Before few months we had a chat with Bimota, and we will see Tesi H2 soon on the road.
Un giro con la Tesi H2. La rivoluzione continua.A lap on the Tesi H2. The revolution continues.

Posted by Bimota on Friday, July 10, 2020
Source :Bimota
Read More
Brembo now holds a 2.43% stake in Pirelli
HOREX brings 2020 models with updates
MV Agusta brings 2020 Reparto Corse livery
Our top 10 articles of June
Norwin lightning b JMC classics