Custom: 'Weird Fish' by Paul Milbourn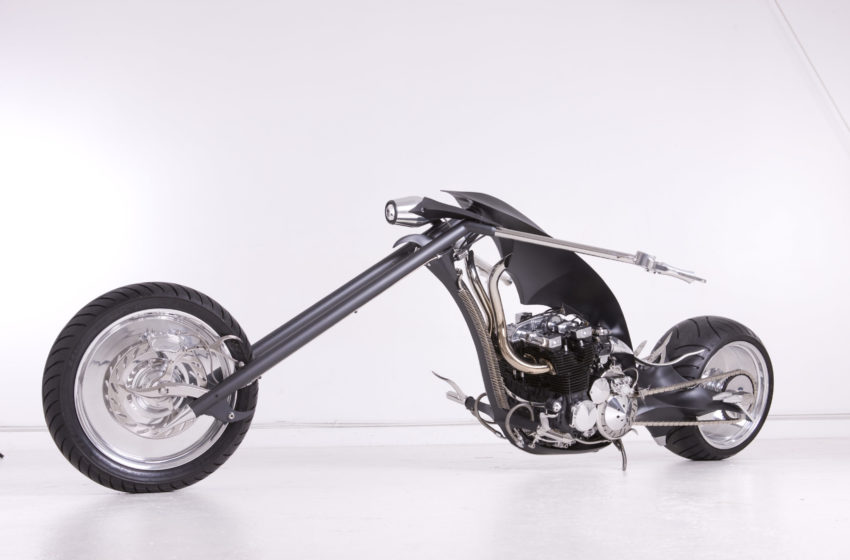 "Some things have to be believed to be seen."

― Madeleine L'Engle
The same goes for Paul's custom ' Weird Fish ' that Paul had built-in 2012 based on 1991 Yamaha XJR. Back in 90's Yamaha manufactured the XJR to compete with other naked street motorcycles.

The XJR had inline 4 engine mated with 5-speed gearbox capable to cross the speed of 257.9 km/h / 160.2 mph and converting that into Chopper itself is intelligent.
Paul's art is a sublime that engages with a lot of fluidity in this custom. The custom is inspired by fish ' Bat Ray ' that swims in the water with the help of bat-like wings and has large protruding eyes that resemble the two large white dots on the section of the fuel tank painted by Paul.

The entire bike is painted in Matte Black paint scheme except for the wheels and long handlebars with sharp edges all over. The exhaust pipes are golden in color and their output is below the fuel tank section that itself shows Paul's vision to build something different.

The headlight is small but aligned with the entire build. The details are beyond par on this build.Just like ' Weird Fish ' Paul's other notable builds are " Nutcracker ' and " Titanium Guzzi' that Paul had build later.
Paul also has won an award for this custom that was sponsored by Back Street Heroes magazine.
---
See Also
'Got Naked 61 ' by VTR Customs
'K' for Krugger
'Achilles' by Phil Kraftstoffschmiede
Front View 1

Front View 2

Side View 1

Mid Section

Rear View

Rear View 1

Rear View 2

Rear View 3

Rear Wheel

Paul with Weird Fish

Fuel Tank Section

Engine

Side View 2

Side View 3