Dakar sets the pace as Toby Price stands fourth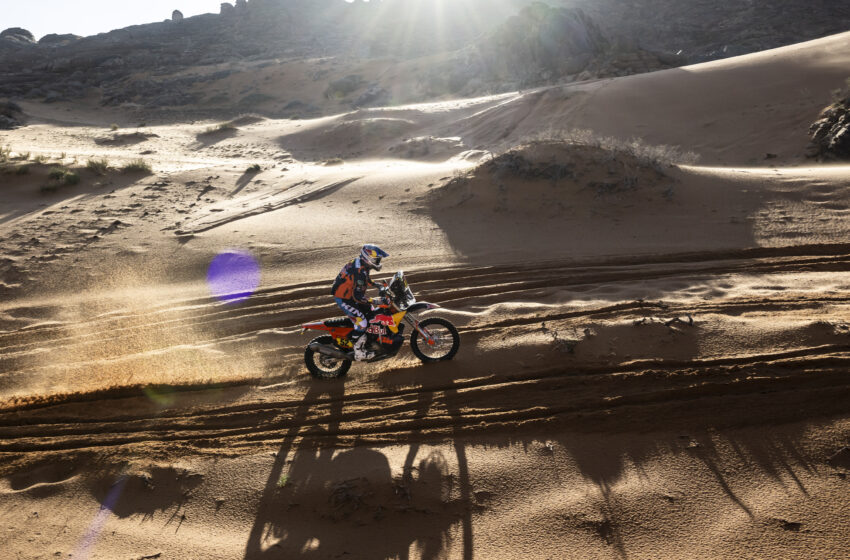 Red Bull KTM Factory Racing's Toby Price and Kevin Benavides have delivered strong performances on day four of the 2023 Dakar Rally. Price completed the stage in fourth place, with Benavides less than one minute behind his teammate in seventh. Matthias Walkner, who injured his wrist in a crash on stage two, gritted his teeth again to finish the stage in 12th.
Read Also: Daniel Sander's positive Dakar Rally continues
KTM Race and KTM Company
Leaving and returning to Ha'il, the 574-kilometre stage four of the rally included a 425-kilometre timed special that saw riders navigating through 100 kilometres of dunes from the start. A maze of sandy tracks followed, leading them back to the bivouac, where accurate navigation was vital in securing a solid result.
Putting in another consistent ride on stage four, Toby Price claimed fourth on the day to move himself up the provisional event standings to fifth, less than 10 minutes from the lead after close to 19 hours of racing. The Aussie star will enjoy a strong start position for Thursday's stage five, aiming to push on the soft dunes to make up time on his rivals.
Toby
Toby Price: "All in all, I had a good day, just keeping it on two wheels and completing each day. The section of dunes at the beginning of the stage Today was quite tough to ride through; after all the rain, the sand sucks you in a lot more, and that makes things even more physical and makes the fuel consumption go up a little, too. At this point in the race, my body is feeling good. The bike is feeling perfect, so yeah, I'm happy."
Also riding with a strong, consistent pace, Kevin Benavides brought his KTM 450 RALLY home in the seventh Today. But with times extremely close at the top of the leaderboard, the 2021 Dakar champion only trailed the provisional stage winner by just over three minutes. In doing so, Kevin successfully defended his current third-place position in the rally standings and will have six riders starting ahead of him tomorrow to chase down.
Kevin
Kevin Benavides: "Today was another long stage. I felt perfect out there, and my feeling with the bike is excellent now. It seems to perform well in all conditions. It was so physical Today, with many camel grass and dunes. I tried to do my best and didn't make any big mistakes. Towards the end, I rode with Joan Barreda, and we made up some time by pushing each other over the final section of the stage. I'm thrilled with my riding and where I am in the standings. I need to stay focused and keep this pace."
Battling his way through the pain of the injured wrist he damaged on Monday's stage two, Matthias Walkner completed Today's special in 12th place, 12 and a half minutes down on the leader. Despite the discomfort, the former Dakar winner will try to continue with the event. Matthias lies in a highly commendable 10th overall.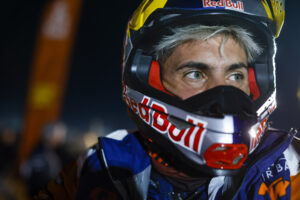 Matthias
Matthias Walkner: "It's been another tough stage Today. I have much pain in my wrist and am at my absolute limit. As soon as I set off this morning, I knew it would be a tough day, but I fought my way through it. I'll try my best and see how I feel each day."
Read Also: Ducati plans to bring nine models to the Indian market
Thursday's stage five will see riders face another looped route leaving and returning to Ha'il. Totalling 645 kilometres, the special will challenge riders with 373 kilometres raced mostly over sandy tracks littered with camel grass and soft rolling dunes.
Provisional Results – 2023 Dakar Rally, Stage 4
1. Joan Barreda (ESP), Honda, 4:28:18
2. Pablo Quintanilla (CHI), Honda, 4:28:34 +0:16
3. Skyler Howes (USA), Husqvarna, 4:29:23 +1:05
4. Toby Price (AUS), KTM, 4:30:42 +2:24
5. Adrien Van Beveren (FRA), Honda, 4:30:55 +2:37
Other KTM
7. Kevin Benavides (ARG), KTM, 4:31:37 +3:19
11. Mason Klein (USA), KTM, 4:40:26 +12:08
12. Matthias Walkner (AUT), KTM, 4:40:48 +12:30
Provisional Standings – 2023 Dakar Rally (after 4 of 14 stages)
1. Daniel Sanders (AUS), GASGAS, 18:40:03
2. Skyler Howes (USA), Husqvarna, 18:43:36 +3:33
3. Kevin Benavides (ARG), KTM, 18:44:08 +4:05
4. Joan Barreda (ESP), Honda, 18:44:33 +4:30
5. Toby Price (AUS), KTM, 18:47:20 +7:17
Other KTM
6. Mason Klein (USA), KTM, 18:50:08 +10:05
10. Matthias Walkner (AUT), KTM, 19:08:28 +28:25