Indian man builds a homemade six-seater electric bike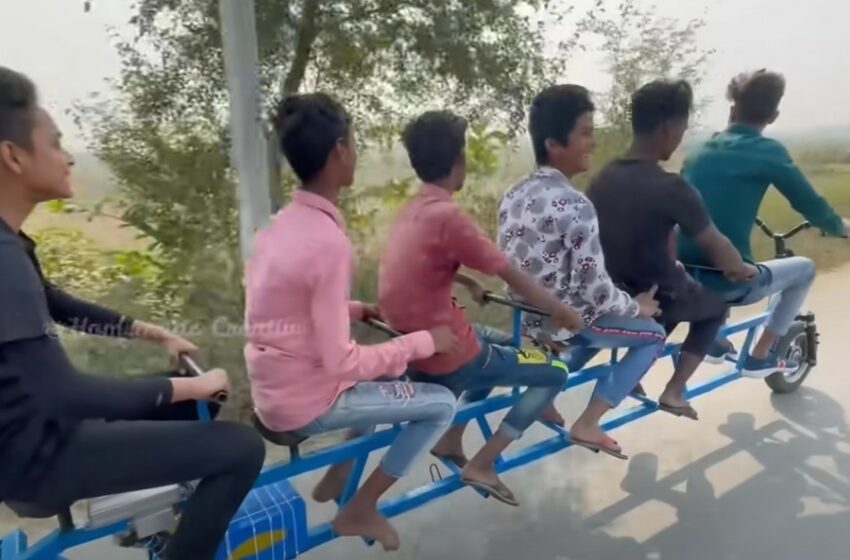 It's no wonder electric bikes are becoming the norm. Electric bikes and scooters now come in a wide range of varieties, sizes, and prices depending on the purpose.
The electric bike is an excellent way for farmers and labourers in developing countries to move around. It is essential in areas where the terrain can be mountainous and difficult to traverse on foot. Electric bikes are also helpful in cities because they significantly reduce the air pollution caused by gas-powered vehicles.
Read Also : Tork to bring the new electric bike
E bike electric bicycle
It is similar to how the introduction of affordable personal computers changed how people get work done. Not are e-bikes and scooters great ways of transport, but they are also quick, efficient, and reliable means of transportation.
Taking a lesson in transport engineering from the sound of it, one enterprising Indian Asad Abdullah man decided to combine a six-seater bike and an electric motor to develop this radical homemade e-bike. 
Asad has shared the video on a YouTube channel called HomeMade Creative. The result is a vehicle that can seat six people, including the driver. It will also cost you roughly Rs 15,000 (approximately $180)—no word on whether the thing is street-legal yet.
Read Also: Ather said to bring a new electric scooter.
What the YouTube channel says.
Hi Everyone, In this Video, I am Building a 6 Seater High-Speed E-bike. This bike can be handy for daily use. It is a beneficial and best electric bike. It is a powered bike with 48V 30 Ah Battery, which helps to o up to 80km range on a single charge.
This electric bike can be made easily using simple tools. This is a very high-speed electric bike, and this is a long-range electric bike. This excellent bike can go 80km on a single charge. It is a beneficial electric bike, and making this electric bike is very easy. Anyone can make this electric bike.
The bike can carry six passengers on a single charge. Anyone can ride this long electric bike.
via Insideevs and Homemade Creative