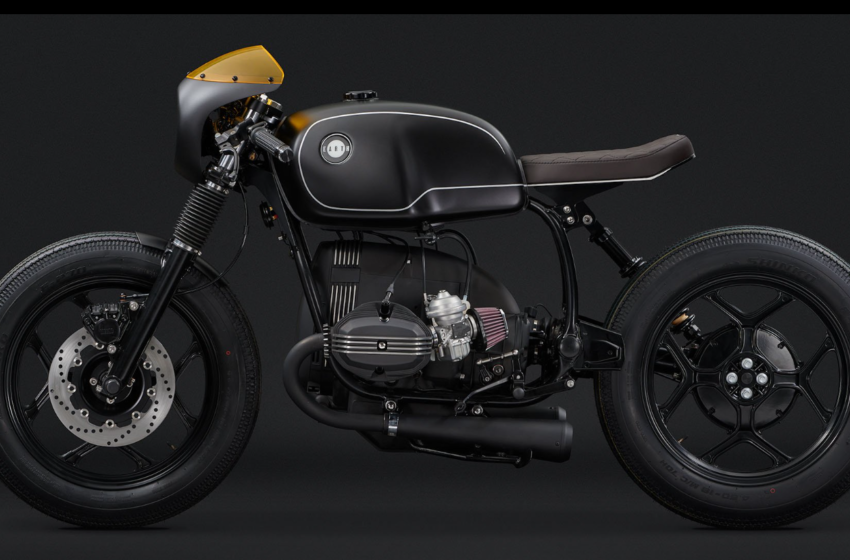 EARTH Motorcycles ' Dzivaak': A Legend Reborn
Featuring a minimalist design, masterful craftsmanship, and a subtle dose of understated elegance, the "Dzivaak" is possibly the cleanest and most minimal BMW cafe racer we've ever laid our eyes on.
It is Dzivaak, a BMW R80 from Slovakia's EARTH Motorcycles. It is a custom that is familiar and unique, sporting sharp lines and angular fenders but with a shapely fuel tank that would make it at home in a museum alongside the most famous cafe racers of all time. 
Minimalism
However, this build breaks away from EARTH's signature minimalism. It takes the cafe racer look further with a cute square swingarm over the supported by a single rear suspension — an elevated seat with an integrated subframe that raises the rider and creates a more comfortable riding position.
Along with sporty customs, Slovenian-based motorcycle workshop EARTH has just finished work on its latest creation — a bobber-style BMW cafe racer. First up, an R80RT donor was cut down to basics before decking out most of its initial parts from the German manufacturer. 
EARTH gave the BMW's engine a thorough refurb, with multiple new components like gaskets, governor springs and clutch plate, unique piston rings, valve guides, cam chain kit, grommets and seals, among others that were ordered for the build.
Components
According to the customer's choice of a more extensive look stock engine cover and the air filter, they changed those to a more slick K&N AirPods. The aluminium cover was painted the same Cerakote black colour as the engine itself.
Because of the Shinko tires' considerable height, they had to grind a fork bridge to fit the short aluminium fender. It is about 1cm above the tire, which made the customer very happy because they did not want to weaken the bridge. They rebuilt the entire bike.
A surprise severely damaged cam followers, but the camshaft was intact.
Yellow for contrast
All other parts are just our standard. We always use Discacciati levers, a variety of Motogadget/Motone/Highsider parts, Lifepo4 battery/regulator hidden under the tank etc. The pistons and rebuilt carbs are vapour blasted.
The customer's choice of the headlight is very excellent. It was already discontinued the Highsider 5 4/3 inch LED headlight. Folks from EARTH always wanted to use headlight fairing, which had been wandering around the shop for years. So now was the time to show off. 
And using the old BMW R80 7 inch headlight lens insert for it. They were a little bit worried because of the yellow colour of the screen, but eventually, we ended up with an idea to not alter the colour in the photo editor. The yellow fits just perfectly in contrast with the black satin finish of the bike.
Wheels and frames shaved of unnecessary brackets are powder coated. The passenger seats were not removed (just moved forward) because the Walzwerk longer seat can take a passenger. But also because the Slovak law requires the passenger's footpegs if the bike is officially for two riders.
Weight – 167 kg without fuel
Seat height – 82 cm
Frame and swingarm:
Shaved from all the unused brackets

Powder-coated frame

New aluminium footpegs

Renewed side stand (no more central stand) – new front fender
Forks and shock:
Internally and externally shorten forks by 5cm (2 inches)

Professionally powder coated

New black YSS 410mm rear shocks
Wheels and steering:
Shinko new classic tires

Steering new bearing

Aluminum CNC machined top yoke

Cafe racer's new Motone handlebars

Stainless steel fresh, top yoke nuts and stainless steel centre nut

Motogadget new rubber handgrips
Tank and seat:
Motone fuel tank cap

Professionally coated using a 2k technology

Seat pan made of steel 6mm thick, removable

Custom made Militaseat exactly matched right to the rear part of the tank, genuine leather (www.militaseats.cz)
 Engine, gearbox, and transmission:
Engine cleaned from inside out.

New – piston rings, valve guides, cam chain kit, gaskets, grommets, seals, governor springs, clutch plate, pushrod seals, stretch transmission bolts and nuts, oil filter and cam followers etc.

Renewed – starter, the timing mechanism

Engine, gearbox, transmission box sandblasted with delicate glass beads and painted with black Cerakote paint.

Polished cooling fins and other details

Checked for excessive wear – new stainless steel cam rod followers 

New exhausts
Fuel and air system:
Renewed fuel taps with new seals and with black Cerakote paint

New fuel filters and hoses

Vapour blasted and ultrasonically cleaned Bing carburettors.

Choke stainless new steel system

Seals and new gaskets everywhere – new air KN pod filters 

Engine new cover (instead of the old brick air box)
Brakes:
New front brake disc and brake pads

Renewed and painted callipers

New Venhill hoses, stainless steel banjo bolts, and bleeders

New Discacciati levers
Electric:
Renewed internal engine wiring harness, contacts cleaned

New outside wiring harness

Motogadget M-unit Blue with alarm and keyless ignition and many more features

Aliant LiFePo4 14Ah battery 

New Lifepo4 friendly regulator

Motogadget Tiny speedometer with their speedo adapter

Pushbutton controls

High side rear and brake LED light and rear LED indicators driller under the seat, only 11mm in diameter, E-marked

Motogadget fully adjustable mirrors with LED handlebar indicators, CE certified

New horn

New spark high voltage cables and spark plugs
Fluids:
New fork oil, engine oil, gearbox oil, transmission oil and brake fluid DOT 4.
They replaced all old bolts, washers and nuts with stainless steel ones. All rusted or broken parts were cleaned, repaired, or replaced with new ones.
In a world full of custom motorcycles, it's hard to know where to place EARTH Motorcycles. Their bikes are not just meticulously curated machines. They result from a collaborative effort between artisans, engineers, industrial designers, and modern-day illusionists. Yes, illusionists – because their creations seem impossible until you see them in the flesh.