First look at Rev'it's Mohawk 3 sleek and stylish motorcycle boots
You have the undercover Moto boots between the power rangers and the easy riders. These boots provide a sleek and classy look lets you stand out without screaming for attention. They're comparable to a lady in dressy heels versus a pair of sneakers (it's just not as pronounced).
School is out for summer when it comes to the fashion game for two-wheeled riders: the casual style and comfort season, whether you're riding a scooter, cruiser, or sportbike.
While you can still wear your Rev'it Mohawk 3 boots from fall through spring, thanks to the light protection built into these safety boots, you might be looking for some other options this time of year.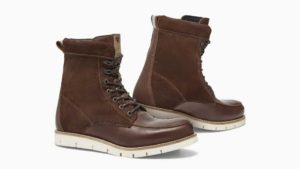 So I've done a little digging hoping to jazz up your spring with some new threads perfect for kicking back on a Sunday afternoon ride. Read on to see what I've found!
The riding style of today's motorcyclists changed considerably compared to the riders 20 years ago. 
The rider's main objective nowadays is showing off their elegance and individuality, and Rev'it has given some stylish boots to compliment the goal. The brand presents the Mohawk 3 – a stylish ankle-high riding motorcycle boot.
Rev'it has been a mainstay in the moto footwear industry since they unveiled their motorcycle boot in 2013, named the Mohawk 3.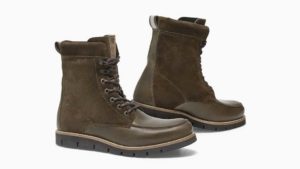 Since then, the company has served riders well with lower-priced, off-road style boots like Rev'it Pioneer GTX Boots. We like to call it, and an overall more affordable pricing strategy is always welcome. 
The Mohawk 3 provides you complete protection; however, it lacks a toe pad which most other riding boots have.
Style
As you read above, it has a different style and boasts water-repellent leather in some areas, along with a suede material you can find in most dirt bike riding gear nowadays. 
These features are great as they enhance your comfort when riding and ensure your feet stay warm during those cold autumn days.
As someone who frequently wears motorcycle boots, the Rev'it Mohawk 3 has some things to offer a lot of other brands don't. 
They look sharp, they're comfortable, you can wear them on both street and dirt, and they offer some long-lasting benefits.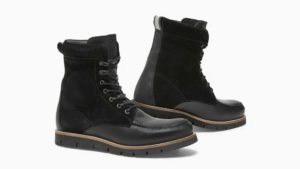 When it comes to the comfort aspect of these boots, there are some excellent materials inside them, including an Ortholite insert with odour control. And when I say long-lasting benefit, refers to the firm sole.
These boots or shoes are certified by Standard EN 13634, and they have been classified Homologated Level 2 | 2 | 2 | 1.
The Mohawk 3 is available in 3 shades black, brown, or olive green and men's sizes from 6.5 to 13, with about USD 250 (EUR 229.90).
via Revit