Introducing the 2022 Yamaha Neo's electric scooter
Japanese manufacturer Yamaha -best known for its motorcycles and another motor-vehicle branch- has presented a new generation of Yamaha Neo's. A scooter with an electric motor that offers many benefits to the rider. 
A scooter continues to rely on its predecessor's fresh and functional style. But this time benefits from a 100% electric engine. From now on, you'll be able to ride freely in the city with no pollution or noise pollution- a true victory for urban mobility.
Practical and Economical
Yamaha stresses the new Neo's arrives as a "fun, practical and economical" solution in urban mobility. Something more than just a simple scooter; "a vehicle for the future". 
In addition, the design arrives ​​with a purpose. Yamaha wants it to be "an iconic product". So they insist that his bar ends and takes inspiration from the famous Y badge of the brand.
Yamaha proposes a radical and innovative solution.Where the engine control unit (MCU) offers the power installed via the suspension arm of its swingarm. 
The electric motor delivers instant torque, acceleration. And power to improve rider performance and feel. 
Only three main components for electric Yamaha Neo's are the brushless, air-cooled, gearless direct-drive motor and the rear wheel hub with the Yamaha Integrated Power Unit ( YIPU) built into it.
Battery
We can also see a lithium-ion battery with a powerful 50.4v/19.2ah located under the saddle. The basic range is 37 km (23 miles) while providing a high power to the wheel. You can travel up to 68 km (42 miles) by adding a battery.
The starting point for the development of Neo's 2022 was a clear set goal: to improve the vehicle's velocity, optimize the battery life and increase its autonomy. 
In an electric scooter, this is achievable by optimizing the (VCU). And the engine control unit (MCU), which can extract maximum performance from the battery (which weighs only 8 kg). Limit its power depending on the load it has or change to the additional battery if necessary. All this is achieved with Yamaha's state-of-the-art technology.
Modes
Its advanced design gives it a futuristic look, but its technological features set it apart from the competition. Just to give you an idea of ​​what I'm talking about: two modes of operation, STD for use on the road, and ECO optimized for travel at a distance. ​​Both with a power output of 2 kW at 40 km / h (STD) and 1.6 kW at 35 km / h ( ECO ).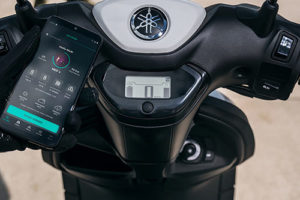 The design team has worked on a revised version of the chassis with striking contrasts. A redesigned deck and an ergonomic handle, KYB suspensions, and 13″ tires will welcome you to a whole new world of sensations in total comfort when you travel at speed.
Design
Yamaha continues its journey into the world of electric mobility by presenting the new Neo's, a scooter with a futuristic design that combines balanced and modern aesthetic lines to give it a distinctive appearance. 
Using entirely new technologies and materials, this electric model corresponds to the concept that Yamaha is pursuing: improve existing ideas and take them further, bringing them to new places never dreamt of. 
It is the idea behind its sleek bodywork, which features a wide variety of advanced applications:
Excellent aerodynamic control through the smooth and rounded lines

An LCD multi-function instrument panel with a redesigned rider area makes handling more accessible. My Ride application can connect to the LCD panel.

It gets the compartment under the seat (795 mm from the ground) to provide greater comfort at all times.
Shades
The scooter also has integrated LED lighting and an intelligent key ignition system. The Neo's arrive in two shades, Milky White and Midnight Black. And Yamaha may take some time to bring the new electric scooter to the dealership in May 2022.
While in India, it may take some more time.