It's hard to believe how quickly the Ducati Multistrada V4 has become a recognizable benchmark in similar riding environments.
And while we are talking about models. It is striking to see the flagship of the ADV family is also one of the most successful bikes globally in terms of sales volume. Last year Ducati delivered a 10,000-unit milestone.
It's an impressive performance for a product , in just one year. Has become one of the key launches in the history of Italian motorcycles.
The Multistrada V4 is a motorcycle with overwhelming power to leave its competitors behind. Demonstrating absolute solvency on asphalt and passing with flying colours in off-road driving.
The excellent qualities of its V4 Granturismo powerplant have meant a before. And after in terms of maintenance intervals (every 60,000 kilometres).
V4 GT
The Ducati Multistrada V4 is an elegant, sporty and agile bike. In addition to it. It has a comfortable seat and can transform into a motorcycle able to cover super long distances. In significant part thanks to the brilliant electronic package takes care of riders' needs according to their riding style.
The 2021 Ducati Multistrada V4 consists army of high-tech features. The first is the Cruise Control system or ACC. An electronic device makes it possible to maintain a constant speed without constantly keeping the throttle on.
The rider can set and adjust the ideal cruising speed for a long tunnel trip or a winding road by turning a button. Using a simple instrument with buttons and display on the handlebars.
The second is called Blind Spot Detection or BSD. A safety system alerts the rider when another vehicle is in their blind spot area, making it easier to avoid accidents. Especially when cornering hard on a country road or when braking downhill
It'sIt's no mystery this has been made possible thanks to its technical contributions and the market strategy implemented from start to finish by Ducati, which leads us to wonder. Can it have more riding aids/electronics? In 2022, yes.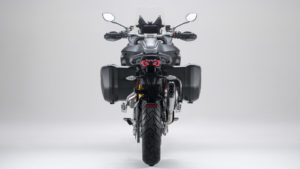 So what is new?
The new V4 Granturismo offers maximum versatility to be both fluid and exciting when needed.Ducati adopted a four-cylinder 90 ° V with a large bore to obtain a shorter and lower engine. Ideal for a high-performance bike, but which combines characteristics of high fluidity and regularity.
With the 2022 Ducati Multistrada V4 S, the Bolognese manufacturer inaugurated an ambitious plan to continue raising the bar regarding electronic rider aids and control systems. They took the first step was with the new shade Iceberg White for the Multistrada V4 S added to the existing Ducati Red and Aviator Gray options shades.
However, we also see a new electronic package. It has four modes riding modes (Sport, Touring, Urban and Enduro), traction control (DTC), cornering lights (DCL), hill start system, ABS with cornering assistance. Anti-wheelie (DWC) or the semi-active suspension Ducati Skyhook Suspension with self-levelling function. And earlier mentioned adaptive cruise control (ACC) and blind zone detector (BSD).
The new 2022 Multistrada V4S arrives with a new semi-automatic function in the electronic suspension system. And it has a minimum preload system allows adjusting the height of the motorcycle to facilitate when manoeuvring.
Further, the interactive software receives an update making it more functional. We also Ducati improved the interface information areas with the help of Ducati Connect.
The upgrade package is also available free of charge. And then Ducati also provides multiple novel accessories like the lowered suspension kit (and a set of aluminium panniers).
In collaboration with Givi Ducati has made the lowered suspension kit with a storage capacity of 76 litres. While the top case comes with 41 litres storage capacity. Price starts from € 22,340 .
via Ducati