Furion's new electric Yamaha Niken concept looks awesome
For years, the motorcycle industry has been at odds with the idea of electrification. Some would even say electrification is more suitable for mobility products, such as scooters and motorcycles. 
Those opinions are about to be turned on their head, however. Furion has taken it upon themselves to make a serious splash in the industry with their latest concept.
Yamaha's Niken is already crazy as it is. As you might know, it's a high-performance motorcycle that looks radical, whose power plant is already a standard powerplant. 
If you thought the Yamaha Niken was already crazy as it is, then gets a load of what Furion have in store. 
Their latest project sees them retrofitting an electrical system into the Yamaha Niken using only off-the-shelf components. Now this will make the Niken an electric motorcycle.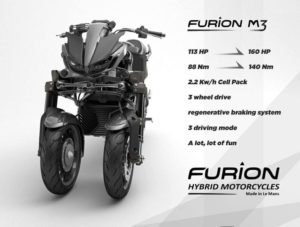 Niken concept
In the past, Furion has built some excellent builds. And this latest Furion concept is yet another testament to just how unique thinker Furioon are.
While not disclosed by the Furion, it is safe to say that the design will be derived mainly from the Niken with a bit of an original twist. 
Additionally, Yamaha's latest concept will come fitted with electric wheel hub motors for added performance.
The electric wheels hub motors will be in place to add some additional spice to an already exciting combination of technologies.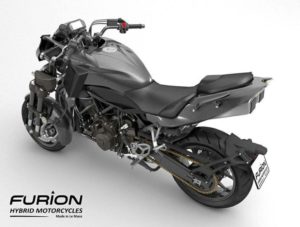 The rear will have standard combustion to help fire the CP3 powerplant. However, it will receive support from the electric mill to generate an additional 47 hp—bringing the total performance figure to 160 hp.
The inline-three already makes 65 foot-pounds of torque; however, the support from the electric mill will take the total torque figure to 103 foot-pounds. The electric unit will have a 2.2-kilowatt-hour battery supplemented by a regenerative braking system.
It's not often that you come across an electric motorbike concept like Furion Wants To Electrify a Yamaha Niken. 
No, we haven't stumbled across some sort of science fiction novel or blockbuster film here. 
What we have here is a futuristic, super high tech motorcycle concept by Furion that has the potential to change the way we move around.
via Moto it