The recently leaked patent images of Glodwing show us Honda is ready to introduce its radar-based capabilities in their upcoming Goldwing.
Ducati was the first to introduce this radar-based mechanism in the Multi V4, which comes in collaboration with Bosch. While on the other hand, we do see Kawasaki and KTM are ready to present this mechanism.
Plus the new BMW R1250 RT already has the radar-based capability as well as Suzuki too has this mechanism.
Let us understand what exactly is the radar-based mechanism and why it is getting momentum.
What exactly is Radar-based mechanism?
The way it works for Ducati is.
Radar technology permits the Blind spot detection and Adaptive cruise control. We understand Multistrada V4 is the first production motorcycle to get these goodies.
While riding at the speed from 30 and 160 km/h, the radar placed at the front helps detect the vehicles and automatically adjusts the distance.
The rear radar helps detect the blind spots for the areas which the rider is not able to see.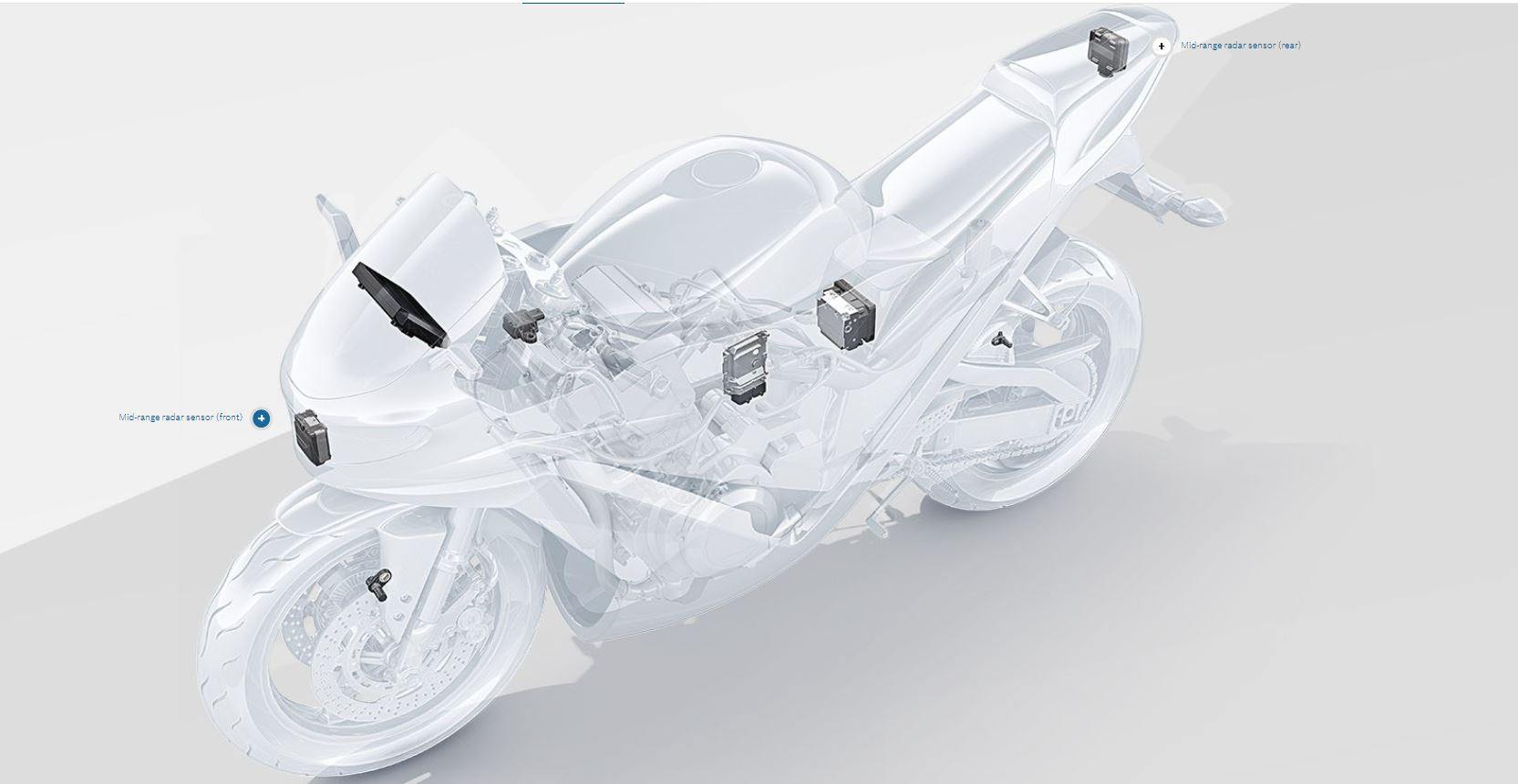 Bosch's radar mechanism
The BSD mechanism indicates the entire circumstances via the LEDs placed on the rearview mirrors when there is the presence of vehicles, the one located on the side lights up.
Further, the BSD also indicates if there are any vehicle coming at enormous speed.
If you are looking forward to changing the lens in both these circumstances, the BSD flashes the LED suggesting it is a dire circumstance.
At the three different levels, the rider can adjust the brightness of the LEDs.
The rider can adjust the aerodynamic appendages near the engine to change the flow.
We may see a similar mechanism in the Honda Goldwing.
Radar capability for Honda Goldwing
Coming back to Honda's radar patent. Usually, in cars, these radars are hidden under the plastic covers. As far as the mechanism for Glodwing, we may see it in between the front to large headlights.
Radar mechanism patent for Honda Goldwing
Also, another advantage what Goldwing offers is its large fairings. The radar beams won't return as the surface is flat.
Advantages of this system
The rider can stay more focused on the traffic conditions.

To avoid any accidents and in a difficult situation, this system will help the rider.

In the case of an emergency, these systems help communicate faster.

To conclude the radar-based mechanism helps to have lesser accidents.
And we will surely this in the upcoming Honda Goldwing.