Today's new-and returning-model announcement from Honda reminds the remarkable array of two-wheel products the company produces. Covered in the reveal are no fewer than 12 models from five different categories, including sport, miniMOTO, dual sport, scooter and trials. Not to mention the side-by-side models unveiled separately today.
Headlining the announcement is the legendary CBR1000RR-R Fireblade SP, which in 2022 adopts necessary new performance upgrades to celebrate the 30th anniversary of the Fireblade's original introduction in Europe (followed a year later in the U.S.).
12 new motorcycles
Returning for 2022 is the CBR650R sportbike and CB650R naked bike, which come standard with ABS. On the miniMOTO front, the 2023 edition of the popular Grom is back, as is the 2022 edition of the retro Trail 125. The PCX also returns for 2022, continuing as the benchmark model among scooters, and joined by the 2023 Ruckus.
Three dual-sport machines are also present in the announcement– the incredibly popular CRF300L; its adventure-focused sibling, the CRF300L Rally; and the classic XR650L.The latter in a new colour. In addition, a pair of upgraded Montesa Cota trials machines – the choice of FIM Trials World Champion Toni Bou – are offered to U.S. customers for the new model year.
"We recognize that motorcycling comes in many forms, which is in today's announcement," said Brandon Wilson, American Honda Manager of Sports & Experiential. "The models included are each unique, but they share a commitment to delivering the enjoyment of two-wheel recreation. We're proud of the disparate nature of the motorcycling community, and we're happy to serve all of its members in 2022 and beyond."
2022 CBR1000RR-R FIREBLADE SP
To celebrate the original, groundbreaking CBR900RR and a record of continuous challenges since the introduction of that game-changer, Honda offers a stunning 30th Anniversary version of the CBR1000RR-R Fireblade SP. For 2022, the development of this model's inline four-cylinder engine centres on mid-corner acceleration: the intake ports, airbox, airbox funnels and exhaust mid-section are all revised to deliver extra midrange power.
The final-drive sprocket has gone up three teeth for stronger acceleration through each ratio, and quick-shifter performance gets upgraded. Honda Selectable Torque Control (HSTC) has also been optimized, with feedback from HRC's riders, for refined rear-tire traction management, and throttle feel has improved even further.
Colour: Pearl White

MSRP: $28,900

Availability: July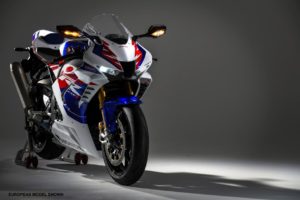 CBR650R
Designed to be appreciated on the street but drawing inspiration from the supersport realm, the CBR650R excites riders with its sharp lines, complete bodywork and corner-carving abilities. Still, it also delivers comfort, practicality and value. A full-fairing sports variant of the standard CB650R, this model has a high-quality Showa Separate Function Big Piston fork, stylish aesthetics and excellent emissions performance.
With a finely tuned chassis delivering light, responsive handling and a high-revving inline four-cylinder engine that offers enjoyable power, the CBR650R is exciting to ride and a pleasure to own, a gratifying intersection of values for the modern sportbike rider.
Colour: Matte Black Metallic

MSRP: $9,799

Availability: August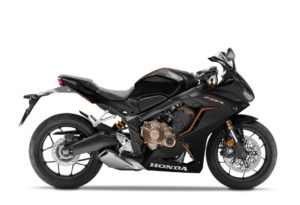 CB650R
Honda's iconic CB moniker evokes a proud legacy of middleweight machines with user-friendly four-cylinder engines mated to nimble, confidence-inspiring chassis. That's also an accurate description of the CB650R, which features a Showa Separate Function Big Piston fork, excellent emissions performance, striking aesthetics and comfortable ergonomics.
It showcases Honda's Neo-Sports Café design theme through its smooth lines and compact packaging. The CB650R is a popular and enjoyable naked bike that builds on the CB history of catering to diverse riding experiences, from daily commutes to exhilarating outings on tight, twisting backroads.
Colour: Matte Black Metallic

MSRP: $9,299

Availability: September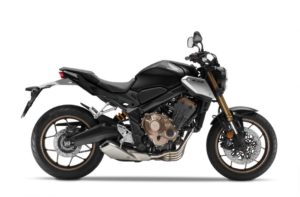 TRAIL 125
No manufacturer even comes close to Honda when it comes to fun, approachable, popular miniMOTO models. The Trail 125 is a prime example of one such machine that pays tribute to the past. The model harkens back to a golden era of motorcycling when there was seemingly a CT model on the bumper rack of every motor home but like Honda's nostalgic Monkey and Super Cub.
It also incorporates the everyday joys of practical design and hassle-free technology. Compared to the urban-focused Super Cub, the Trail 125 has several rugged upgrades, ideal for casual trekking on- and off-road.
Colour: Glowing Red

MSRP: $3,999

Availability: April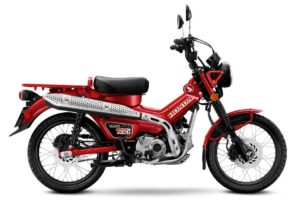 PCX
Honda's PCX is the ultimate tool for tackling urban environments in style, continuing to set the standard for scooter design and technology. Equipped with a freeway-capable engine, the PCX is equally suitable for new riders and more experienced customers, delivering performance, fuel economy, excellent handling, a comfortable ride and simple operation – all attributes vital in the scooter category.
Colour: Pearl White

MSRP

PCX: $3,899

PCX ABS: $4,099

Availability: April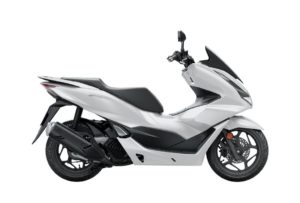 CRF300L
The motorcycle industry's top-selling dual-sport model, the CRF300L, boasts strong power, low weight and excellent on- and off-road performance while also delivering unparalleled value, reliability and styling. The model has a broad powerband, predictable handling and aesthetic cues that get carried over from Honda's CRF Performance line, and it's available in standard and ABS versions, both of which are ready to provide low-cost transportation and true dual-sport adventure.
Colour: Red

MSRP

CRF300L: $5,349

CRF300L ABS: $5,649

Availability: April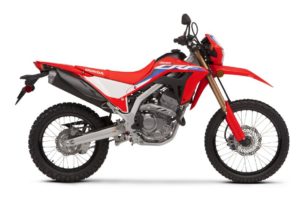 CRF300L RALLY
Based on the standard CRF300L, but with comfort-focused upgrades including hand guards, more fuel capacity and a frame-mounted windscreen, the CRF300L Rally evokes images of the Dakar Rally while delivering practicality and value. More suitable for long-distance adventuring than its standard sibling, the Rally version is also a stellar commuter.
Colour: Red

MSRP

CRF300L Rally: $6,099

CRF300L Rally ABS: $6,399

Availability: April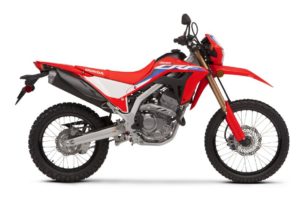 XR650L
Yes, the XR650L has been a regular part of Honda's lineup for many years, but there's a reason the tried-and-true dual-sport model continues to be popular with customers. It's highly adaptable, opening the door to adventure on single-track trails, dirt roads and backroads while also delivering capable transportation in the city. The natural result of those characteristics – plus a proud Baja heritage – is a diehard following of riders, who will be pleased to know that the model has received a styling facelift for 2022.
Colour: White

MSRP: $6,999

Availability: April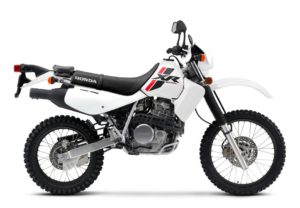 MONTESA COTA 4RT260R
The latest evolution of Montesa's versatile 259 cc platform, this model acquires the "R" suffix for 2022, indicating its more competition-ready specifications. Upgrades include a switch to Showa suspension components and a more oversized aluminium muffler that delivers increased horsepower across the rev range. The 4RT260R also gets new graphics and striking black colour.
Colour: Black

MSRP: $9,199

Availability: May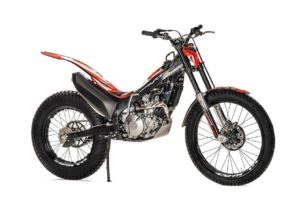 MONTESA COTA 4RT301RR RACE REPLICA
Montesa's most competition-focused model, the 4RT301RR Race Replica, is the pinnacle of trials performance. Powered by a 298 cc four-stroke engine and touting Showa suspension components and a white Repsol livery, the model is the choice of trials legend Toni Bou – intended for competition use only.
Colour: White

MSRP: $11,799

Availability: May
GROM
The undisputed emperor of the miniMOTO world and the spawner of a vibrant subculture of fun-seekers, Honda's Grom inspires a cross-demographic army of enthusiasts who embrace the diminutive model with remarkable passion. Its low seat height and approachability make it an unintimidating option for new riders to learn.
While its modular styling and peppy performance make it an entertaining plaything for experienced riders and a customization platform for those looking for a fun project, it's no wonder that the Grom continues to be one of the Powersports industry's most popular motorcycle models.
Colours

Grom: Matte Black Metallic; Cherry Red; Force Silver Metallic

Grom ABS: Pearl White

MSRP

From: $3,499

Grom ABS: $3,799

Availability: April
2023 RUCKUS
When it comes to little two-wheelers that ooze personality and attitude. It's tough to top Honda's unique Ruckus®, the model that launched an entire scooter-customization subculture. An exposed frame and dual round headlights contribute to an industrial-looking design.
Plus practical features like reliability, fuel efficiency and agile handling. The Ruckus is a great choice as a platform for personalization or affordable, around-town transportation.
Colours: White/Metallic Blue; Gray; Metallic Blue/Tan

MSRP: $2,899

Availability: April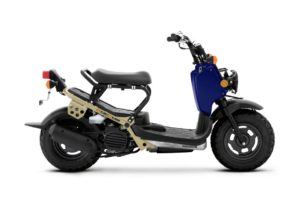 via Honda