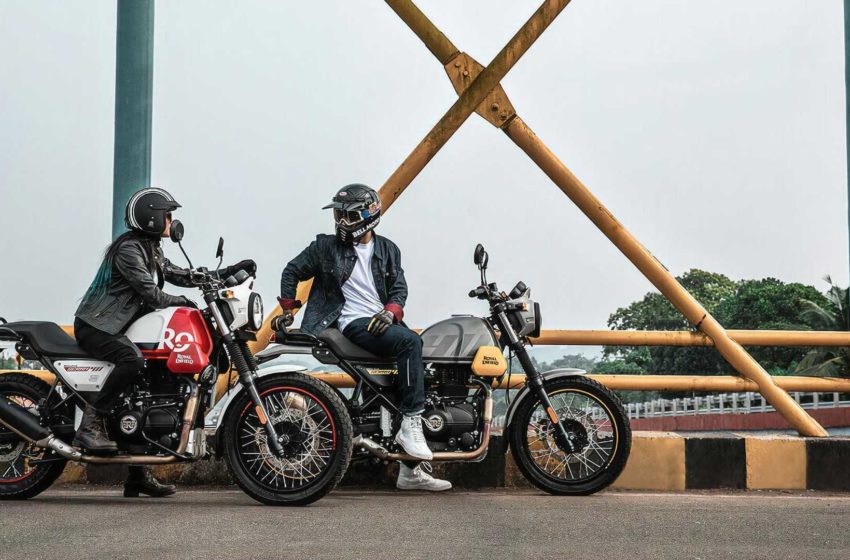 Royal Enfield unveils the new Scram 411 at Rs 2.03 lakhs
Royal Enfield unveiled the Scrambler 411 in India today. Thanks to leaks ahead of time and several photos of the bike being tested. We already knew most of the details, but they're now confirmed.
Approach
The mid-range bike is based upon the same platform as the company's Himalayan.And you can also expect similar power and performance figures. This approach makes sense, given Royal Enfield doesn't just have one extensive adventure/off-roading lineup.
It also includes many small-displacement street machines (including its bread and butter Bullet) could benefit from similar updates. 
If you're wondering what all of this cryptic name mumbo jumbo means.Royal Enfield will tell you they picked "Scram" because it's an informal abbreviation of a scrambler. Meanwhile, the "411" portion is meant to convey this new bike provides its rider with essential information for any journey. 
It also sounds very much like something you'd use to call information services (which many bikers don't do because they rely on their knowledge of road rules and traffic signs).
If you've been looking for something to quench your thirst for a decent but stylish ride. Royal Enfield has got you covered! 
New member
The Scrambler 411, or the newest member of the Himalayan family. We have a few things to say about the bike, and we must say that it holds to its iconic value and looks.
And here are the official details. It's the brand's latest addition to its range of air-cooled, single overhead cam, fuel-injected, 411 cc engine making 24.3 horsepower at 6,500 rpm.And 32 newton-meters (or 23.6 pound-feet) of torque at 6,500 rpm. In India, the bike goes on sale from February 15 and is available from Royal Enfield showrooms and its website.
Most bikes' suspension and ground clearance are essential aspects, and Royal Enfield is well aware of this. The Scrambler 411 Urban Scrambler features the same 41 mm fork with 190mm (just under 7.5 inches) at the front. As found on the Himalayan. Along with a mono-shock linkage setup at the back to offer 180 mm of rear-wheel travel.
The Scrambler 411 also gets other similar components as Himalayan, and they are two-piston floating calliper set up in front, with a 300mm brake disc. And on the rear, we see a single-piston floating calliper and 240mm brake disc setup while ABS arrives as standard.
Further, it gets spoked 19-inch front and 17-inch rear wheels. When it comes to suspension, it is similar to the Himalayan. '
However, there is a difference in ground clearance from 220mm, or 8.6 inches to 200mm, or just a hair under 7.9 inches. At the same time, the seat height on Himalayan is 800 mm (or 31.5 inches).While for Scram 411, it is 795mm, or 31.2 inches.
Dual purpose
Wondering what the next big thing in road-legal dual-purpose motorcycles is? While the Himalayan windscreen is reasonably tall.However surrounding the round headlight, we see the cast metal cowl.
Royal Enfield offers multiple-choice shade options with Skyline Blue, Graphite Red, Graphite Blue, Graphite Yellow, White Flame, Silver Spirit and Blazing Black.
The price starts from INR 2.03 ($2,657) and may vary as per the state.
Seeing how the Scrambler has been one of the most popular segments in motorcycling recently. It should come as no surprise to you the Indian manufacturer has finally revealed. What seems to be a Scrambler – but only for the Indian market.
via Royal Enfield