CFMoto 450SR is the company's first real midsize sports bike
CFMoto's main selling point is its value. The brand is a popular choice for riders who just want to enjoy the thrill of riding without needing a Ferrari maintenance budget. 
Not that anyone expects new-bike prices from CFMoto, but it's the kind of brand that only accepts specific components up to the task at hand.
However, now CFMoto has become aggressive and entering a different game.
450SR
It was inevitable that CFMoto would jump into the sportbike market. However, it came a bit sooner than I expected. First, let's cover the basics – a bike of this calibre needs to be just that. 
You need power, handling and torque to be fun. It is pretty in line with their past offerings where they're offering up a bike with those traits but on a slightly larger scale.
Competitors
Kawasaki has the Ninja 400. Honda offers the CBR400R and CBR500R and a host of other small-displacement sportbikes. Meanwhile, CFMoto's largest sporting motorcycle is the 300SR, which has a single-cylinder engine until now. 
The company recently posted teaser images on social media of a new machine called the 450SR that resembles its C21-SR concept last year.
It's no secret that Kawasaki released their latest Ninja 400 back in 2018, and it was one of the most popular bikes of that year. 
Facebook post
It competed so well because it was one of the best beginner motorcycles on the market, although it's sporty handling also drew in more experienced riders. 
If a post by CFMoto on Facebook is to be believed, a model called the SR might just outsell the Ninja 400 because it is sitting at precisely 37 kilowatts (49.6 horsepower) and 39 Newton-meters of torque (28.7 foot-pounds).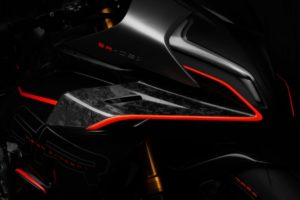 In the 400 to 500 cc class, these figures are correct in line with many of its competitors, such as the CBR500R. 
Performance specs
Further, we could see the 450SR will have the 449cc para twin powerplant and may reach a speed of 190 km per hour.
Few other components are rear mono-shock, double-sided swingarm, front brake disc and upside-down front fork with Bosch 9.1 ABS.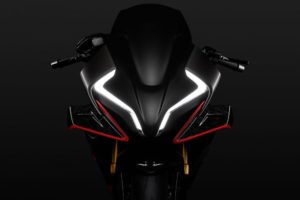 The design of the 450SR looks quite a bit like the Kawasaki Ninja 400. However, there are quite a few differences between the model. 
When we first saw the CFMoto 450SR concept, we immediately thought it was a close relative of the Kawasaki Ninja 400. 
Cool looks
Specifically, I was reminded of how the face of the Kawasaki looked like a shrunken version of its Z400 sibling. The Honda CBR250RR also looked like an enlarged, sportier version of the CBR300R with its sport fairings and monocoque design. 
Unlike those two machines, however, CFMoto didn't seem to end up sharing a similar design language with the bike they've now called the 450SR. 
Instead, CFMoto took the bold approach by adding their theories on what would make a cool street bike and putting those ideas into action on what would later become known as the 450SRh having LEDs, Ohlins SC-Project dual exhaust, rear-set footpegs and dual-front disc brakes.
via Facebook and Motociclismo