Kawasaki Japan to launch new W800, Street and Cafe on 1st October
On 1st October Kawasaki Japan will bring the W800, W800 Street and W800 Cafe in new paint schemes and graphics.
W800
The W800 is the most faithful reproduction of the original "W" look and feel. 
It is easy to handle and has a high level of craftsmanship. The 19-inch front wheel realizes the loose handling of the original "W". It creates a classical riding feel with the pulse and dry sound of an air-cooled vertical twin. 
Besides, the dedicated handlebar and seat realize a comfortable riding position. 
The W800 arrives in the Metallic ocean blue and retails at a price 1,100,000 yen.
W800 Street
The latest evolution, W800 STREET, inheriting the bloodline of the "W" brand for 50 years. 
The mission of "W1" was taken over by "Ninja" and "Z", and now "W1" has "big bike-likeness", "joy of manipulating", "joy of owning" and "joy of love". 
Motorcycles are particular about "likeness" and enrich the mind besides the beautiful air-cooled vertical twin engine which complies with strict emission regulations. 
It also has a throbbing exhaust sound which takes advantage of the characteristics of the 360° crank, while taking care not to spoil the atmosphere of the "W" original. 
It provides a modern and reliable performance—a two-tone line on the top of the tank shines in a simple design. 
With a classical upright style handlebar and low profile seat, it has a contemporary design and timeless beauty.
What changes?
Change of colour & graphic.

Two-tone line of yellow and orange is on the upper part of the tank.

It gets the Metallic Matte Graphite Gray x Metallic Flat Spark Black paint scheme.

The W800 street retails at a price 1,100,000 yen.
W800 CAFE
The club-style handlebars and cafe seats give the rider a proper forward-leaning posture to stimulate the rider's sports mind.
 It is also a classic and sporty cafe racer style model equipped with a dedicated front cowl.
There is only change which new paint scheme and graphics. It now comes in Metallic Graphite Gray x Metallic Diablo Black with a retail price tag of 1,133,000 yen.
Rest everything remains the same.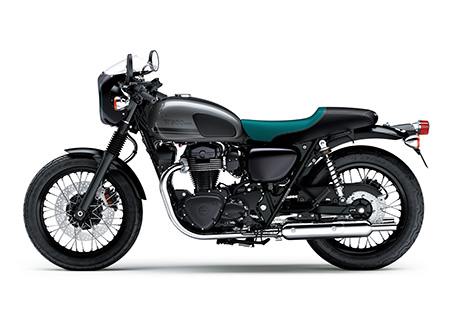 Source: Kawasaki Japan
Read More
2020 Kawa Ninja 1000 SX
2019 Kawasaki W800
Kawasaki Meguro
Arturo Magni Veloce 800
Aprilia RS660 gets our paint scheme