Kawasaki ZX-4RR to make debut in Thailand
Kawasaki is familiar with high-performance bike segments. And it has been the leader in more than one of them. On two wheels, this is well-documented. 
Powerhouse
The Japanese powerhouse can be found at the top of various charts each year. However, Kawasaki has decided to focus on sports bikes, and it's off to a fantastic start with the ZX-4RR.
The Kawasaki ZX-4RR is a fearsome machine that looks the part of an exotic sportbike. Kawasaki has always been at the top of its game when it comes to bringing the latest and greatest in terms of motorcycle technology to Thailand. 
The brand is no stranger to us here as it has recently become one of our home-grown favourites. Team Green shocked Sportbike fans worldwide this year by announcing the ZX-4RR — a new 400cc superbike from Japan.
Read More: Top 5 features of Kawasaki Ninja ZX-4RR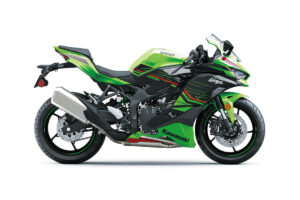 Launch date
Kawasaki is expected to debut the Ninja ZX-4RR in Thailand in March 2023. This comes after the first release of the exotic four-cylinder engine on American soil in February 2023. Kawasaki has started rolling out the new Ninja ZX-4RR in Thailand, an Asian market. 
It is safe to say that this latest machine will turn heads wherever it goes, but due to its less-than-adequate engine size for its utility, this bike is bound to have its critics at every corner as well.
As mentioned earlier, the ZX-4RR is unlike any other small displacement sportbike already in the country. Why? Because Kawasaki has decided to offer users something completely different: a 399cc, liquid-cooled and fuel-injected inline four-cylinder with a maximum output of 76.4 horsepower and 26.5 pound-feet of torque at an unbelievable 15,000rpm redline. Do you want to experience a new breed of exhilarating performance on two wheels?
Read More: Kawasaki recalls Ninja H2
Pricing
Kawasaki is expected to debut the Ninja ZX-4RR at Bangkok International Motor Show in 2023, from March 22 to April 2, 2023. 
The Japanese manufacturer has confirmed that the new bike will be released in the Asian market shortly after. For the Thai market, Kawasaki has kept the price under wraps; however, in the US, the bike arrives at $9,699.
Sources: iMotorbike and Kawasaki