Let the 2021 Dakar Rally begin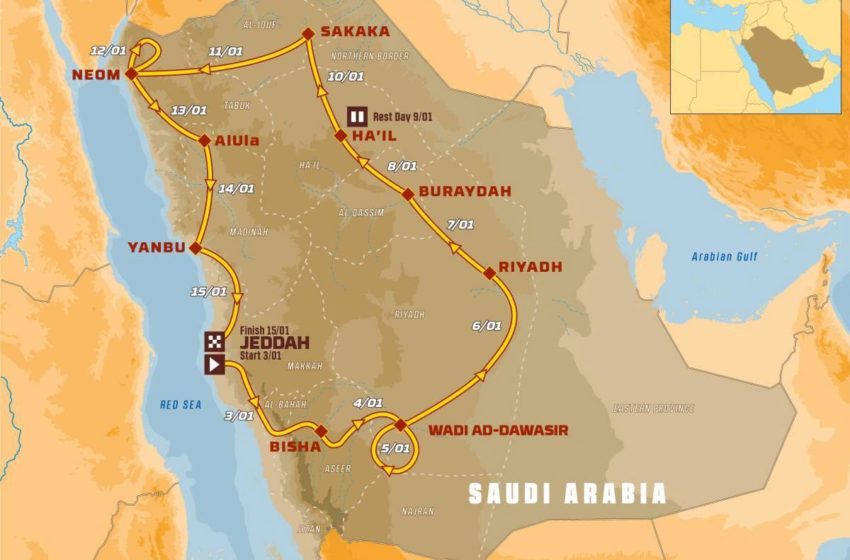 The 2021 Dakar starts from January 2, 2021, with 7,646 km course which involves 4,767 km of specials at the beginning and finish of Jeddah.
For 12 stages starting with the Prologue, there are 142 motorcycle entries.
Key Dates
1 AND 2 JANUARY – 

SCRUTINEERING – JEDDAH

2 JANUARY  –

PROLOGUE AND START PODIUM – JEDDAH

3 JANUARY  –

 START – JEDDAH

9 JANUARY  –

REST DAY – HA'IL

15 JANUARY  –

FINISH AND FINISH PODIUM – JEDDAH
Last January  Dakar started its third chapter. Now for this 2021 edition, the Dakar starts with more fervour and zeal.
The route spreads across mindboggling 7,646 km, which starts and arrive in Jeddah via Riyadh, Sakaka and Neom.
All the stages are brand new, and the stage length is now shortened to promote crossing, navigation and technique.
Unlike every year, riders will have to go under the conventional marathon test, and it falls just before the day of rest.
However this year the situation is different due to COVID-19 pandemic we see fewer people in the Saudi desert. Registrations have dropped close to 13.5% when we compare to the last year.
There are a new set of rules this year these are for the level playing field when it comes to navigation and to slow down the vehicles to make the race safer.
The Motul category will be 34 this season. Further, the rich tapestry of landscapes in Saudi Arabia offers an almost infinite number of permutations to give the route of the Dakar a better flavour. 
Just as 2020 was a quest of discovery, the 2021 route will be a journey of exploration. 
Everything will be brand-new, including every single kilometre of the specials. Furthermore, the fastest sectors, where the difference comes down to raw power, have been trimmed.
It will be interesting to see Dakar, especially as we are in a process to come out of the COVID pandemic.
Video
2021 Dakar route