Moto Morini plans to bring its armada to Indian market
Moto Morini is a historic Italian manufacturer of high-end motorcycles. It was founded back in Alfonso Morini in Bologna in 1937. 
History
In more than eighty years of history, Moto Morini has made a lot of them, really a lot of them. It was back in 1937 when Alfonso Morini founded Moto Morini: he was a swift rider, a good mechanic, and a skilled designer, able to create winning racing motorcycles that were reliable on the road. 
Like the 250 Bialbero, ridden by Tarquinio Provini, the world's fastest single-cylinder or the 125 Competizione on which Umberto Masetti won the national title.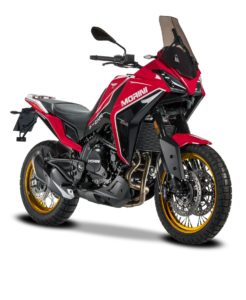 Italian manufacturer Moto Morini has been in the headlines recently thanks to its new mid-sized adventure bike, the X-Cape 650. Available mainly across Italy and neighbouring European countries, Moto Morini now has plans to expand into Asia, particularly in India.
Indian market
India is a relatively new market for the Italian motorcycle manufacturer Moto Morini. Previously, the brand was only available in some select dealerships across Italy and bordering European countries. 
However, the company has been slowly but surely expanding into world markets with its present fleet of motorcycles. 
The company is setting up manufacturing facilities and distribution networks in the Asia Pacific. This move came right after Moto Morini signed a partnership agreement with Adishwar Auto Ride India (AARI).
In a move that will likely increase the sales of premium motorcycles in the country, AARI Autoparts is all set to introduce a new line of bikes by the Moto Morini company. 
The company has long been known as the authorized dealer of Benelli and Keeway motorcycles. Moto Morini uses technology from the past 60 years and then blends it with advanced techniques to create reliable, powerful vehicles with excellent performance.
However, as of now, Moto Morini has not announced the prices of the models in India. 
via Moto Morini