MV Agusta brings the new exclusive 2021 radical Rush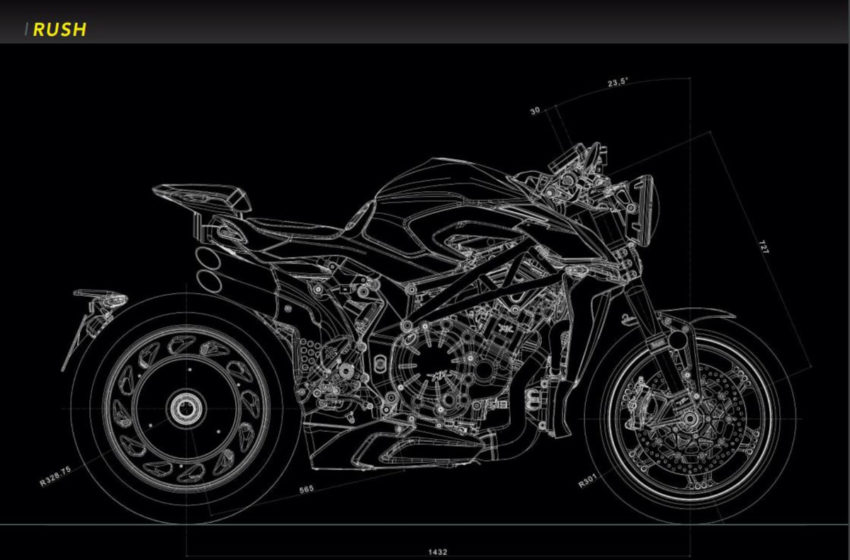 MV Agusta takes the ultra naked concept to an extreme with Rush. 
Created as a limited edition of just 300 units, this unique and exclusive bike raises the bar's design and performance.
Never has a naked boasted such an elevated style and finish. For 2021, Rush gets many updates that make it even sportier and safer to use on the road. 
This bike is unrivalled on the market and comes with an equally exclusive kit to heighten its performance and aesthetics.
Engine
An inline-four with radial valves and titanium connecting rods. The Rush engine a state-of-the-art homologated motorcycle engine.
 Having undergone continual technological development, it takes another step in 2021, with new components that reduce internal friction. 
The highly high-performance engine uses sophisticated materials and flaunts record-breaking power for a 1000 cc naked, delivering 208 HP at 13,000 rpm.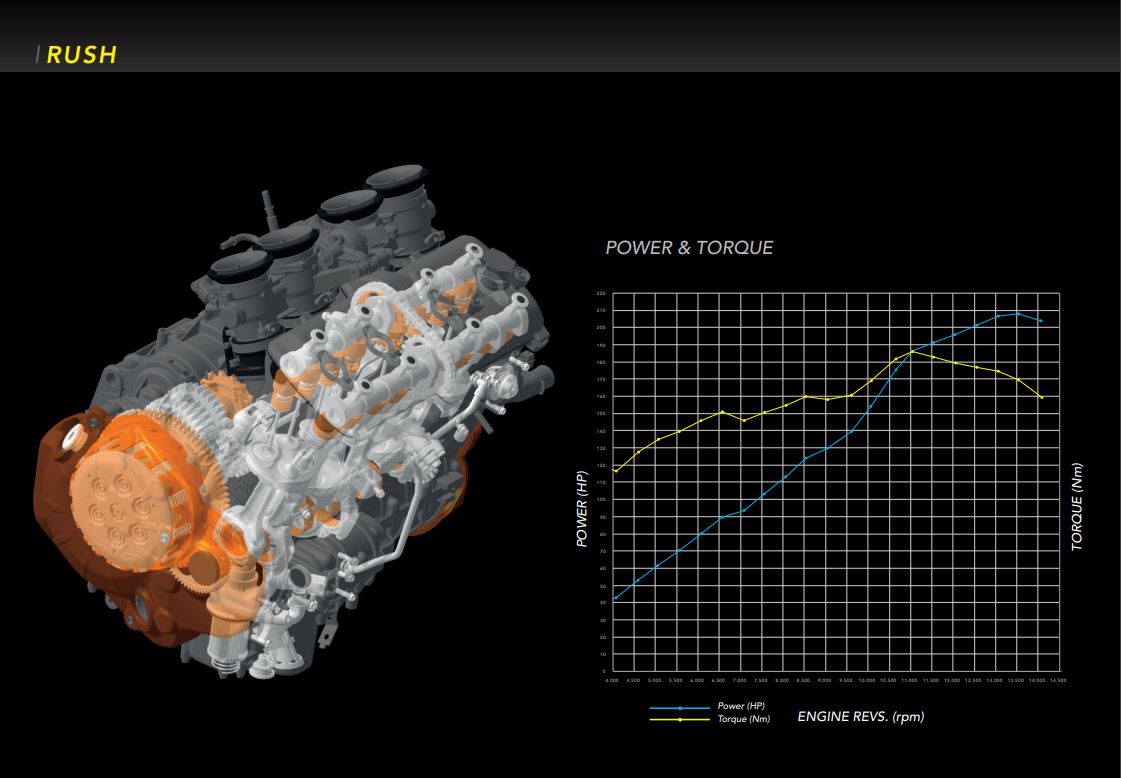 Timing is updated, with the introduction of new cam phasing designed to offer more favourable torque at low/medium revs without detracting from the intense drive. And acceleration that has always distinguished this engine. 
The use of a DLC (Diamond-Like Carbon) coating for the surfaces of the valve buckets cuts down on friction and improves reliability. 
New primary drive gearing helps reduce friction between the gears, while the clutch system has strengthened to improve reliability. 
Especially during the extreme starts guaranteed by Launch Control. The third generation EAS 3.0 electronic gearbox has a new sensor for more precise shifting and more comfortable insertion. 
The four-exit exhaust, an unmistakeable MV Agusta trademark, is more eye-catching than ever on the Rush. Its central collector boasting an updated structure that emphasises the unique sound of the four-cylinder, despite what is now a Euro 5 compliant engine. 
New electronics
Thanks to this new platform, the traction and FLC wheelie controls allow the rider to take advantage of every ounce of the bike's power while staying extremely safe. 
MV Agusta has developed minimally invasive, high-performance commands that showcase the bike's acceleration ability, with an FLC that doesn't 'cut off' the wheelie but controls it.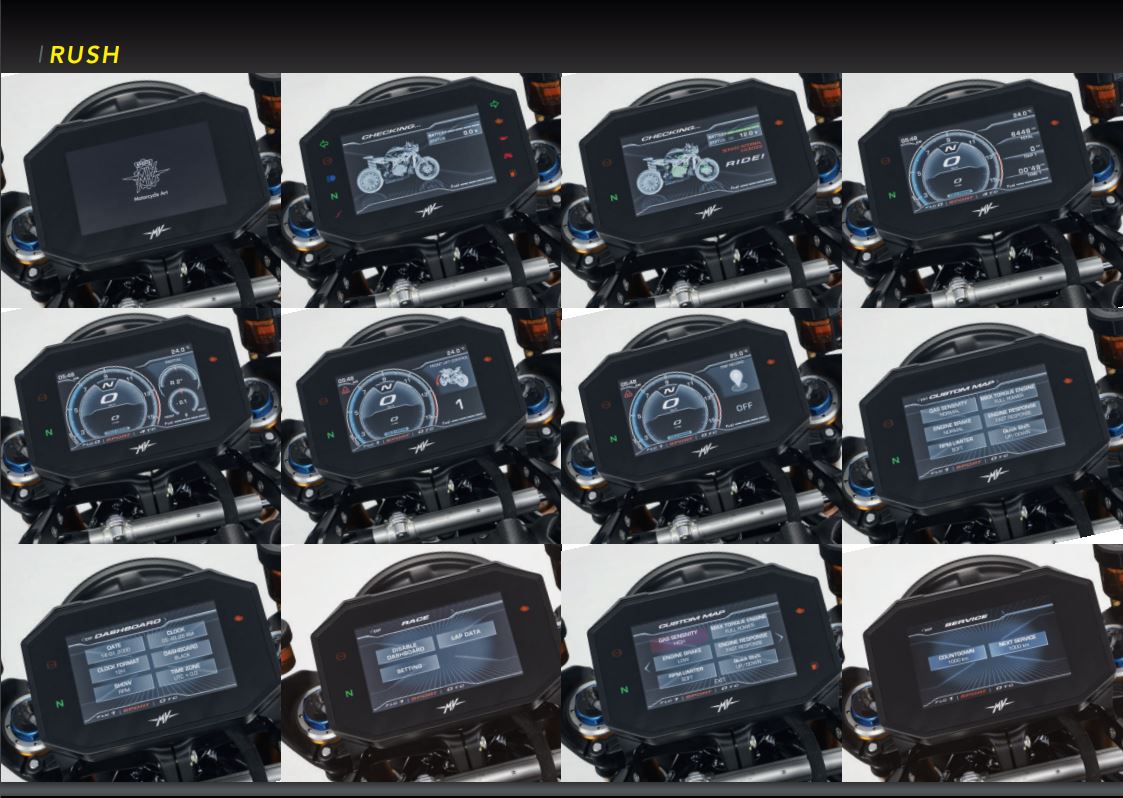 The ABS boasts a new Continental MK100 module complete with a cornering function to ensure ultimate braking control even at an angle. 
The 5.5″ TFT display offers all kinds of information and can communicate with the MV Ride app. An actual command centre that lets the user customise every aspect of the bike directly.
From their smartphone while also offering more 'traditional' functions like recording and sharing itineraries.
 Thanks to its mirroring function, the dashboard can be used as a navigator with turn-by-turn directions. 
Every process can be quickly accessed and navigated via the joystick on the left block.
Efficient frame
The electronically-controlled Öhlins EC suspension is fully adjustable to maximise rider feeling and comfort.
And improves load transfer control and the ability to dampen any unevenness, making 2021 Rush an even more efficient bike.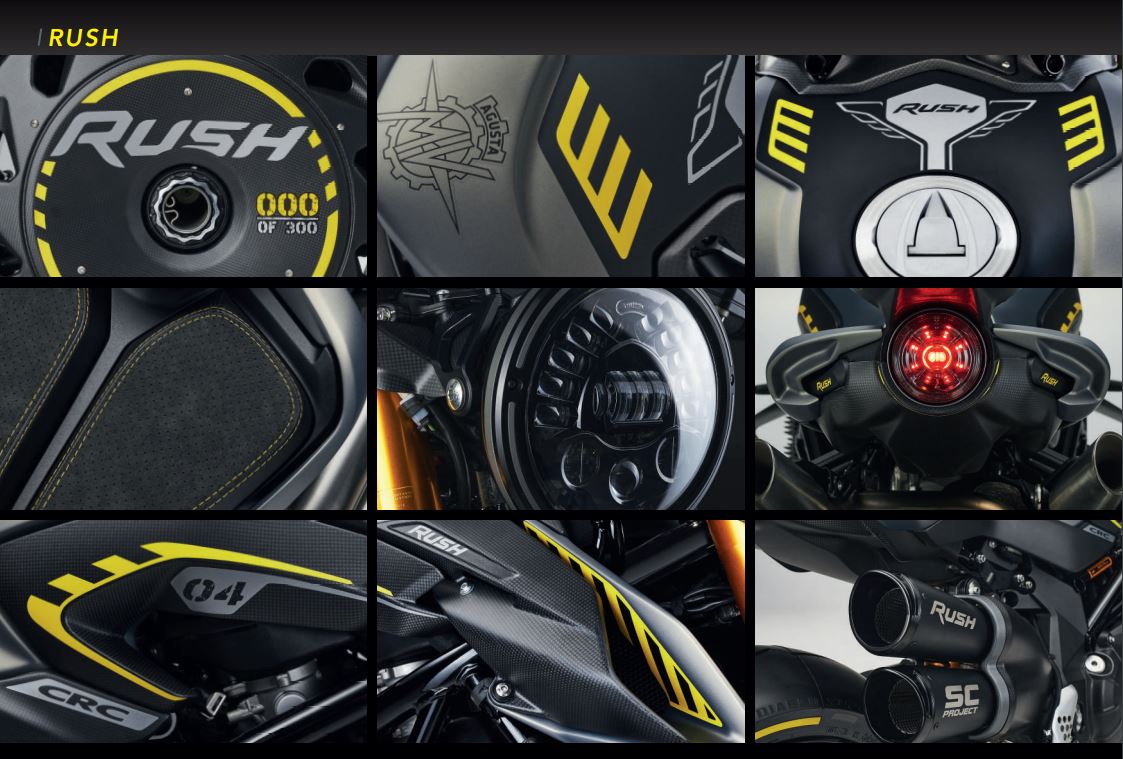 The complete Brembo braking system with radial master cylinder and Stylema callipers is simply state of the art.
Unique, the Rush fully reflects the MV Agusta vision of building one-of-a-kind bikes. 
Every element of the superstructures comes crafted in precious carbon, with unparalleled attention to detail.
For 2021, the Rush stands out for its new and more ergonomic leather and Alcantara seat.
Exclusive Kit
A unique bike like the Rush deserves an equally special kit. Each of the 300 Rush bikes, complete with a certificate of origin, will be delivered to the customer with a series of accessories to further its exclusivity. The racing kit includes the following technical elements: 
Wooden Box

SC Double Exit Exhaust and Racing ECU

Carbon Exhaust Cover

Passenger Seat Cover

Instrumentation cover

CNC Fuel Cap

CNC Brake Lever/Clutch

Brake lever and clutch guard

Pair of side auxiliary lights

Front brake discs

Motorcycle Series

Racing Kit + Limited Series Plaque
Racing Kit
Specs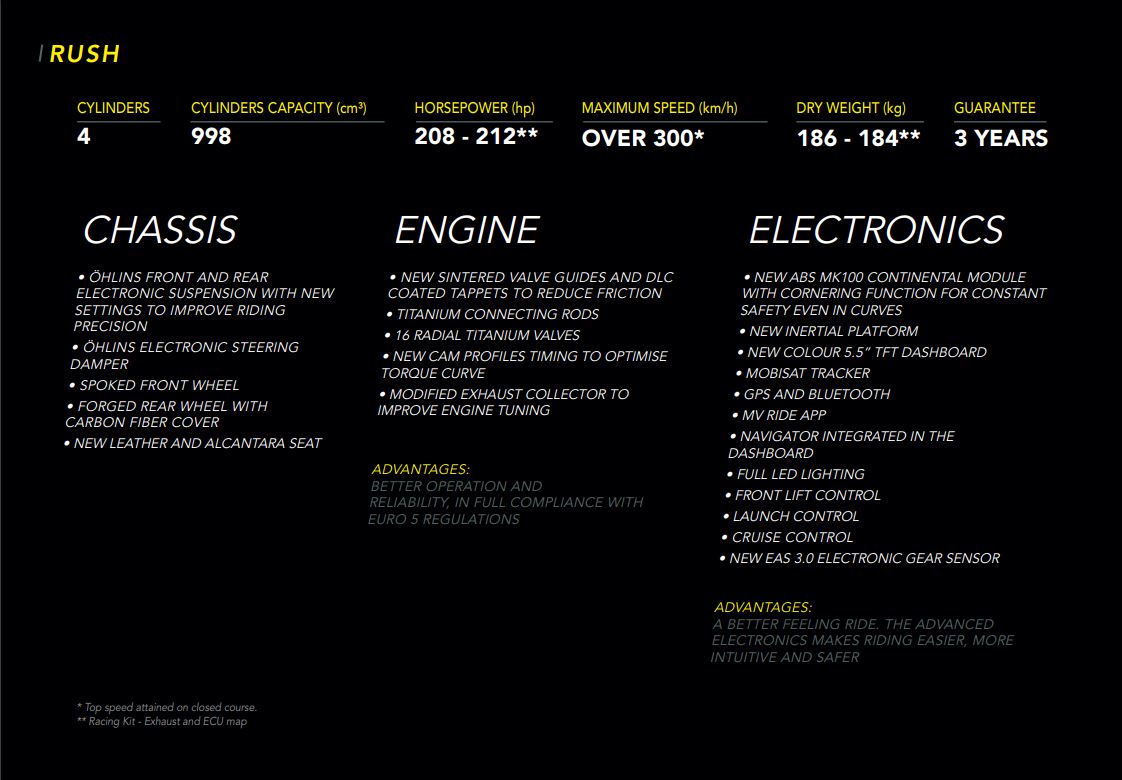 Detailed Specs