News : Patent says Honda is coming up with drive through technology for its new Goldwing
Is Honda integrating a drive through technology for its new Goldwing well there is a patent that talks about how they are doing it. Below is what the patent talks.
The present invention provides an optical sensor supporting structure for a saddle-ride type vehicle capable of detecting the front of a vehicle with high precision by an optical sensor without affecting the usability of the accessory at the front of the vehicle. The optical sensor support structure of the type vehicle includes a left and right camera for detecting an object in front of the vehicle and a support stay fixed to the head pipe of the body frame to support the equipment in the front of the vehicle on the head pipe, Is supported by the support stay.
Here is a patent, it is a patent published in late January 2019. The application itself is old application filed in June 2016.
 41 is the camera. It is built in the upper cowl. It is a patent to let us attach the camera to the head pipe like this.

 31 is a meter. 

37a is a mirror fastening part, and the camera stay is also tightened together there. 
There is another example of Hondas patent (second form), and the position of the camera is changing here. Since we support the camera with the support stay 35, we can suppress the displacement of the relative position of the left and right cameras, strengthen the vibration, stronger the position of the camera to the outside and the upper side.
The figure is VFR  Honda 1200F. It feels like a patent for Tourer.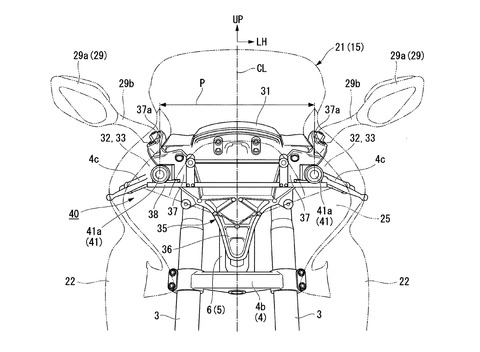 ---
Source : Kojenteki