On Suzuki's 100th Anniversary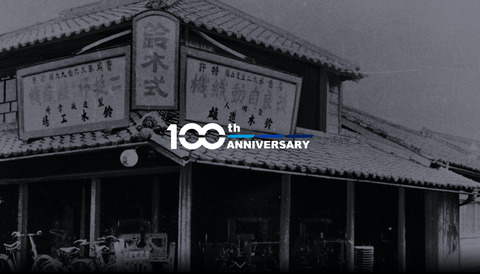 Various contents show the history of Suzuki. 
Source: Suzuki Centennial Site
Suzuki's 100th anniversary on March 15, 2020
"Suzuki Motor Corporation celebrates its 100th anniversary on March 15, 2020.
The predecessor of Suzuki, Suzuki Loom Co., Ltd., was the predecessor of Suzuki Loom Works, which was founded by Michio Suzuki in 1909. City.
Since then, under the philosophy of the founder, "manufacturing from the customer's standpoint," we have advanced from looms to motorcycles, automobiles, and outboard motors under the times.
In 1954, the company name become Suzuki Automobile Industry, and several products closely tied to the lifestyles of customers, including Japan's first * 1 mass-produced minicar Suzulight, launched to the world. 
The current company name has changed to "Suzuki Co., Ltd."
The 100-year journey has never been flat, and despite many crises since its founding, employees have come together to overcome and grow further, and have continued to grow.
Even today, which has evolved to patronage around the world, our unchanging desire for manufacturing is to pass down. 
This year, the 101st year, we work together as a company to further improve our business performance. "
Source: Suzuki celebrates its 100th anniversary | Suzuki release here.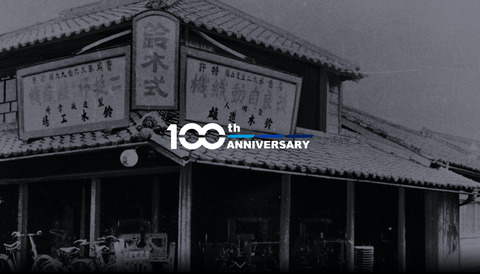 Suzuki 100th Anniversary Site
"To celebrate the 100th anniversary of our founding, we launch the" 100th Anniversary Website "on March 15, 2020.
Information sent on this site at any time. "
Source: Suzuki celebrates its 100th anniversary | Suzuki's
The 100th-anniversary website is up and running.
Quote Source: Suzuki 100 Anniversary site Memorial site is here . Welcome to Suzuki's leading products. Oh, motorcycles are KATANA. 
If you look back in the history of Suzuki, it is mention with a diagram. Gamma and GSX-R750 are also on it. 
Quote Source: Suzuki 100 Anniversary site 
This figure shows the history of Suzuki's models up to now. Did you find this kind of Suzuki information to be helpful? 
Not all models are available, but they are generally available. 50-125cc scooter was not listed. It seems that there were so many at that age. So look at the particular site for details.
There is no announcement of a new model
In particular, there was no announcement of a new model or teaser.
"In the future, we send the information on this site as needed."
Do you expect Suzuki to be a part? Does the new model matter? Yes it does
We think that the information about the new falcon may come out soon
The new falcon is open to the public in the summer, and the announcement is in the fall. See the link above for details.
KATANA released the teaser in September, at Intermoto.
So maybe the new Falcon is release in the teaser around September, and the official announcement is around EICMA.
Hayabusa announcement in the 100th anniversary year! It is good to be happy. It is Suzuki's typical motorcycle lined up with KATANA.