Overview
As the battle of naked gets high, we compare the range of naked bikes from 600cc to 700 displacements.
Honda CB650r Neo-Sports Café

CFMoto 650Nk

Suzuki SV650 Abs

Yamaha MT-07

Kawasaki Z650 and

Benelli Tornado Naked T 600
We compare these bikes on various parameters like the specs, colours and more.
Honda CB650r Neo-Sports Café
The CB series is a substantial range of Honda motorcycles comes within the range from 50cc to 1,047cc (CBX ). Either the bikes are present today or discontinued.
All the CB range carry the inline motors. And as we talk about the CB650r a successor of Honda CB650F.
The 648cc, water-cooled DOHC inline 4-cylinder engine has smooth torque characteristics during peak rotation and improves the response around 3,000 to 8,000rpm from the fully closed throttle, achieving both ease of handling in urban areas and sharp driving across the winds.
The max output is 92 hp (70kW) at 12,000 rpm with 64 Nm torque at 8,500 rpm.
The flat handlebar and low seat give the upright stance for better manoeuvre and visibility.
To increase the stability, the CB650R comes with a twin-tube steel frame which has the advantage of being efficient towards the downdraft intake.
The CB650R comes in three different colours the Graphite black, Candy chromosphere red and Matt beta silver metallic.
The CBR650r gets the top speed of 217 km/h (135 m/h).
Price in the US $9,199. However, we could see there is only one colour available which is Candy chromosphere red.
Matt beta silver metallic
Candy chromosphere red
Graphite black
CFMoto 650Nk
The recent 1989 born CFMoto extends its portfolio in multiple segments in motorcycles, all-terrain vehicles, Side-by-Side utility vehicles, power sports engines, parts, gears and accessories.
The 650Nk comes with 649cc, inline two cylinders, 4-stroke, liquid-cooled motor and makes around 60 hp at 8750rpm with 56 Nm/7000rpm torque.
The midsize naked roadster 650Nk shares the same platform with its two tourer siblings 650MT and 650GT just that the 650GT makes one more hp compared to both 650Nk and 650MT which is 61 hp at 8750rpm and 2 Nm more torque which is 56 Nm/7000rpm.
The CFMoto 650Nk arrives in cool two colours Nebula White and Athens Blue.
The CFMoto makes a cool top speed of 180 km/h (111 mp/h).
In the USA we don't see CFMoto motorcycles apart from the ATVs and Side X Side.
However, if it does come to the US will cost around the US $5,397.
Athens Blue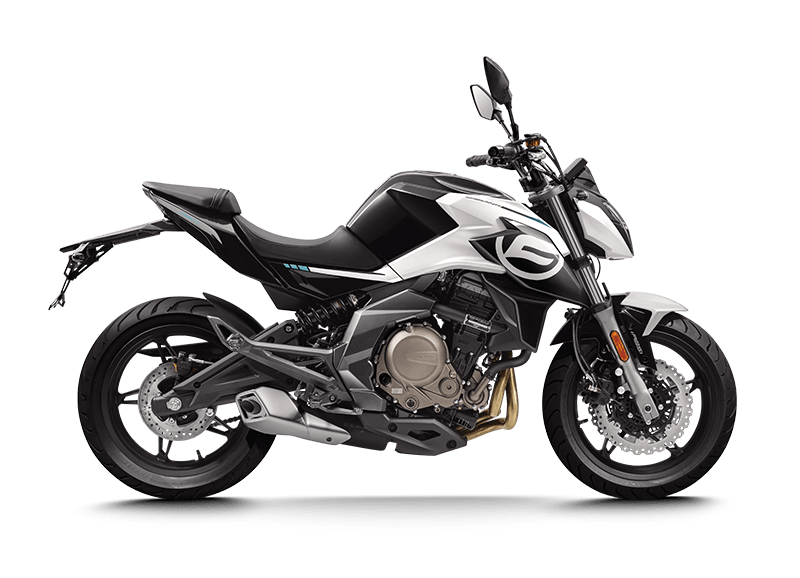 Nebula white
Suzuki SV650 Abs
The background of Suzuki SV650 is interesting as Suzuki started the production in 1999 and carried till 2012. Again Suzuki reinstated the production in 2016.
With 645cc displacement, P511, water cooling, four cycles, 90 ° V twin / DOHC, four-valve engine.
The P511 is the fuel pump plunger. The fuel pump plunger is a component which controls the timing of the fuel injection as per the engine load. There are several plungers available in the market from P948 to ZS905.
645cc displacement motor calibrates to provide a 56 kW (74hp) at 8,500rpm and 64 Nm at 8,100rpm torque.
Suzuki SV650 comes in three gorgeous colours Mystic silver metallic, Matte black metallic and Glass sparkle black.
With the diamond frame, the SV650 carries the top speed of 124 mph (199 km/h).
With only one colour available in the US which Glass sparkle black the price is $7,499
Glass sparkle black
Mystic silver metallic
Matte black metallic
Yamaha MT-07
After its younger sibling MT-25 and MT-03, the middle-class naked roadster arrived on the motorcycle scene in 2014. The MT-07 has a 688cc, water cool, 4-stroke, DOHC, 4-valve, inline two-cylinder motor.
The 688cc motor is capable of providing 54 kW ( 72 hp ) at 9000 rpm with 68Nm at 6,500rpm.
Available in three different paint schemes Matte light gray, Deep purplish blue metallic and Matte dark gray metallic.
MT-07 has a top speed of 214 km/h (133 mph).
And probably we could also see the new MT-07 from Yamaha.
The Yamaha MT-07 is priced at $7,599.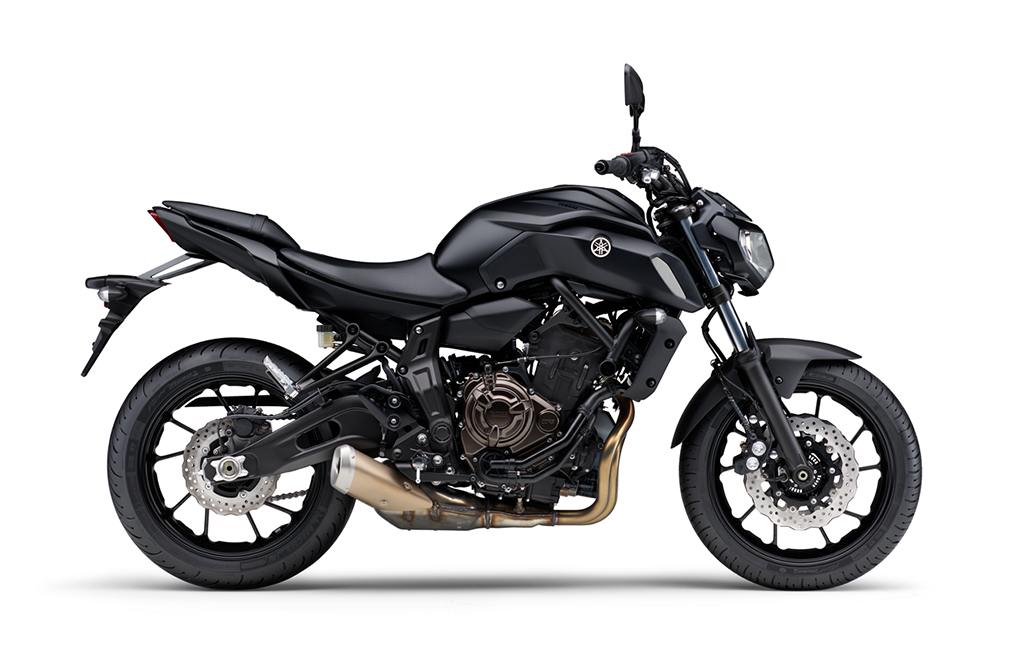 Matte dark gray metallic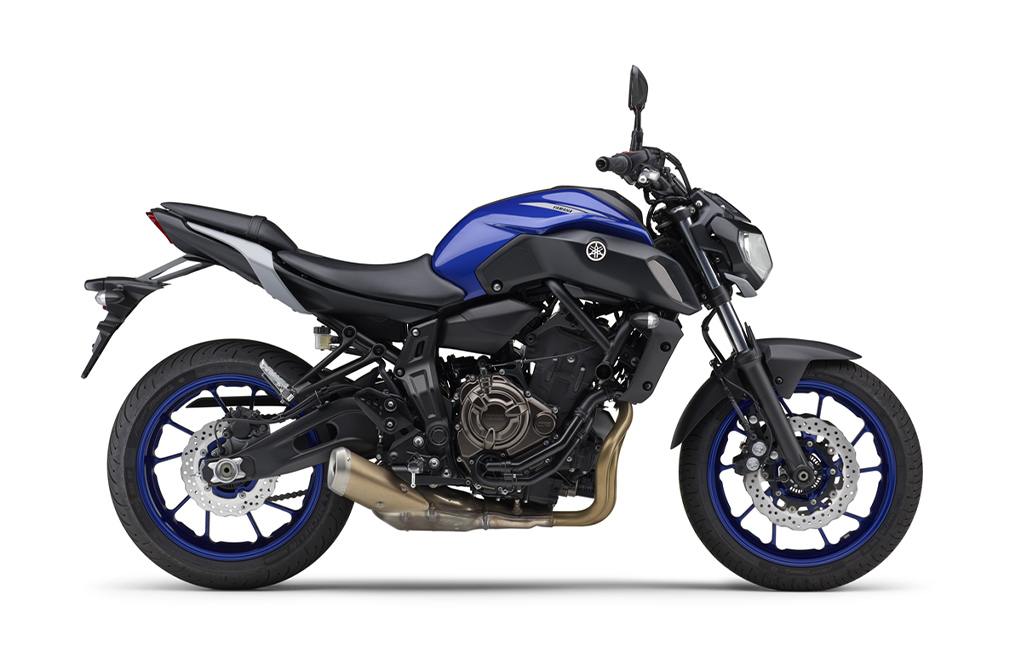 Deep purplish blue metallic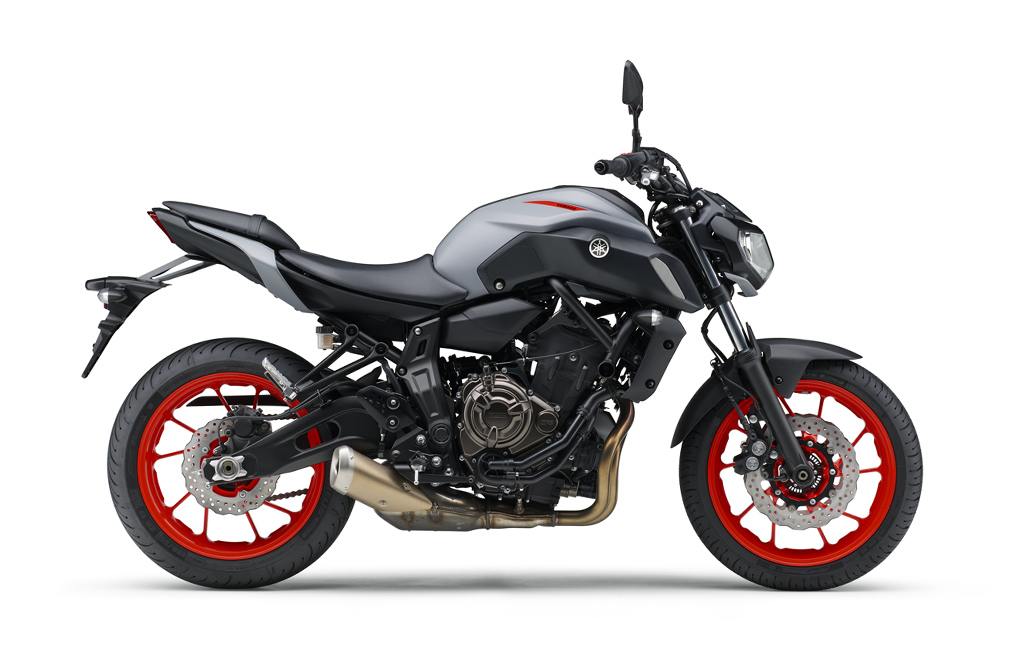 Matte light gray
Kawasaki Z650
To go back little in time in 1976 the KZ650C with 652cc was the brainchild of Ben Inamura. The model discontinued in 1983.
However, the 2021 Z650 arrives with the 649cc, 4-stroke, 2-cylinder, DOHC, liquid-cooled engine.
The motor makes 68 hp of power and 63 Nm of torque.
The 2021 Z650 arrives in two paint schemes Pearl Blizzard White / Metallic Spark Black and Metallic Spark Black / Metallic Flat Spark Black. The Z650 goes with a top speed of 212 km/h (131 mph).
The non-ABS version costs $7,249, and the ABS version costs $7,749.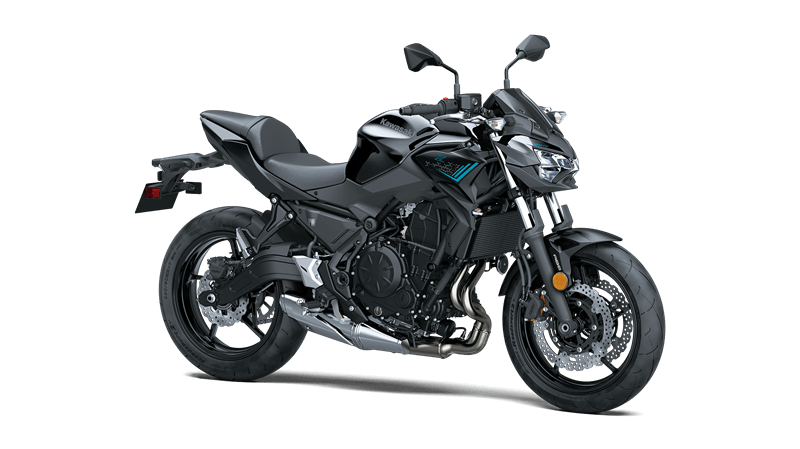 Metallic Spark Black / Metallic Flat Spark Black
Pearl Blizzard White / Metallic Spark Black
Benelli Tornado Naked T 600
Benelli T 600 is the only 600cc bike after Honda CB650r which comes with the inline-four arrangement.
Further, it provides an output of The 60 kW (80 hp) @ 11500 rpm power and 51 Nm (5,2 kgm) @ 10500 rpm torque.
Tornado Naked T 600 is available in single white colour and is not present in Europe.
With trestle steel tubes integrated with aluminium plates frame the new T 600 comes with a top speed of 160 km/h which is 99 mph.
Price approximate $9,000 in the US.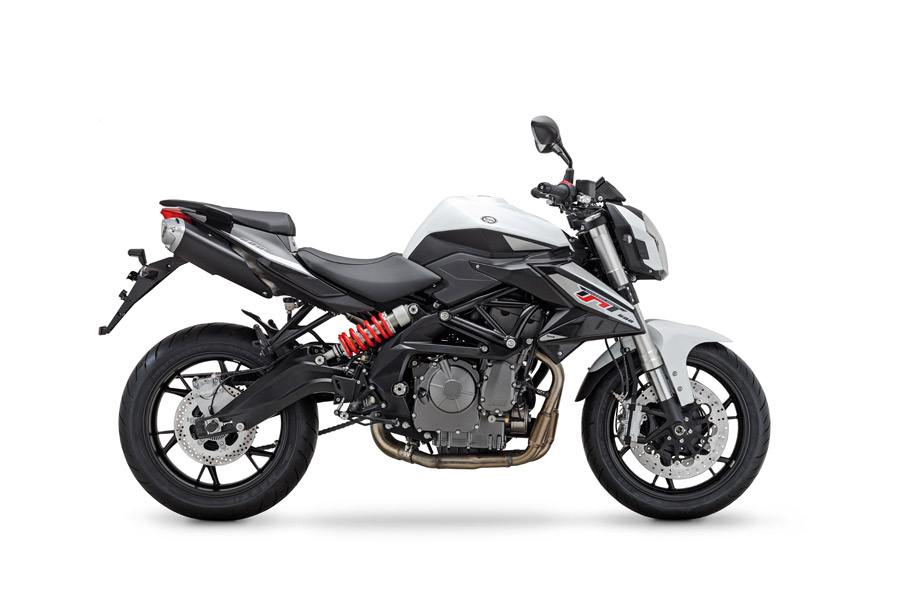 New T600 in White
Conclusion
To conclude every bike has its own pros and cons and each has its own identity. As every motorcycle manufacturer wants to compete with each other going ahead there will be technological innovations in these bikes.
Specs