With Cybertruck Elon Musk brings electric ATV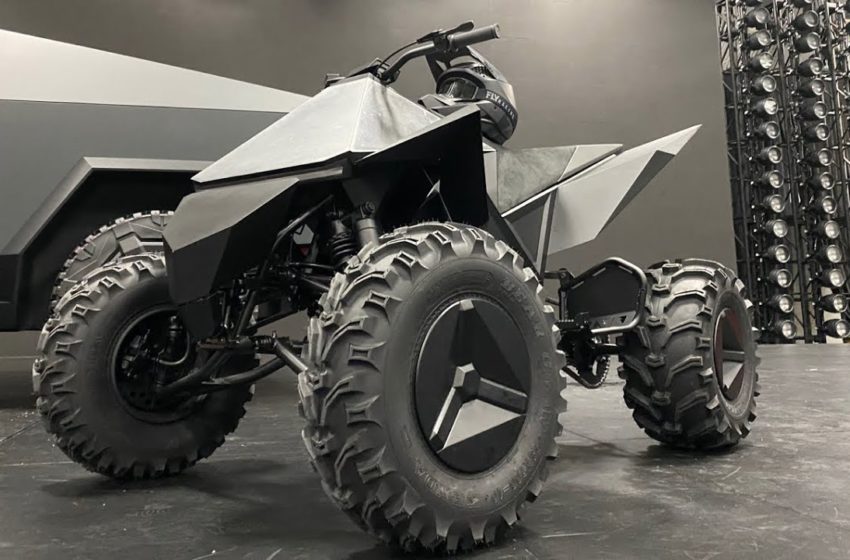 In August 2019 we had asked question about Whether Tesla will build electric motorcycle? And to Elon Musks response it was big NO. However Elon Musk has reveleaed on Twitter that they are building the electric quad bike.
Electric Quad
Elon Musk doesnt want to build the electric motorcycles has he had bad experiences in the past about the motorcycles. 
However it is not same with the quads.
As Elon Musk revelead the Tesla Cybertruck he also gave surprise by showcasing the electric quad concept that was put in the loaded in the Cybertruck.
How does the Quad look?
It aligns with the design of Cybertruck.
It gets the brushed stainless stell surface that looks rough.
Electric Quad comes with the steel frame.
Quad gets the final drive with the help of chain.
Hydrallic disc brakes at front and back.
Centra strut helps the Hinterrachsschwinge.
Double wishbones for front wheels expected to be 15 inch.
Quad is two seater
The good part it is gets loaded in the Cybertruck.
Release Date 
Both Cybertruck and Quad will be retail indvididually. The release date is start of 2022.We have not heard of any prices yet.
---
See Also 

Kawasaki's electric bike
Bajaj to unveil Husqvarna motorcycles in India
Officine RussPurros custom MotoGuzzi
2020 KTM Super Duke R