Yamaha debuts 2022 Exciter limited edition for Vietnam
On the 75th anniversary of the company, Yamaha Vietnam introduced a special series called Yamaha Exciter 155 60th Anniversary. 
Not only is it a unique package, but this bike is also a legendary variation of the Exciter 155 build for this 60th anniversary. 
60th Anniversary Edition
Like its brother, the YZF-R15 60th-anniversary edition, this model has a distinctive look.And comes equipped with new features that elevate its performance to another level.
Looking towards the ongoing trend of attention to many original liveries every year.The audience will have a good passion for this special edition from Yamaha and those who enjoy advanced sports motorcycles.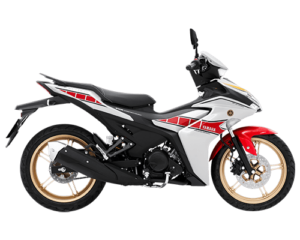 The Yamaha Exciter 155cc livery 60th Anniversary livery offers four valves. SOHC, electronic fuel injection, liquid-cooled, focusing on matching colours of stripes and the theme itself.
Further, it has a diameter and piston stroke is 58.0 x 58.7 mm, respectively. 
The compression ratio of 10.5:1 produces a maximum capacity of 17.7 horsepower at 9,500 rpm with a maximum torque of 14.4 Nm at 8,000 rpm.
Top Features of the Exciter 155 are
VVA variable Valve 

It gets four customizable ignition maps

DLC coating technology DLC COATING TECHNOLOGY

There is also an increase in fuel injection angle 

Yamaha engineers have stacked a new air intake system and

6 Speed gearbox.
Yamaha offers five different paint schemes.Which has one Monster Energy livery from the MotoGP and four other paint schemes inspired from the heme Master Art Of Street.
In support of Yamaha Motor Vietnam's ambition to be a leading player within the Vietnamese market. Yamaha created these four graffiti liveries with four influential Vietnamese artists. Each with their unique style and story.
Paint schemes and their themes
Born to ride:

  The origin of passion, youth's love of driving, love of "travelling", love of roads, and exploring all corners of the country.

Ride as the King:

  Deep pride in being free to roam in your unique skies

Rule The Roads: 

The

desire to conquer all roads, discover new lands.Meet new people, experience the culinary and cultural features of every place we visit.

Above Me Only Sky:

 Freedom to embark on a colourful and memorable journey.Sparking creative inspiration.
The 2022 Yamaha Exciter MX-King 155 livery 60th Anniversary costs around 51,990,000 VND in Vietnam and. When converted into Indian Rupees, comes around Rs 1.66 Lakh.
However, India getting Yamaha Exciter shortly is bleak.
via Yamaha Vietnam