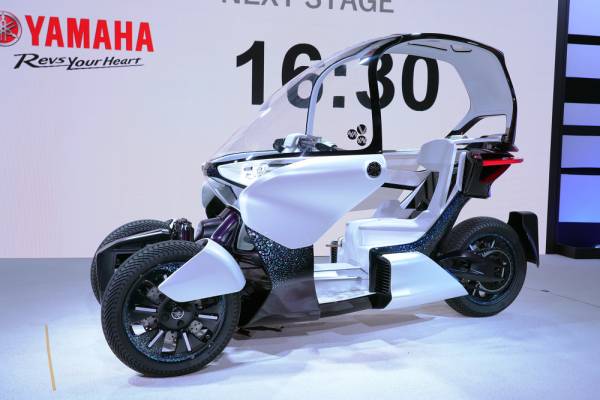 Yamaha's MW-Vision set to arrive soon
In a press release on December 20, President of Yamaha Motor, Yoshihiro Hidaka. Said about "MW-VISION" and his plans about its production strategy.
"We launched the MW-VISION at the Tokyo Motor Show 2019 .But we want to bring something close to that to the market within a few years. "
At Tokyo Motor Show 2019. Yamaha tweeted about the MW-Vision,". "Cocoon body is equipped with lean control technology and reverse function. 
This concept model that proposes mobility . That closely matches human sensibility, such as "interactive communication between people and mobility using sound and light."

The urban three-legged mobility that we were able to see in Tokyo Motor Show gets two wheels in front and one at the rear. 
With a similar mechanism that we see in NIKEN, and it goes by name LMW (leaning multi-wheel) but has a function to tilt and turn as we see in standard motorcycles.
MW-VISION has additional functionality that is Posture Control System, and it doesn't exist in the present LMW. Posture Control feature helps the motorcycle to stand alone.
While there are other competitors like Kawasaki has already unveiled the three-legged concept on the motorcycle scene like Concept J. 
But we see Yamaha at the forefront to bring the LMW's in production.
Further President Hidaka said that. "Our challenge of 'riding and falling down bike' has progressed so far with rider assist at low speed with various attitude control systems and various research activities."
How long will it take Yamaha to bring this on the road is a real question?
---
Source : Yamaha 
Read More

Yamaha YZF-R125 updates on Japan release
2020 Yamaha NMAX-155
Suzuki's Outline for Tokyo Motor Show 2019
Husqvarna Svartpilen 200 set to be unveiled in third quarter