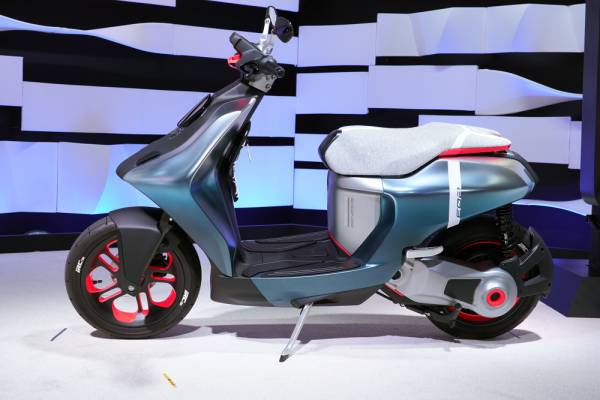 E02
All about Yamaha's electric scooters E01 and E02
At the Tokyo Motor Show 2019. Yamaha unveiled its two electric scooters.
E01
It is a scooter with 125 cc for day to day commuting. It also can charge fast and has is rated excellent overall in from the performance point of view.
The yellow plate of the battery E01 is a cooling fin and is difficult to remove from the batteryE01 runs for a long distance of 100 km. 
We don't think it goes up to 200km.200km is hard. Maximum speed is 80km / h.
If you want to go out, you can get 100km / h. Then there is a problem with the cruising range.
Switches look similar to car switches. It comes with MODE buttons on the left and right.
Battery is massive, so we expect the range is excellent. Now that being said, it's going to be the first electric moped that you can buy in Japan. Price is 737,000 yen.

E02
It comes with a detachable battery with stylish urban looks that is capable of moving quickly in traffic. The shape looks futuristic.
Power equivalent to 125cc. The battery is removable. The wheels look very cool.The seat is comfortable and stylish.
Remember, in April 2019; all the four Japanese Motorcycle Manufacturers came together to improve electric battery norms.

Yamaha President Hidaka further said in Press Conference, "As we consider various things, the final point is what to do with battery specifications.
Unless everyone can use the same battery, it is inconvenient for customers, and infrastructure investment is double or triple. So the consortium is discussing the sharing of batteries now. 
Honda is already conducting various demonstration experiments, and everyone is discussing that they should confirm the standards for shared batteries that can be agreed upon by the four companies".
If this happens, we may get to see some good quality electric batteries in the future with less cost.
---
Source : Response

Read More

Ducati 000 Concept by Emre
Kawasaki goes electric at EICMA
Yamaha's MW-Vision set to arrive soon
KTM ready for 2020 Super Duro