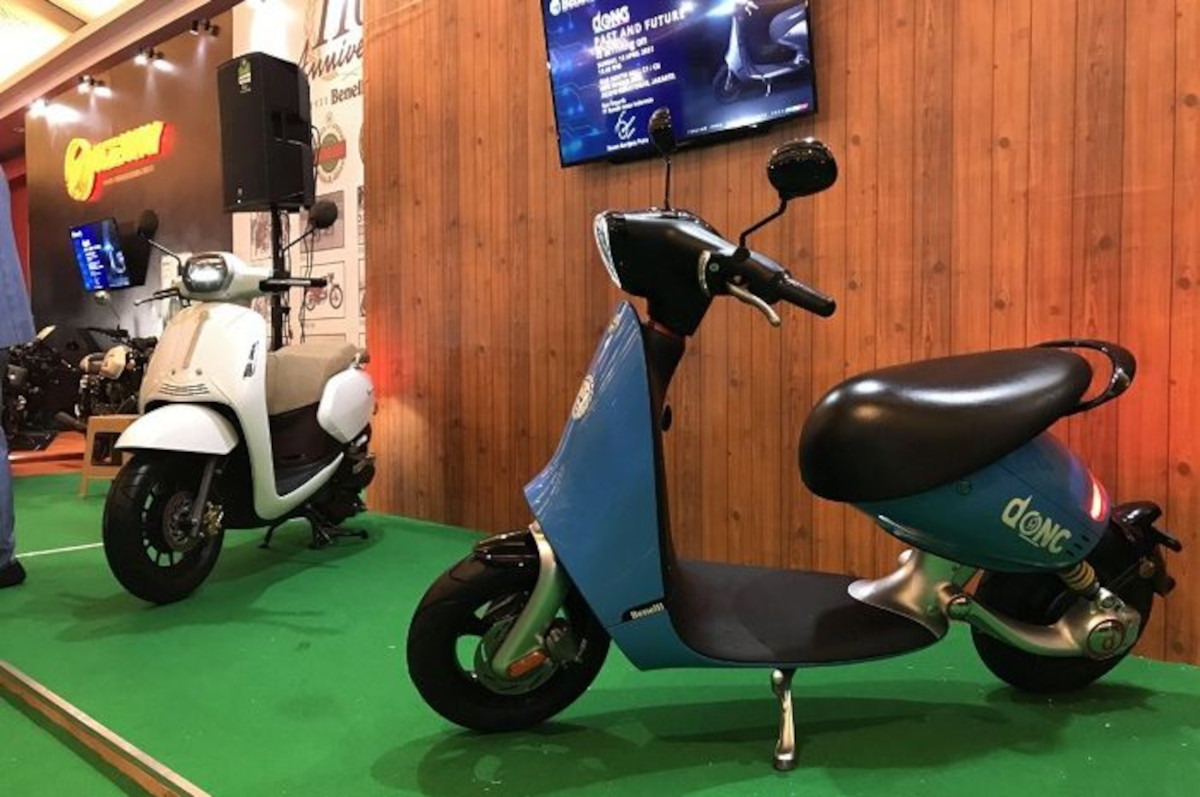 Benelli has unveiled its new e-scooter ' Dong ', and right now, it is exclusively for the Indonesian market.
The scooter gets sleek as well as curvy lines. The excellent part design of the suspension looks very different from the other electric scooters.
Dong specs
The front shock and the rear suspension are aluminium made. As we could see, the rear aluminium suspension has two different rotors on each side, which helps the wheel to hold and rotate.
The stand, too, gets a different shape and is made up of aluminium.
The conical and cylindrical headlight come tapered towards the front. The Blue and black combination shade looks versatile. The Dong is a short commuter.
Dong comes with the 1.56kWh lithium-ion battery, which lasts for 60Km on a single and full charge. Further, the Dong gets a 1.2kW motor which makes 45mph as a top speed.
The electronic system comes with a negative LCD dash and full-LED lighting.
Unlike Revolt, an electric motorcycle, we get to see the artificial exhaust on the Dong, which sounds cool.
Steven Kencana Putra, President Director of PT. BMI, when launching the electric scooter Benelli DONG sai
"This motorbike carries a futuristic and modern design," said Steven Kencana Putra, President Director of PT BMI at JiExpo Kemayoran, Jakarta,
"Benelli is ready to present environmentally friendly vehicles for two-wheeled automotive lovers in Indonesia.
Benelli plans to bring Dong to India by 2022 if government policies are favourable to them.
We are sure even if Benelli plans to bring the Dong, it may not be as is. However, Benelli may create a similar platform like the Dong for India.