Custom: Aaron Laniosz builds electric Honda s90 within a budget of $900.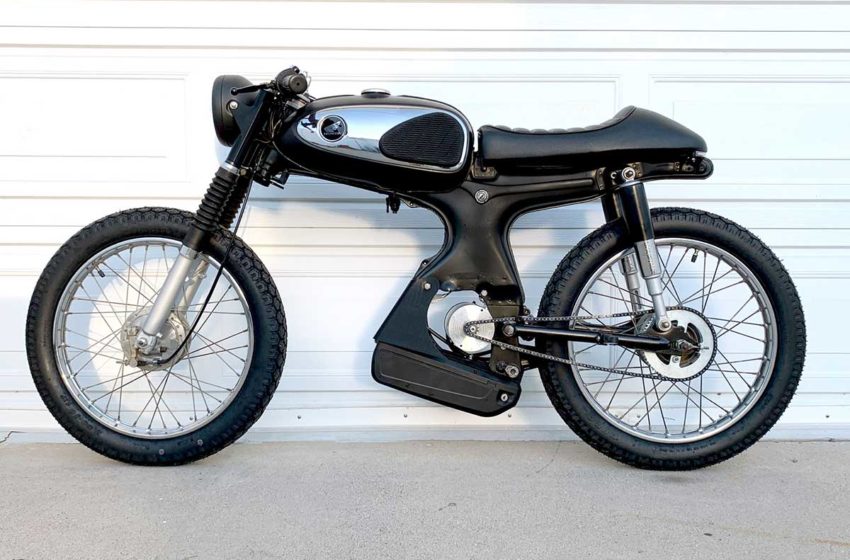 Buying Honda s90
Story of Aaron Laniosz who has won the Deus Biker Build-Off under 500cc segment is intriguing like a novel. When Aaron moved to Long Beach, CA he had two things in his mind all he wanted was a good surfboard and a motorcycle.
He puchased from Craiglist. However, the $40 Honda s90 motorcycle he received was rusted and it was in an unmoveable state as the seller removed parts of s90 to build another motorcycle.
The Build/ Process
Thinking in his mind Aaron wanted to give a better shape to this motorcycle he requested the seller "Will it be able to fit at the back of his sports car".Then the deal was on. Well, the seller took a wrench dismantled the front wheel.
Step 1:

 Aaron started to dismantle the entire bike and removed the dust until only the leftover frame and then he sprayed all the pieces of the bike with black paint.



Step 2:

 Aaron started to reassemble the pieces.



Step 3:

 While Aaron taught on how to build the E-Go-Karts to elementary school students. The objective of building an electric bike came from the students' summer camp and of course Aarons experience.


Step 4:

 The next step was to order parts like a controller, battery, motor, etc and while he was building he did not take any help from the metal tools and maximum parts were substituted. He later made the substitution of the combustion engine with a 48v 2000w brushless direct current motor powered by a 17AH lithium-ion battery.


Step 5:

 With the help of a 3D printer and CAD tools Aaron printed the parts. Later Aaron arranged the new tires and rolled the new bike.
The entire process was a great learning experience for Aaron as he took the help of several YouTube videos and worked day and night to give this bike a new life. The bike is built in a budget of $900.
---
Source : Biker Build Off