A Honda Dominator provides the perfect foundation for a reliable and high-performing motorcycle. The result of redesigning the running gear with top-quality parts is a modern motorcycle with an unforgettable character.
The design
The rear loop was streamlined to achieve a sleeker look, and the fairings were created using CAD drawings and 3D printing technology. With LED lighting and "scambler" tires on new rims, this motorcycle boasts a perfect balance between eras.
The Phantom motorcycle is truly impressive! It's a custom bike expertly crafted by three motocross riders – Joan Morel, Kévin Morel, and Valentin Pointeau.
Read More: Ethereal Custom Yamaha XS650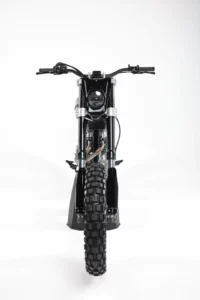 Custom trail bike
They transformed a Honda Dominator into a top-notch trail bike with a sleek, modern appearance. Their hard work and dedication paid off, taking almost a year to complete and ensuring perfect detail. Seeing what can be accomplished when passionate individuals work together towards a common goal is inspiring.
The engine has undergone severe work, including a rebuilt cylinder from Revaltec, a brand-new piston, and all-new bearings. A custom-made exhaust was installed, and the tank was adapted from a 125 DTMX.
The rear suspension was specially adapted from the YSS brand to fit the custom Honda Dominator model, and the fork is from a Yamaha WRF 450, shortened and prepared for supermoto-style road use.
Read More: YS Gear unveils two unique custom kits for Yamaha XSR900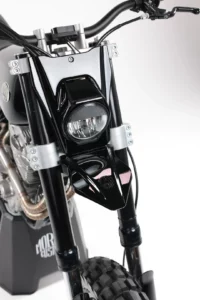 Exceptional
Adding a Neken handlebar, YZF motocross version, and Motogadget M-Unit box with push buttons on the handlebar has made my rides exceptionally smooth and enjoyable.
Thanks to the BMC air filter, the engine's performance has also improved. The chrome-plated wheel hubs and sleek spoked Excel rim ring provide a stylish finish. Phantom is now equipped with fantastic features that enhance its performance and appearance.
It has a sleek black paint job on the fairings and rims, with an eye-catching MOREX CUSTOM logo that gives it a bold and intimidating look. The Phantom, as it's called, is a one-of-a-kind bike designed by motorcycle enthusiasts for fellow riders.
Source: Morexcustom