Double wishbone patent from Honda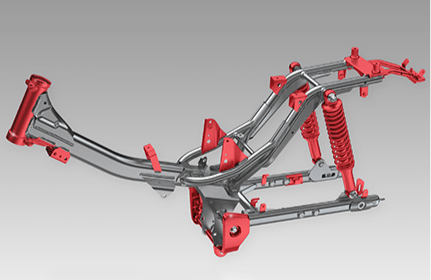 Patent around Honda handle
"Providing a steering structure for a saddle-ride type vehicle that facilitates mounting on a small vehicle by suppressing the amount of front-rear offset between the steering wheel head pipe and the steering head pipe."
A patent filed in September 2018.
A suspension arm 16 extending forward from the head portion 2 of the vehicle body frame 1. 
A head pipe 12 supported by the tip of the suspension arm 16, a stem shaft 14 rotatably inserted through the head pipe 12. 
And stem shaft A front fork structure 19 integrally rotatably connected to a lower end of the handle 14.
 Handle support 2 a supported by the head 2 of the body frame 1 and disposed above the head pipe 12.
And handle support 2 a The steering wheel 8 is provided to be steerable, and a bending link 22 for transmitting the steering operation of the steering wheel 8 to the front wheel 102 sides.
The bending link 22 has an upper end connected to the steering wheel 8 sides, The lower end is connected to the front fork structure 19 sides. "
It is a patent for solving the problem because the front fork of the Kore system is difficult to mount on a small car due to its space. 
 Isn't this a double-wishbone like Gold Wing? Front. Turnip-like. Slick. It looks cool, though. It is a figure of the pattern drawn. The meter position and the handle are firm. 
Although it is not unusual for Honda to draw firm on systems that are not immediately marketed (for the time being).
Diagram
Here's a diagram of the vehicle.
However, it is a type that has never seen the rear, including the front. Here's a C125 that looks a little like this. Source: CT125 The answer is in nature. | Honda
Hunter Cub frame. It is based on a regular turnip frame. (Actually, based on C125 frame)
Headlights are similar to C125 but different.

Meter position is identical to the hunter cub.

The front is different.

The rear is similar to hunter cub but different.

The frame is also different.
The engine looks like a turnip, but the structure seems new.
Is it usually a pattern for a patent application?
The shape is similar to the hunter cub, but is it possible that it is Honda's new plan?
That Honda intends to use it immediately for the commercial model, but we think that it is a patent of this type and application. 
Is there a possibility? 
Source: CT125 The answer is in nature. | Currently, there are no tourer cubs, right? The hunter cub may be a tourer type, but it's an adventure. 
It's quite common that turnips are high in tourer adequacy, so let's make a tourer turnip.
Personally, we think the pattern of the patent is most likely, but if a double-wishbone suspension tourer-like cub comes out, it is going to be fun. 
Hunter cubs are very popular. And we feel this should be one of the action items in the Hondas list.
---
Read More
Kawasaki to develop an electric motorcycle?
Spied new 2021 KTM Duke 390
Valentino Rossi's Yamaha Flatracker
Details of new Honda Rebel 250
More on Huter CUB 125