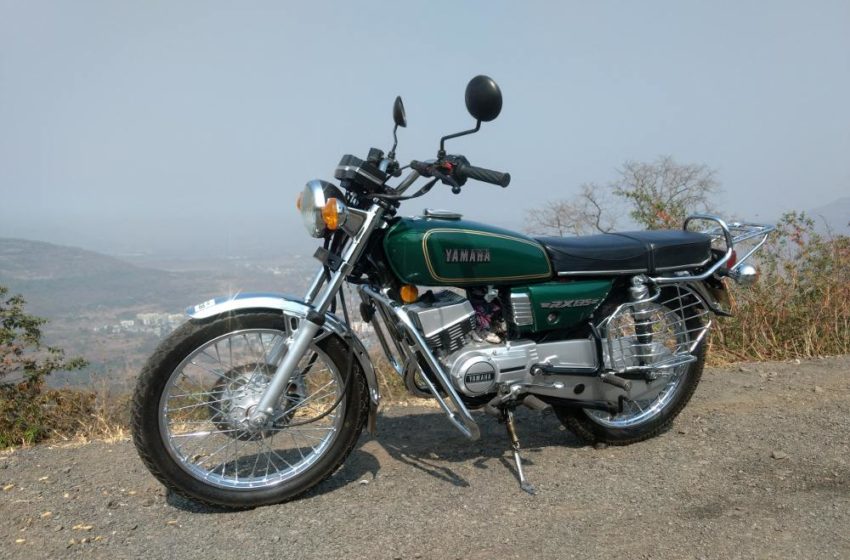 Kunal Mane on restoration of motorcycles
Introduction : I am Kunal Mane from Pune, Maharashtra. I run a motorcycle workshop ROADMAFIA AUTOMOTIVE. First of all I would like to thank Akash for giving me opportunity to share my experience with you all.
I am biker, loves riding bikes and everything else that comes in relation with bikes. My passion for motorcycle is deeply rooted and I have translated this passion into my profession of being a professional Motorcycle Restorer. I started riding motorcycle at the age of 10 and from then the on journey continues. I have been participated multiple times in Adventure Rally, Dirt Race (two stroke category), Offroading events.  All thanks and credit goes to my dad who helped me start on two wheels at a very early age. My dad used to service and maintain his own scooter and bike, in which I played a supporting role giving him tools and cleaning his bike.
I would say "Once a Rider, always a Rider".
Akash : Which was your first bike?
Kunal : My dad bought a Second hand Hero Honda Splendor (2001) model in Diwali (2007). I was happy for it. I rode the motorcycle around 6 months then I started feeling the bike is under-power, and  in between I rode Yamaha RX 100 (1996) which was last lot model and then my love for Yamaha grew. I sold my Splendor and bought a very good condition RX 100.This bike created memories, and from then on i started collecting Yezdi, Yamaha's, Shaolin, Shogun etc.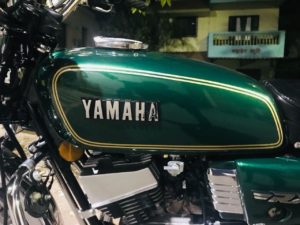 Restored Yamaha 135 by Kunal
Akash : How did you enter into restoration field and since when you started?
Kunal : Before coming into restoration I have been working in motorcycle  maintenance, engine work, and its alterations. Actually Yamaha RX is the main reason to bring me into restorations. I used to see people riding restored motorcycles on roads and that was the main reason which made me happy, so I thought to start working on it. I started doing restoration from 2016, Yamaha RX 100 was my first bike to restore.
Also Read: Track expert and Bike Enthusiast Justin Hyman talks about his experience
Akash : Please let us know how do you carry out restoration?
Kunal : During restoration I have to deal with lots of parts.
Taking Photographs : Therefore it is important to group various systems during disassembly taking photographs is necessary for later use as a memory and detail of project to showcase before and after view. When motorcycle enters in workshop the basic thing you need is the Parts catalogue from which one can make out the proper parts fitting.
Inspection : After the disassembly you have to maintain the parts or arrange them in a proper manner so that there is no loss and its easier to find them next time. First I inspect each and every part from small to large whether they can be reused or they must be replaced.
Keep the parts in proper manner : Even if the part is not in reusable condition then i do not throw it. As we have to check the part availability. Now as we complete the disassembly the painting and chrome parts must be in there respective booths. By the time i work on completing the engine disassembly. I use box to keep the group assemblies together, this is important because we don't do this everyday and I might be away from the project for a time. Parts must be kept clean. At the time of engine assembly all bearings, oil seals, screw kit and necessary parts must be replaced with new one.
Assembly : Assemble the engine in very clean approach, Get all parts cleaned. Once done with engine keep it aside.Noe start to assemble Chassis, wheels and other parts to bring the motorcycle on two wheels and carry out the next work by checking wiring, coils, light and do detailing on every small part too. Don't be in hurry. After completing  the motorcycle, fire the engine and make it run for 20 mins on ideal condition. If some parts doesn't fit in my standards I either refinish or replace them. At the end please do not forget to do final touch including the engine, tighten all screws, nut bolts from front tyre to rear tyre without fail.
Restored Yamaha 135 by Kunal
Akash : What are the challenges that you have to face while you do restoration?
Kunal : Challenges are like choosing right color for a particular bike, many a time customer demands for a unique color or a color of my choice, so i have to think on it to look it more decent. A good quality paint job is important. To make part available in short time is also one of the challenge.
Akash: Do you carry restoration with two wheeler or with  two wheeler as well?
Kunal – I just restore two wheeler.
Akash : Is it easy to get components of old bikes to be restored in the market?
Kunal : Sometimes Yes sometimes No, many a time I have faced shortage of parts in the local market, then I do search them all over the India.
Also Read: Mithilesh Panchal shares his views on Aprilia RSV4
Akash : What do you think are the essentials to maintain the motorcycle for long term?
Kunal : I see motorcycle as a living being, its just like us.
Periodic maintenance, proper lubrication of parts, check wear and tear, tyre condition etc. Engine oil plays a important role in this condition.
Oil has to be changed on time. Oil change interval must be every 3000 kms.
Next comes spark plug, it must be cleaned and adjusted as per the manual or replace if necessary.
Chain has to cleaned and lubricated after every 500 kms, a good maintained chain kit can last long around 50000 kms. If chain is not maintained it will get damage due to excess heat and dust which will wear-out at very early stage, and this will also affect performance.
Air filter must be cleaned or replaced after every 3000 kms ( Depends on bike model). Air filter is a performance part if it gets choked it will surely affect the performance and mileage too.
Tyres should be in good condition with good grip. Tyres should be checked and accurate tyre pressure should be maintained. If rubber gets hard, or you see any cracks on it its better to go for new one.
Motorcycle should be in clean condition this is essential for long term maintenance. Washing makes easily notice loosen parts or missing parts. lubricate all moving parts once in every 15 days. ( Depends on kms). Polishing your motorcycle is important to maintain the paint for long term.
Akash: Typically what is the time that is required to restore the motorcycle?
Kunal : Time required is from 2 months to 6 months depending upon the type of motorcycle and part availability.
Once again thank you Akash for coming up with such a unique idea of LivingWithGravity to bring like minded people together and to get all thing available under one roof.
Related Story: Biker Family shares his views on Suzuki GSXR – 750