Harley-Davidson Pan America gets a Givi makeover
About a year into the production run of Harley-Davidson Pan America.Several folks wondered when Givi would introduce a line of accessories to the adventure machine. 
Today, the Italian luggage specialist answered that question with aplomb. Announcing a comprehensive line of aftermarket accessories to be available in January 2022.
 As it turns out, there's a lot you can get from the Italian accessories manufacturing powerhouse Givi. 
With their latest adventure tourer accessories. There aren't as many spots to mount racks and hard cases as you might expect. But there are a few alternative ways to add functionality to your bike as well.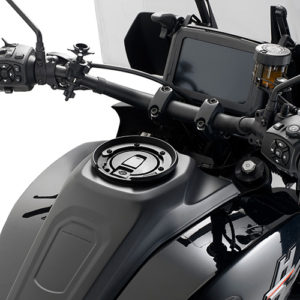 Acessories
One thing is sure. The bike will be able to carry luggage. It will have all you need for any long trip. Givi offers hard cases, soft bags, top boxes, racks, windscreen and side stand. 
I bet the closest thing to a list of goods this bike can carry is a grocery list. Well, maybe except for one slightly more exciting component– the engine guard.
However, further.You might know it better as a rear rack also happens to be an adapter for Givi's Rapid release saddlebags and top cases. 
This modular mounting system is also compatible with all of Givi's Monokey cases. Which means you'll eventually have the option to pick up additional pannier or top case holders to complement your rear rack.
The most notable change for the Harley-Davidson Pan America was the adoption of Givi's Tool Box and Tanklock System. 
Available as a kit that includes both a new left-hand side panel for the bike as well as a Tanklock Flange. These parts allow owners to mount one of Givi's many Tool Boxes or Tanklock Bags on the bike.
Windscreen
But if you were looking for a windscreen that could provide additional protection from the elements. You would have been out of luck with Givi's offerings until now. It seems they are catching up with the times.
And it's designed to fit — snuggly, I might add — into the bike's front cowl area. So if you're like me and got tired of seeing your windscreen flapping against catch bracket at every stoplight last winter. You might want to take this new offering from Givi for a spin. 
The windscreen is 46 centimetres high by 49.5 centimetres wide. And compared to the OEM unit, it is 4.5 centimetres taller.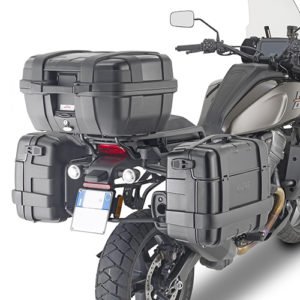 Engine guard
If you're looking for protection without the bulkiness. Then Givi is offering a more diminutive engine guard in black 25mm in diameter, which is made from steel tubing.
Further, if you're looking to load your bike up with some Givi hard luggage.A new set of Givi side stands may be precisely what you need.
It is best to check that the pricing of the collection is still listed on a Givi website and with the local dealers.
via Givi