Honda has released their new 2022 Honda Dunk compact scooter
Are you ready to take a step into the future? The future of motorised transportation, that is? Well, prepare for a modern marvel — and if you follow us on Facebook and Twitter, we'll give you a hint.
Honda has just released the first glimpse of its all-new scooter, the Honda Dunk. It looks pretty standard, right? Maybe. But it's what it can do that will blow your mind! We'll get to that below.
The launch of the All-New Honda Dunk in Japan signals the actual start of a new era for this iconic vehicle and Honda, which will continue its commitment to developing a wide range of personal mobility products for customers worldwide.
Honda's new release is the all-new 2022 Dunk. There are three colours: Matte Jeans Blue Metallic, Pearl Deep Mud Gray, and Matte Ballistic Black Metallic.
Impression
This dirt-cheap runabout is powered by a 49cc, four-stroke, SOHC, single-cylinder engine that generates 4.5 horsepower at a lofty 8,000rpm.
That might not sound like much power—mainly coming from a big motorcycle engine—but you can't argue with its fuel efficiency: thanks to its revs.
Dunk has a neutral and plain image but also has a high-quality impression. The voluminous headlights are built into the body, combining simplicity and presence.
Designed especially for young commuters and entrepreneurs, the new model offers a slew of features that are meant to "enhance the quality of life" in addition to doing your daily commute with ease and comfort.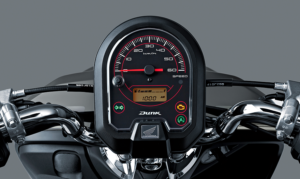 The most exciting addition to this scooter is the glove box located on the left side of the front, which can accommodate your smartphone and portable devices.
Besides this, a few other helpful additions to the new Honda Dunk make it a practical choice for your daily travels.
The 23 litres storage under the seat will help you store luggage, helmet and more. With a 4.5 litres fuel tank, the scooter now is available in Japan from JPY 229,000 ($1,980 ).
via Honda Japan