Hyundai's IONIQ 'Q' is the most advanced electric motorcycle around
Who would have ever imagined an electric bike could look so badass? The forward-thinking designer Ji Woong Cha decided to create a concept electric motorcycle. That looks like a technological wonder having the sportiness of a sportbike.
Hyundai brings you the fantasy, right? Not anymore. Because this is reality. This ultra-sleek, futuristic electric concept bike would be real and not a fantasy.
IONIQ
Hyundai Motor Corporation may have a strong presence in the hybrid electric and fully electric vehicle segment (we're talking about the IONIQ Electric and Kona here). But things are about to get even better in the coming years as we learn from a new concept of electric bike.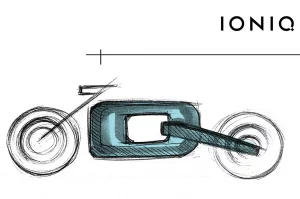 Rides like futuristic electric prototypes don't come around every day, that's for sure. Though it seems Hyundai entered the realm of deep thoughts. And discussions within the design team to bring this one to life, albeit only within the concept vehicle realm.
Hyundai has earned its place among the premier ride brands through decades of hard work and dedication. It is one of the reasons why the collaboration between Hyundai and designer Ji Woong Cha is destined to be a success.
Design
Cha's design for an electric superbike certainly holds much promise. And the car-design aspect influences are immediately recognizable once you lay your eyes on it.
It is the lines that draw immediate attention. But if you take closer scrutiny of the actual appearance, then you'll notice how everything flows together effortlessly.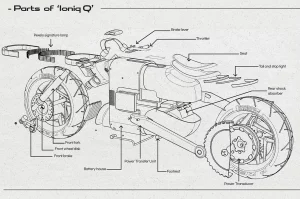 The rider's seat is located at an angle to allow for more effortless movement when stopping or turning, while the bike features a stylish seat for maximum comfort adjustability.
With a compelling character on the outside. I'd say he meant it to be as incredible as it is fantastic. It's a presence that could stun onlookers and make their jaws drop to the floor.
The bike will undoubtedly carry forward the brand's legacy very peculiarly. It is a musclebike at its very best. Creating the illusion of being ripped from Greek mythology and teleported into the future.
The stylistic approach to that massive frame is quite fitting for a riotous ride. At least at first sight. Get a closer look. And you'll notice this machine arrives for speed, just like any other sleek mount in its category.
Advance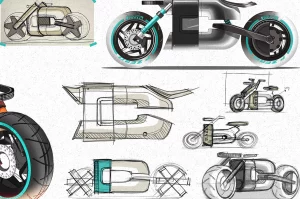 On second glance, though, you'll realize this mass of steel has everything you could ever want from a bike like this. Aesthetically gifted, it certainly carries that café racer persona on its back.
The IONIQ 'Q' design is like something out of a Greek mythology book. The front of the motorcycle has a reinforced suspension to give it a nice, sturdy and resistant look that can take on bumpy terrain without any problems.
The same goes for the swingarm suspension on the rear of the bike. This shows that this electric motorcycle is built for performance and speed.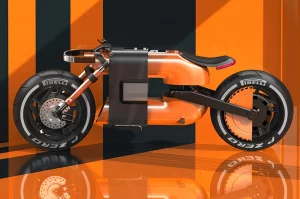 The headlight disks on the front have a neat array of LEDs which make me think this electric bike was brought to life in ancient times to compete in modern-day races!