India to get the electric motorcycle Oben Rorr
Several different electric two-wheeler options are available on the market, but they can arrive in three categories. The first category is commuter and hybrid electric scooters, including the Yamaha Fascino 125. 
The second is all-electric mopeds big enough to carry a passenger, including models like the Gogoro S1.
Specs 
Then there are the continued developments of all-electric motorbikes from established manufacturers like Zero.Which offers high-performance motorcycles and electric motorcycles for people who want to start riding again after many years away from two wheels. 
Finally, an up-and-coming manufacturing brand called Oben has just released their first product – an electric motorcycle named Rorr – in India.
Based in Bangalore, India. Oben is a new player in the game. A company founded by IIT and IIM graduates.
The Oben Rorr electric bike is a truly unique machine. In an industry that's typically defined by convention, the design of the Oben Rorr is about as opposite as it gets. The design takes inspiration from the past and future vehicles seen in science fiction films. It has created an all-electric motorcycle with an unparalleled style.
The company has not shared the performance specs. However, the bike is expected to go 60 miles per hour.And Oben claims it will take two hours to charge the battery.Giving it a range of up to 200 kilometres (124 miles).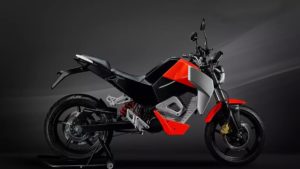 The Indian-based electric two-wheeler startup, Oben Electric, has raised over $2.5 million in VC funding.
Quote
Talking to Indian publications, Motoroids Oben Electric co-founder Dinkar Agrawal said, "We have raised a total of $2.5 million through VC funding. Which is the highest seed round raised by an E2W startup. 
It helps us innovate with a focus on consumer safety and delight. We aim to enable Indian consumers to shift from ICE to EV. Over the next few years, we intend to be a global player with our specialized products."
The bike certainly looks like what you would expect from a performance naked bike.With its centrally-mounted headlight and sleek design.
However, if you look at the bike from the front, you'll see that its steering stem is more comprehensive. Making it clear that this isn't something like a BMW F 900 R. But then it does look like the BMW F 900 R. However, Rorr is 125cc. 
The company wil launch the electric motorcycle on March 15th in India with the price tag around Rs 1- 1.5 lakh (ex-showroom) price range.