Kawasaki's new W175 TR unveiled in Indonesia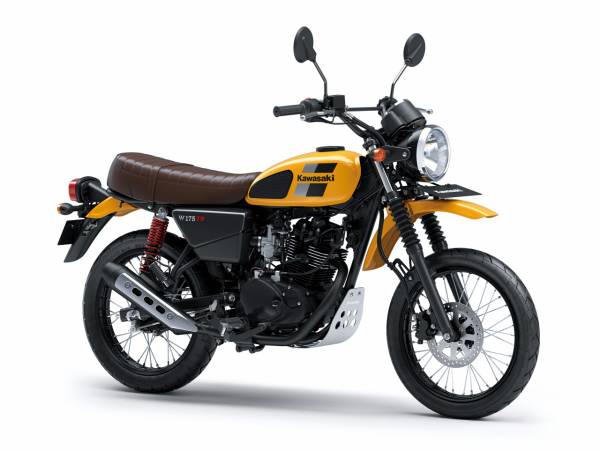 Kawasaki has officially unveiled a new W175 TR in Indonesia that comes in two variants. SE and Regular Model. There is no official page yet.
Difference between SE and Regular Model.
SE will come with 
Skid plates, 

Tank pads,

Wheels,

Heat guards, and 

Rim colors for meters.
W175TR baru saja rilis di Indonesia! Jangan lupa cek videonya di youtube Kawasaki Indonesia! pic.twitter.com/HVvqwmhYJP

— Kawasaki Indonesia (@KawasakiLovers) November 28, 2019
Specs 
Total length: 1,950mm

Paint schemes :L ight White Ebony (SE) solar yellow (SE) Urban olive green (SE) 

Full width: 850mm

Overall height: 1,085mm

Wheelbase: 1,285mm

Seat height: 805mm

Weight: 121kg

Compression ratio: 9.1: 1

Gear: 5 speed

Horsepower: 9.6kw (13PS) / 7,500rpm

Torque: 13.6Nm / 6,000rpm

Fuel supply method: Cab (Mikuni VM24)

Front suspension: 30mm erect

Fuel tank: 7.5L

Minimum ground clearance: 195mm

Engine: SOHC air-cooled single cylinder

Displacement: 177ccBore x Stroke: 65.5mm x 52.4mm

Rear suspension: Twin shock

Front brake: 220mm / 2POT

Rear brake: drum

Front tire: 80 / 100-17M / C 46P

Rear tire: 100 / 90-17M / C 55P
Price
W175: 30.3 million rupiah

W175 SE: 31.6 million rupiah

W175 TR: 29.9 million rupiah

W175 TR SE: 32.5 million rupiah
What we see here is the suspension gets extended, fuel tank capacity is made to be half, the handle is pulled higher for comfortable stance. It appears to be a different model.
---
See Also
Suzuki's new oil cooled engine
"K" for KRUGGER
Stator
With Cybertruck Elom Musk brings electric ATV
Spied new 2020 BMW R18 Cruiser